David Harley talks about Zincton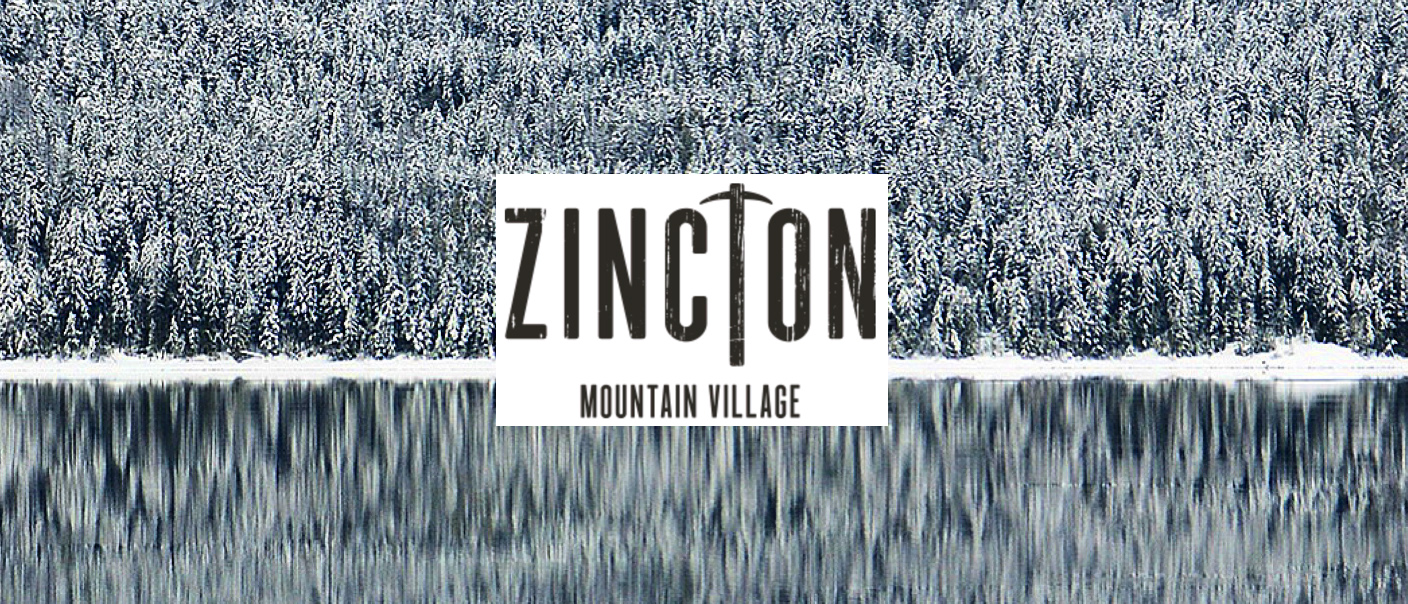 An Interview with David Harley, the proponent of the new Zincton lift-assisted, slack country ski area in the Selkirk Range between New Denver and Kaslo in BC.
Before we talked, David Harley sent me the basic facts about Zincton. The idea of a Tenure essentially set aside for backcountry skiing is intriguing. 80% of the land will be human powered access only. A few lifts will be located in the southwest corner near the Village.
– 720 inches of snowfall average.
– 5 hours north of Spokane,
– 4 hours east of Kelowna, 2 hours south of Revelstoke, 1.5 hours north of Nelson
– On BC's "Powder Highway"
– Parking lot: 2700ft
– Top skiable terrain: 8400ft
– Instagram: #zincton_mountain_village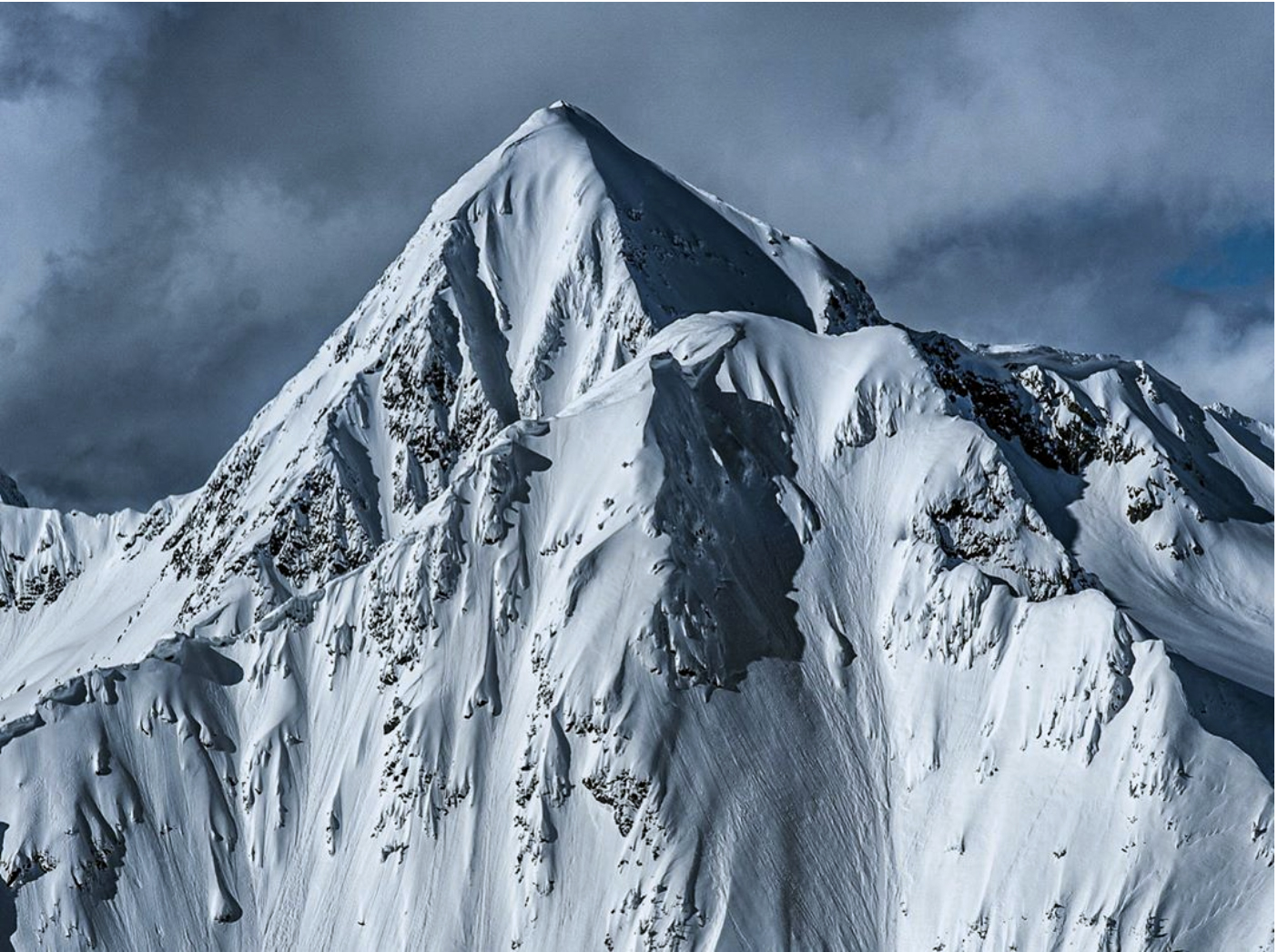 I want to talk about Zincton and the process going forward now that you have your preliminary approval of the concept.
First off it's about public land use. None of the land in the Tenure we've applied for can be subdivided or sold. It will remain public land in perpetuity.
And the access will remain open as it is now, with no charge access from the Lakes.
The Tenure will have very little development on it. A backcountry lodge midway along London Ridge, some glading, and up to seven very small "backcountry emergency huts" – to deal with the inevitable emergencies.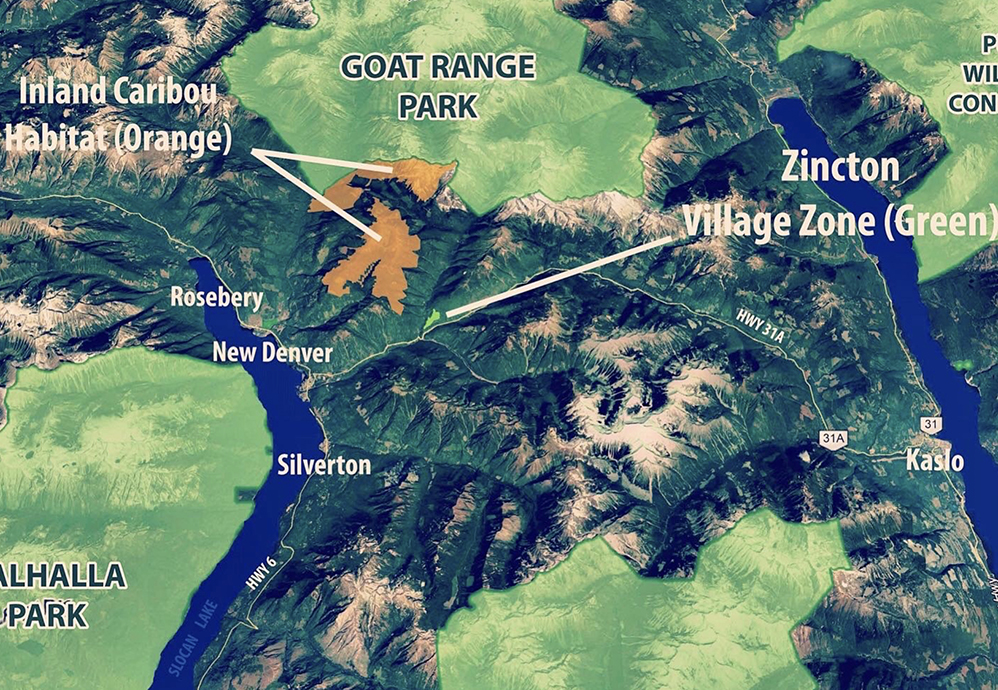 What about the Village?
The Village is on adjacent land we own. It's not part of the Tenure application.
So, what did you learn in the Tenure process about using the land?
In the first pass with the MRB, for us this was May/June 2020, we don't put much out. It's an informational gathering pass. So, we were quickly accused of being the next Whistler. Nothing could be further from the truth. Whistler – Blackcomb can load 100,000 skiers per hour, that's our annual visitation at full build – an hour versus a year. Only 20 percent of the land in the tenure will be used for the lift-serviced terrain. The rest, 80 percent, will be backcountry. Left alone. Some glading as I said, but essentially left alone.
Concerns about the wildlife corridor came up in the initial comments, so we investigated, and created a huge swath of non-commercial land in the middle – 10,000 acres set aside.
No one mentioned the mining district in the comments. Yet over 200 claims lie within the Tenure. The old Retallack Mining District had a messy history from the 1890s until 1960s– prior to BC having remediation laws . It's toxic and needs support, investment, remediation and some love. This is the focus of our 1% for the Planet program.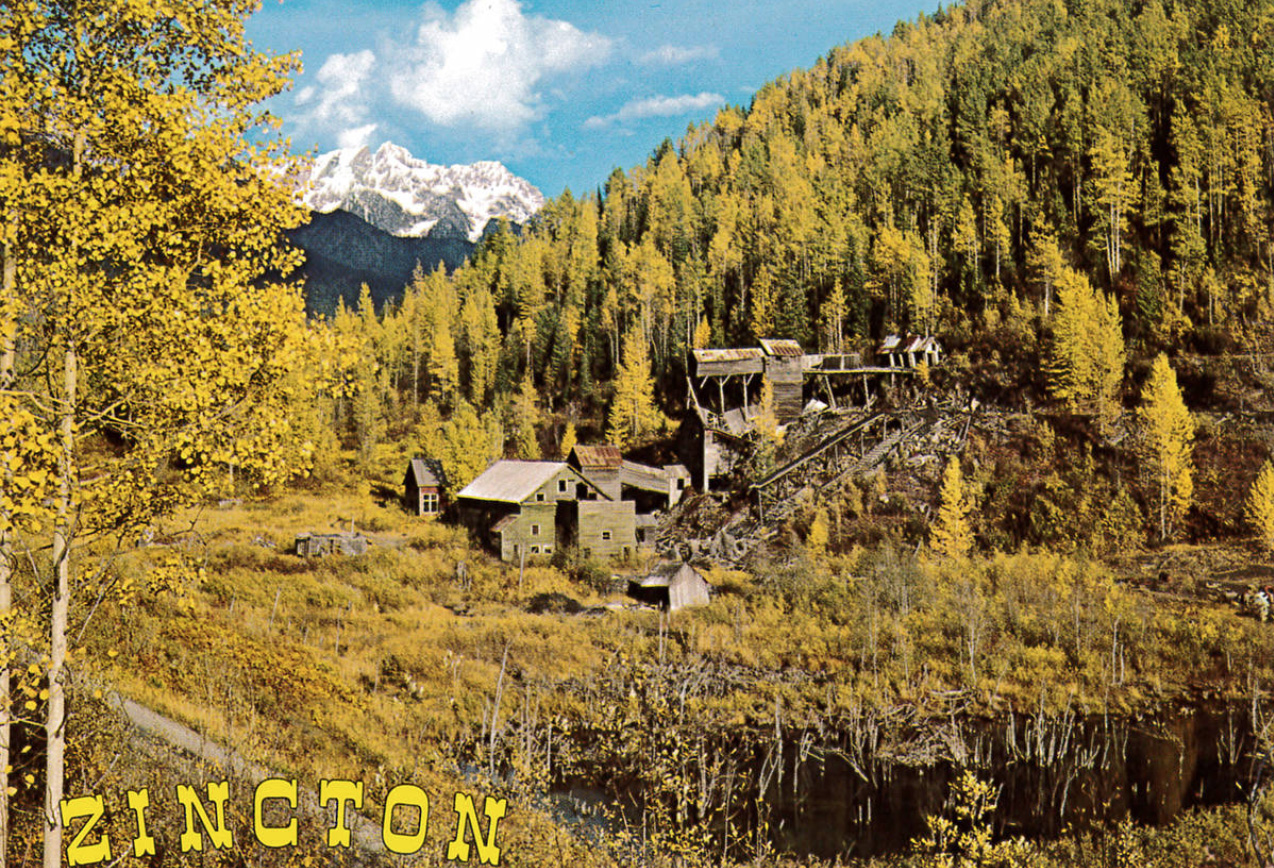 And how will that look?
1% of the revenue from the ski operations will be diverted to remediation work in the district. At the low end of projections, this will generate roughly $9 million over 50 years.
The best intentions can be suspect if there isn't the structure and intent behind the program. It requires deliberate actions and a solid outside study so that important things don't fall through the cracks. We need the right players. We have to chase matching funds. We'll get great support, because this remediation urgently needs to be done.
It's a long game, maybe 50 years, maybe more. And we have to invite other stakeholders to join in the effort. For someone to be granted a remediation contract using the 1% funds, they have to join 1% for the Planet. So, the project will organically combine like-minded businesses and operators in a common mission.
You're going designate some of the land as non-commercial?
Only about 5% of the wildlife corridor is within our proposed Tenure. 95% is outside our control, we need others to get on board. Our 'All-species Wildlife Corridor Protection Zone' will all be non-commercial. 10,000 acres. We'll start with what needs to be done – decide on the priorities. We don't know yet, but we suspect we will focus on groundwater contamination first.
Whitewater Canyon Trail is excluded. This gets a lot of use in summer from humans and wildlife. It's an important corridor.
We'll focus on cleaning up for wildlife first, the groundwater and contaminated denning sites. Then we'll circle back for humans – we'll use signage and education with a shared objective of restoring the land to what it once was and steering public use to safer areas in the meantime.
Currently there are some existing mountain bike trails already on the proposed Tenure. How's the mountain biking going to interact with summer use?
There's a very short season in the alpine because the snow stays so late. Mountain bike use can be intense and destructive during the driest time of year. The impact can be huge. Not good. We've all seen the destruction that mountain biking does in the Alpine.
If we're successful with our application, we will decommission any bike trails that leave the valley bottom for the Alpine. We'll concentrate on thru-biking – connecting with the K&S and CPR rail trails, and the New Denver, Sandon and Kaslo wagon roads. We want to support the historic trails in the area, work with the Wagon Road and Rail Trail groups, and keep mountain bikes out of the Alpine.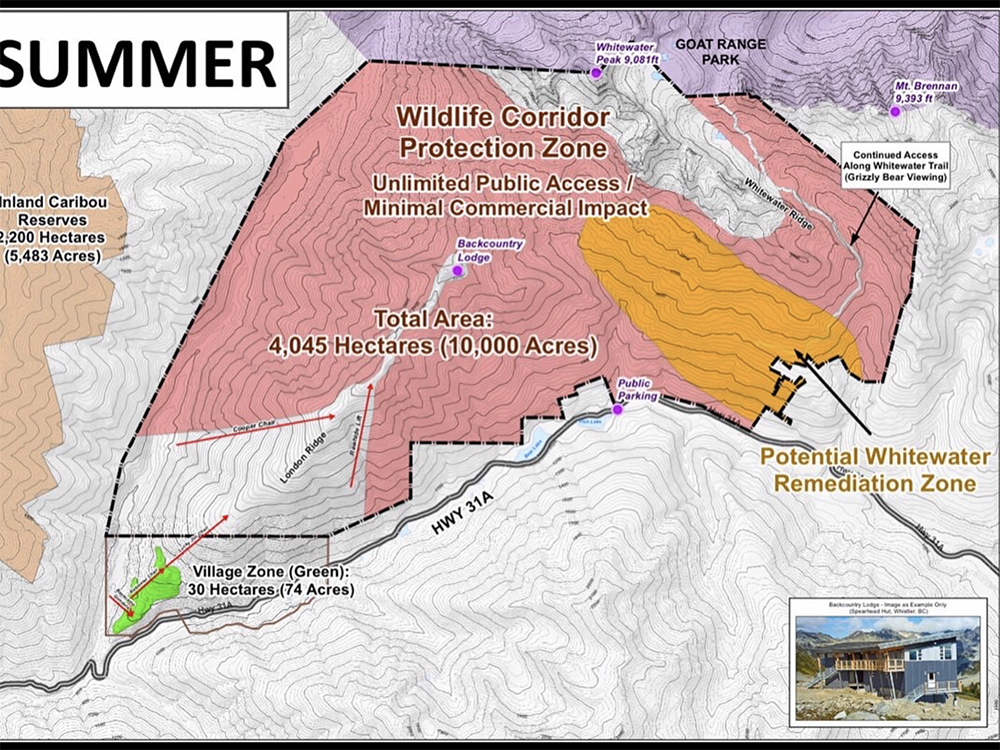 So Back to Basics?
Parts of this land near Retallack has been prospected, dynamited, roaded, burned, tunneled, and abandoned, it's time to give it some love. It's also an important North South wildlife corridor. There are too many helicopters, logging trucks and snowcats in it. Kokanee mammal populations cannot go south, east, or west. They need to remain genetically diverse. So bottom line, let's get it cleaned up and help facilitate our four legged friends seasonal wandering.
So yes, back to basics – Respect Mother Nature and leave this planet better than we found it. That's our mantra.
You mentioned helicopters, logging trucks and snow cats. How will they be integrated into the plan?
The short answer, they won't be. But existing logging planning will continue for several years, and we will work with BCTS to optimize where possible. Assuming we get the Tenure, from day one, we'll reduce the carbon-footprint to close to zero. And it will be quiet again.
Won't that diminish the access?
No, it's really about generating economic benefit for local communities. The $1000/$2000 per day activities now in Goat Pass create very little in the way of long-term contribution to our local communities. They fly in and fly out.
We want to bring families back together after decades of decline. We want to add new locals. New families. New economy. For instance, a ski company is considering moving into the Village.
Zincton wants to be the opposite of traditional development and tourism. We want to harness low carbon and high tech to build opportunities and good paying jobs. With the new dynamic of remote working, we can live low-impact and be connected at the same time. I think we're on a leading edge here.
We've kind of missed one aspect of the project, what's the terrain like?
After snow, terrain is key. We have over 5000' vertical. This might be a low snow season in places, we're sitting at 650 inches or 54 feet – with half of March and April still to arrive. So we're having a great season. The actual terrain ranges from terrifying to everyone's favorite mellow. The trick will be creating an overlay that directs people into the terrain they want. It really doesn't get any better or more diverse. And with touring being the primary access, the powder will last and last.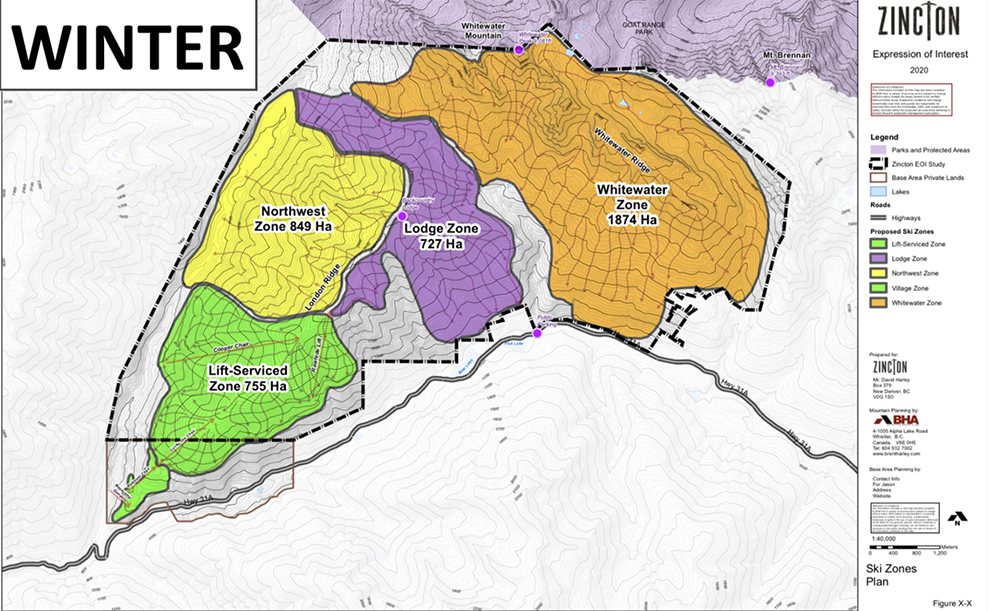 What's next?
We keep writing cheques. We've retained a number of premiere consultants to help us balance the project going forward and nail down the details—the wildlife corridor, how to start and execute the Retallack Mining District remediation, develop EV transportation plans. Brent Harley (no relation) in Whistler is one of the world's leading ski area architects. We partnered with ReGenVillages and James Ehrlich out of Stanford University, to ensure we achieve our regenerative and net positive goals. They have designed and built ultra-low-impact projects around the world and are one of the leading planners for reducing human impact on lands via downsizing and technologies. We're working with local groups and businesses to ensure Zincton creates local opportunities. We've partnered with Silversmith Power and Light, running continuously since 1895, to supply us with their Certified Green run-of-river power, so we can be ClimateNeutral on opening day.
And your schedule?
No schedule. We're just ticking boxes to get to the next stage.