Zincton Application Pending BC Approval
Zincton is a radical departure from existing resorts however a true sign of the times and the project needs your support to make it happen.
The ghost town of Zincton, located between Kaslo and New Denver, is being reinvented for backcountry skiing, boarding and mountain biking and is nothing like existing resorts. The outdoor market has changed, fringe activities are now mainstream and people need open space with no crowds. Even moreso today the Coronavirus pandemic is increasing demand for this type of resort.
The popularity of backcountry skiing and ski touring has increased exponentially in recent years. Improvements to backcountry ski technology, falling equipment prices, and readily available backcountry information and training in concert with increasing lift ticket prices and the desire to get away from crowded traditional resorts have seen backcountry skiing transformed from the pursuit of hardcore mountaineers and extreme athletes to the pastime of weekend warriors.
Zincton capitalizes on the rapidly growing backcountry skiing and ski touring markets and the growing discontent with the traditional resort experience while offering the supports, comforts, and amenities of an all-season resort.
Accurate participation numbers for backcountry skiing are very difficult to measure due to a lack of effective tracking tools and the vast geographic area used by skiers. However, use of popular backcountry skiing websites and sales numbers from industry retailers indicate a strong and growing guest marketplace. BackcountrySkiingCanada.com reports traffic on its route webpages is approximately doubling annually.
In the equipment industry, ski, boot and binding suppliers report 20-40% annual growth in units sold. Backcountry equipment surpassed 12% of all ski equipment sales in 2015, and continues to expand rapidly as large, dominant equipment brands enter the market, innovate, and offer equipment at more affordable prices1. Given this, it is reasonable to anticipate that backcountry gear will soon equal more than 20% of total ski equipment sales, with growth at 50% year over year. It is this growth in the backcountry market in concert with a shift in guest preferences away from a traditional resort ski experience that Zincton will strive to capitalize on.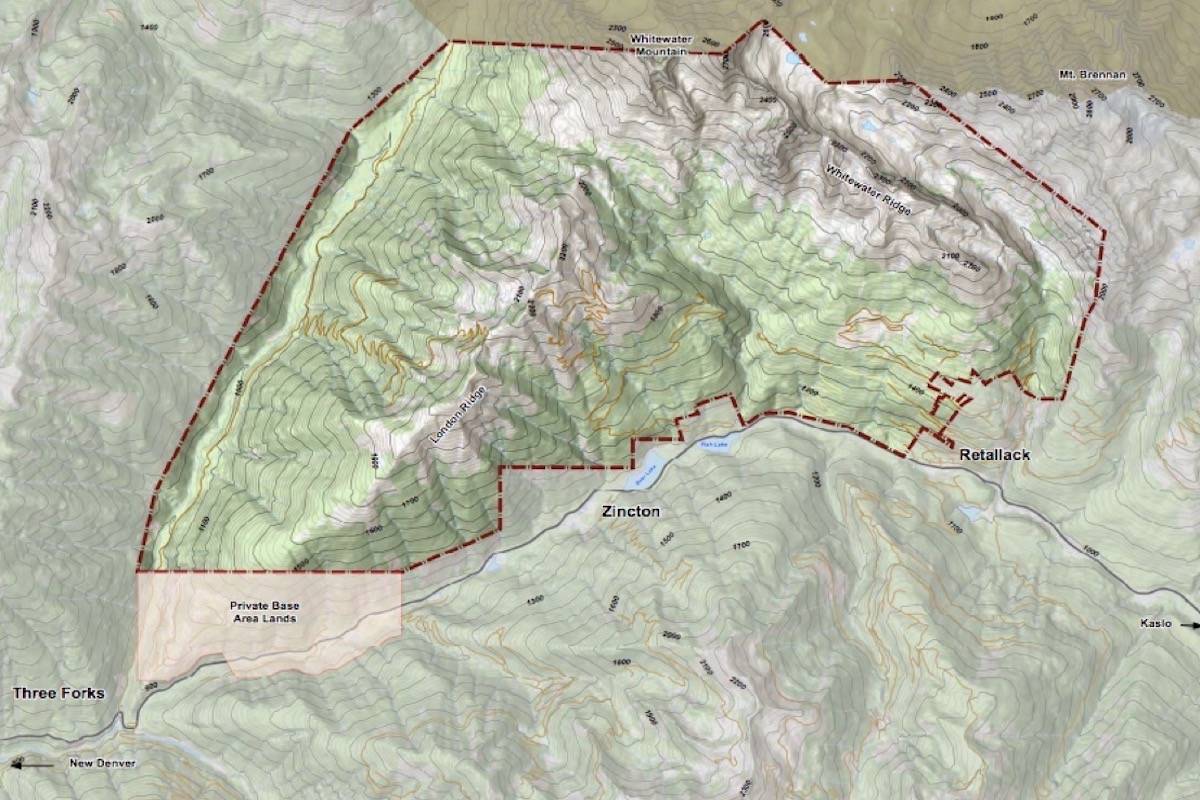 Guided by the vision of a world-class, all-season, backcountry-oriented mountain destination, the mission statement for Zincton is:
Zincton will offer accessible four-season backcountry recreation experiences unique to the mountain resort market, as staged from the comforts and amenities of an intimate, pedestrian-oriented Mountain Village developed on adjacent privately held lands.
To achieve this, the following objectives were established as guiding principles in the creation of the preliminary Zincton concepts:
• To develop a unique, lift-accessed backcountry recreation experience not found elsewhere, creating an alternative to the typical mountain resort experience;
• To create a high-quality mountain destination experience that caters to the residents of the region and destination guests from other parts of the Province, Canada, and the globe.
• To develop a diverse suite of recreational opportunities that complements and enhances
the public and commercial backcountry recreation opportunities of the surrounding area.
• To develop an all-season resort that will complement the goals and objectives of the local communities, First Nations, and the Regional District of the Central Kootenay.
• To preserve, enhance, and showcase the natural beauty of the Goat Range and Selkirk Mountain Range
• To establish a destination that government, industry, and the public will recognize as a leading example of environmentally sensitive, socially and culturally responsible development.
• To provide year-round tourist attractions that may include skiing, cross-country skiing, snowshoeing, sightseeing, mountain biking, hiking, backcountry touring, cultural/ecological interpretive programs, and more.
• To be a resilient all-season resort that can offer a range of world-class outdoor experiences regardless of seasonal weather conditions.
• To stage from the associated, adjacent, privately held and integrated resort-oriented real estate in a mountain village context as a means of balancing and complementing Zincton's facilities and attributes.
• To contribute to BC's growing reputation as a world-class, year-round tourism destination.
• To cater to the increasing number of visitors to the region, in turn supporting local economic growth and diversification.
• To expand the economic and local employment opportunities for residents.
• To develop a mountain destination that is economically viable, serving as an important generator for the local and regional economies, and contributing important revenue to the government tax base.
The vision for this project comes from Mr. David Harley, founder and president of Valhalla Pure Outfitters. Mr. Harley has worked and played in the Goat Range mountains and local communities over the past four decades and has come to recognize and understand the significant recreation potential of the area. There could be no better person to make this happen.
As with all new resorts, this project still requires approval from the provincial government. Powder Canada supports Mr. Harley's project and hopes that you will help make this resort become a reality by sending a message in support. Here are the presented materials and a contact for feedback.
Read the Zincton Expression of Interest, May 2020, Executive Summary here.
Read the Zincton complete Expression of Interest,May 2020, here.
All comments should be directed to Project Lead Kelly Northcott, MountainResortsBranch@gov.bc.ca.