Wayne Flann Receives CAA Service Award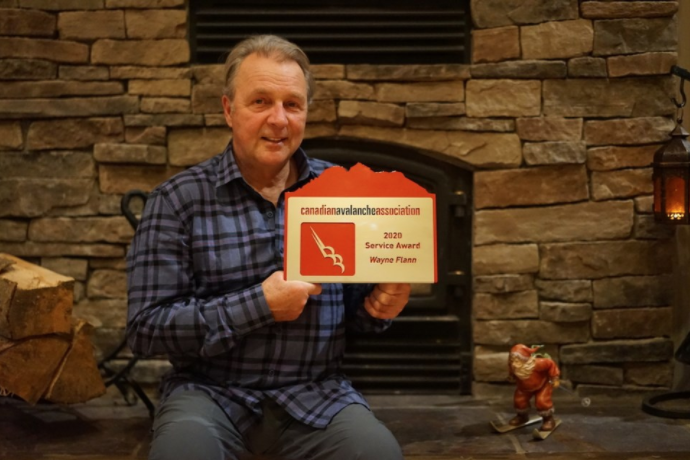 Each year, the Canadian Avalanche Association honours members who have made a significant contribution to avalanche safety in Canada.
For 2020 Wayne Flann, Whistler local and legendary avalanche forecaster, was awarded the CAA Service Award in recognition of his contributions to public and professional avalanche awareness and information sharing through his avalanche bog.
Wayne choose a great year to start an avalanche blog service for Whistler. With over three meters of snow and many unstable layers, 2011 was a year for big avalanches in Whistler. The Whistler snowpack occasionally can be more characteristic of the Rocky Mountains than the Coast Range—whatever the avalanche stability, Wayne's avalanche blog is a must read for backcountry users. Wayne shares topics on avalanches in Whistler, the Sea to Sky Corridor, and around the Globe.
In 2014 Wayne experienced an avalanche first hand. Wayne commented, "Thirty years doing this, you're bound to get it sooner or later. I don't know what the message is. The message is… you try hard to negate the risk and you try hard to do what you've been trained to do, (but unfortunately) you can still mess up. Accidents happen."
Wayne has an impressive history and safety bio including: Professional Member of the Canadian Avalanche Association, Blackcomb Ski Patroller, Whistler Search and Rescue, Safety Consultant for Film Industry, Past Avalanche Forecaster for Blackcomb Mountain, Trauma Paramedic, and Canadian Ski Guides Association.
Congratulations Wayne! I am one of many who follow your report daily and assimilate the information. Thank you for your dedication to avalanche safety.
To read and follow Wayne's Whistler Avalanche Blog visit wayneflannavalancheblog.com

Canadian Avalanche Association
The CAA is Canada's organization for avalanche professionals. The CAA's vision is that the Canadian public has the highest degree of confidence in the avalanche safety programs and services delivered by its members. They strive to ensure that their diverse membership of avalanche practitioners meet the highest standards and adhere to best practices.Well hey protect the public interest by ensuring members adhere to the CAA's Code of Ethics.
Becoming a member of the CAA requires knowledge of evolving avalanche-related sciences, specialized technical training, and extensive operational experience. CAA members serve the public by competently evaluating avalanche hazards and managing risks to protect people and property from avalanches. As a member of the CAA, you gain an important credential that assures these vital responsibilities are being conducted by a capable and qualified individual.
As a CAA member you will have access to a variety of information and resources to help further professional excellence:
– Subscription to the Avalanche Journal
– Regular news updates via email
– Professional Development resources
– Employment Resources and Online Networking
– Eligibility for CAA Service Awards