Spearhead's Kees and Claire Hut Open

Whistler's backcountry has changed forever with the opening of the Kees and Claire Hut. The new hut replaces the Himmelesbach Hut, built by members of the BC Mountaineering Club just over 50 years ago. It still stands near Russet Lake, just a few hundred metres from the Kees and Claire Hut. The Russet hut has been described as being a dark ice box however thousands have found shetler over the years. The new hut takes Whistler backcountry to a superior environmental and accommodation standard.
The Kees and Claire Hut at Russet Lake is the first of three huts being built along the Spearhead Traverse. The Spearhead Traverse follows the Fitzsimmons Range from the Whistler Mountain /Garibaldi Provincial Park boundary at Flute Mountain around to the Spearhead Range at the edge of the Blackcomb Mountain / Garibaldi Provincial Park Boundary at the East Col. The traverse is done in both directions with touring from Blackcomb to Whistler being the most popular.
Related Stories:
Spearhead Huts Project
Spearhead Huts Project Gets Boost
A new movie called "Spearhead: Pushing the Boundaries of BC's Backcountry" celebrates the history of the route, first skied in 1964, while asking how do we manage the impact on these spaces as they gain popularity.
The traverse is truly a world-class ski route, comparable to Europe or anywhere else. It is 35 kilometers of stunning terrain that crosses 13 glaciers. The two ends are accessible from ski lifts on Whistler and Blackcomb. It is typically done in 2-3 days although many people go slower to take advantage of the numerous downhill ski opportunities and mountaineering objectives along the way.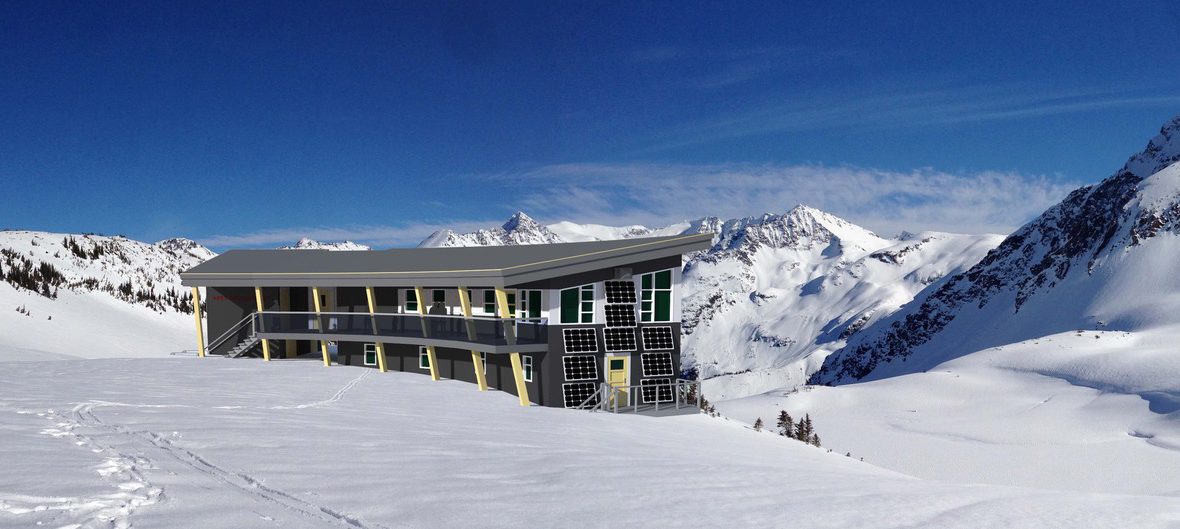 Lodge Details
The Kees and Claire Hut is a state-of-the-art energy efficient backcountry hut. The hut has 38 sleeping spaces divided into six sleeping areas. It is heated so all you'll need is a light sleeping bag and mattress for the time being, they hope to provide mattresses in the not too distant future. The hut has propane stoves for your use as well as cooking equipment such as pots, plates, utensils etc. so you don't have to bring any of that. The hut has indoor composting toilets for your comfort and to minimize environmental impact. The hut has electricity and lights. Waste water disposal is provided however water is snowmelt for now. Please wash, dry and put away any utensils and dishes you use. You are responsible for packing any and all garbage out. There will be a custodian at the hut to answer questions and check reservations.
Learn more about the Spearhead Huts Project here.