Logan Pehota heading to the Horse
Fernie based freeride skier Caleb Brown caught up with Logan Pehota during his travel to Hakuba, Japan to compete in the first Freeride World Tour (FWT) event of the season. Pehota's next stop will be at Kicking Horse in February for this years second FWT event, and a new stop on the Tour.
Q – Logan you must be excited to compete in Canada, and represent your home country.
A – I'm stoked to compete in Golden! It's only a 7 hour drive from my home and I'll be able to bring my sled.
Q – I watched you compete, and come in at a close 2nd place in the Monster Enemy Lines event in Fernie a few years ago. That was a big event, winner take all, how do you compare this event, and do you take a different approach being that this is part of a series?
A – Since the FWT is a series of competitions you definitely can't go full out in every event if you're trying to win the overall, which is kind of a bummer because I'm not going to be skiing at my highest level because I really can't crash if I want to have any chance at winning overall.
Q – How did you come to be on the tour? Did you battle through the Junior Tour and make it in that way?
A – I was fortunate to be given a wild card invitation a few years back after competitions in the Swatch Skiers Cup for team America that captain Seth Morrison invited me to. I probably wouldn't be where I am today with out that opportunity because I had no intentions on competing in the qualifiers and such.
Q – Which is your favourite stop on the FWT? Why?
A – Chamonix France, because it's like another version of Whistler but with the mountains and night scene on steroids. (I just found out last week that this year it's not even a stop on the tour haha)
Q – Golden has hosted big mountain comps here for about a decade, have you ever competed in Wrangle The Chute?
A – Yeah I think I've competed in Wrangle the Chute 3 times, once of my first real big mountain competitions. Always loved that contest.
Q – Are you attending each FWT stop this year? What are you goals for the Tour?
A I will be attending all the stops if I manage to stay on my feet, after the first 3 comps they cut the field in half and just the rest go on for the final 2 contests.
Q – Are there projects outside of the FWT that you are working on?
A – Its really hard to squeeze in films trips between all the tours stops, but if I can manage to I'm going to try and get out filming with Blank Collective this season.
Q – What about outside of skiing? You're young, one of the youngest on the tour. Are you going to school or has being a professional skier taken over most aspects of you life?
A – Skiing definitely has taken away the normal life of graduating high school and heading off for university somewhere for a handful of years, which is kind of a bummer because I definitely would have loved to experience that type of life. I did manage to go to school for my Electrical level 1 this past fall though which was only a 10 week full time course.
Q – What sort of off season training do you do? Are you a gym junkie, or do you train outdoors, or do you just follow winter around the globe?
A – I go to the gym in summer to try and stay in shape, but I really enjoy my summers with my friends hitting up music festivals and party's. So I don't really follow the snow around the globe constantly, but I did manage to head down to Argentina this past summer for an Oakley trip which was quite the treat.
Q – Have you been in any films?
A – Last year I went on a film trip with Dendrite Studios for Numinous which actually won "movie of the year". I've also filmed with PBP and MSP before too.
Q – I know these events are tight, anyone can win but in your mind who do you think threatens the top overall spot?
A – Honestly it doesn't really matter who is the best skier, it's really who ever can manage to stay consistent throughout all the comps.
Q – Having to dedicate so much time and energy into being a high level competitive athlete what is the hardest part of being on Tour? Does the stress of performing ever get you?
A – Competing is hands down the most stressful thing I have ever done in my life, you know there's times when I wake up in the morning of the comp days and pray it gets post poned a day but at the same time I'm always ready for it so whatever happens and you'll see me in the start gate every time.
Q – Finally, what has been the best part of being on the Freeride World Tour? Is it the competing? Skiing outside of the event? The travel? The relationships between competitors?
A – Best part is definitely winning but that for sure doesn't happen all the time. The skiing outside the competitions and all the new places I've been able to experience and people I've been fortunate enough to meet.
Powder Canada contributor Caleb Brown will be covering the excitement at Kicking Horse, Canada's freeski capital, and forerunning the FWT course. With any luck he'll also get to go sledding with Pehota!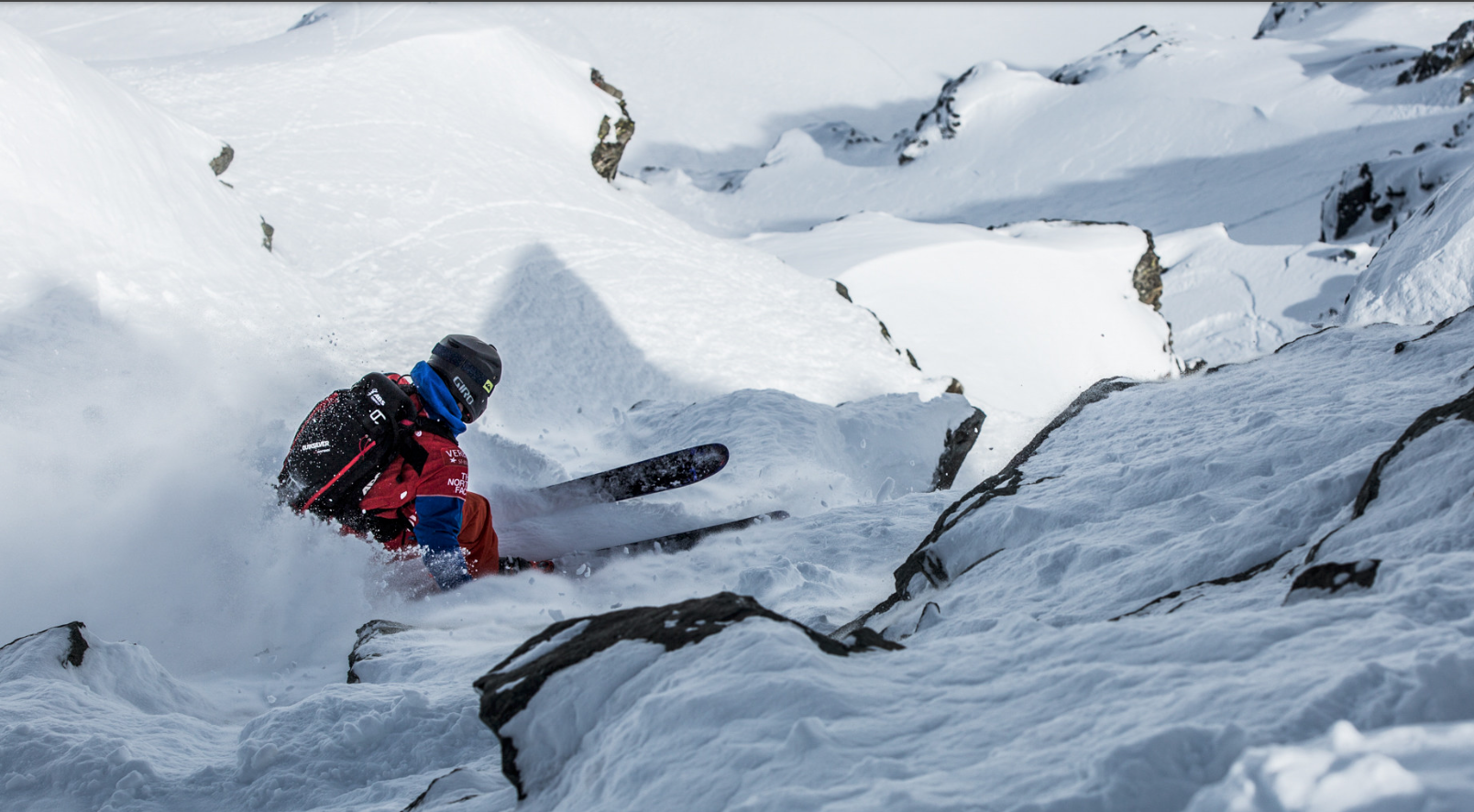 Logan Pehota Bio
Not many teenage slopestyle skiers can boast nearly a dozen years of backcountry experience. But Logan Pehota, under the wing of his father, big-mountain pioneer Eric Pehota, spent his childhood alpine racing, ski touring and notching big lines near his home in Pemberton, B.C. A burgeoning big-mountain competitor, Pehota is now focusing on slopestyle, aiming for the bright lights that come with major contests and hopefully, one day, the Olympics.
Aside from the dream of competitive prestige, Pehota also wants to remain a well-rounded talent. His accumen in the backcountry was first put under the microscope in his first major film appearance, MSP's "Superheroes of Stoke" (2012) and then "Poor Boyz Productions' "Tracing Skylines" (2013) – and we'd say he passed.
In 2016 Pehota made a serious name for himself on the Freeride World Tour (FWT) with his rookie year Haines Alaska WIN and 2nd place finish overall.
In 2017 Logan Pehota skied in Numinous, a film by Dendrite Studios and Kye Petersen, and won Powder Magazines "Best Line" of the year. The film also won "Movie of the Year". See the Best Line footage here: