Kootenay Mountain Culture's Radical Meadows
"So, like, I'm one of these kooks who doesn't believe man ever walked on the moon. No biggie as far as I'm con­cerned, but evidently it places me squarely in the tinfoil-hat community. Which is stupid, because everyone knows that even if you wear one of those, the government satellites can still read your mind; for true protection, you need two tinfoil hats." And so goes the intro to KMC's wildly radical feature well, guest edited by one of Canada's more respected writers Kevin Brooker. Under his sage direction, our stories dive into trapping, DIY rope tows, co-op ski hills, and travel to the Congo, Bhutan, Europe and beyond.
The magazine is a matrix of spirited articles however "Throughback" is an article that resonates with this web-blog. It's header reads like this,"Long before megacorporations took over the ski world,no frills,community owned mountains were the lifeblood of the sport. If these modern visionaries have their way, the good old days will soon be back—and they'll be even better." Past articles in this web-blog have celebrated Shames and Mt. Cain as being the future of skiing and a parallel to a new organization called the Mountain Riders Alliance. The Winter issue of KMC portrays the ultimate image of the future—check out Radical Meadows, a riders vision: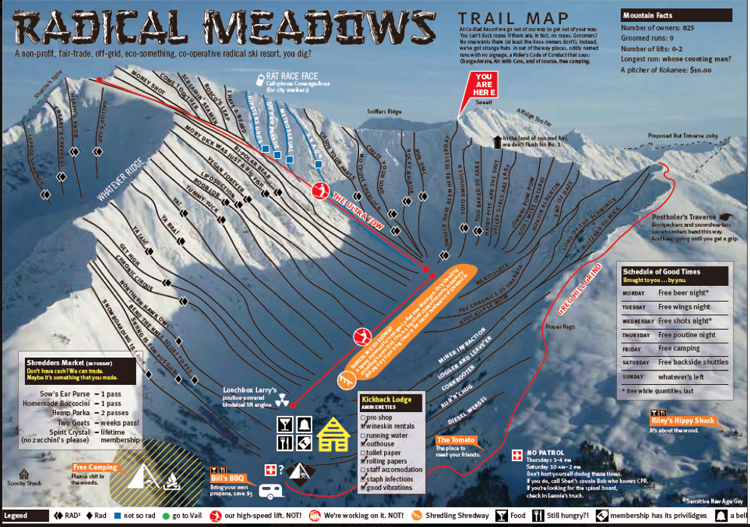 To find a free copy of KMC near you go Click Here.