Shames: My Mountain Co-Op
Shames Mountain, the 'little ski area that rocks', tucked away near Terrace BC, is up for sale. The asking price? A cool $1.5 million.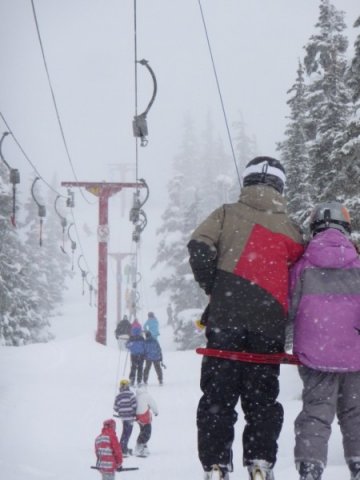 When locals were faced with loosing their ski area a community initiative was started. My Mountain Co-op was formed by a non-profit society called the Friends of Shames. The My Mountain Co-Op concept was an outatanding effort to rally a large group of skiers to purchase, own and operate Shames Mountain. I like the sounf of, "Owned and operated by skiers for skiers".
As reported on previously the Shames My Mountain Co-Op has succeeded in the initial stage of their mission.
Now their success continues with the best snow conditions ever for opening weekend and a little surprise from a local fan.
During the opening weekend of the Shames Mountain Ski Area Saturday, the Prince Rupert Port Authority announced it is supporting My Mountain Co-op, the non-profit ski community co-operative operating the popular winter destination, to support investments in maintenance and improvements necessary to ensure the long-term viability of the ski area. After the short presentation ceremony, the Port Authority treated onlookers to hot chocolate in the ski lodge cafeteria.