A new ski industry vision emerges
The prevailing corporate model of ski area ownership and management may not have run out of gas completely, but it's sputtering along, sustained mainly by cannibalizing itself through more mergers and vertical integration (by which large corporations buy up retail and rental outlets, lodging and transportation facilities, as well as trying to dominate media, marketing and social media).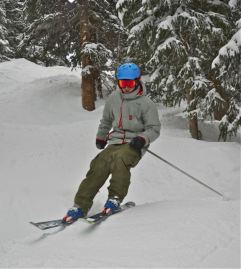 In short, the ski industry for the most part has become a monopolistic juggernaut. It may serve the short-term financial interests of Wall Street on a quarter-to-fiscal quarter-basis, but anyone with a lick of common sense can see that it's not sustainable in the long-term.
Like the dinosaurs, it's too big for its own circulatory system, and like the dinosaurs, it's going to go extinct in its present form, perhaps when the next bubble breaks on the handful of giant real estate investment trusts that now control most of the base area real estate at resorts around the country.
So for the past few years, a grassroots group of visionaries has started to formulate an alternative economic model that may not only help ensure the future of skiing, but could serve as a blueprint for the broken system that still masquerades as free market capitalism but in reality has become a form of corporate totalitarianism.
The Mountain Rider's Alliance envisions a ski industry that is part of the solution and not part of the problems facing humanity. For example, one of the organization's goals is to make sure that resorts become at least carbon-neutral, and potentially even net producers of renewable energy.
The MRA, registered as a limited liability corporation in Jackson, Wyoming, envisions a future when skiers have a say in how their mountain are managed, and decisions are made with the best interests of the community in mind.
And after several years of cashing in 401Ks, compromising relationships and losing hours of sleep, they are ready to move ahead with some of their ambitious plans, first in a partnership with Mt. Abram in Maine, which could be a proving ground for their co-op based model, then in an ambitious plan to re-open an Alaska ski area.
And after bootstrapping for three years and putting their skin in the game to the tune of $35,000, MRA is looking to step it up a notch with a social media fundraising campaign to help move the organization forward.
"Crowdfunding is basically where social media meets investing," said MRA co-founder Jamie Schectman. "Besides raising funds in exchange for merchandise, which will help build our brand, this is many people's first look at our organization," Schectman said. "We feel like the campaign is a great elevator pitch and will serve as a great first date for future investors, and communities looking for an alternative to corporatization."
The campaign has definitely garnered some attention in the social media crowd-funding sphere. In its early stages, supporters have already pledged $3,660 toward the the $10,000 goal, with seven days left in the campaign.
"To be honest, we need closer to 135K for everything, but wanted to set a tangible target," Schectman said via email.
Perks for donations range from a personalized "Thank You" via Twitter, all the way to lifetime season passes at future MRA mountain playgrounds, not to mention the intangible satisfaction of helping to build a sustainable ski economy for mountain towns around the world.
Check it at http://www.indiegogo.com/SupportTheFutureOfSkiing.