Avalanche Canada Pieps Critical Update

Earlier today Avalanche Canada issued a statement regarding the potential failure of the Pieps DSP Pro and Pieps DSP Sport transceivers.
The message kindly advised that current owners accept Pieps offer for the upgrade to their latest generation of avalanche transceivers, and safely avoid any adverse effects in a rescue situation.
Pieps stated that they want us to have confidence in their equipment.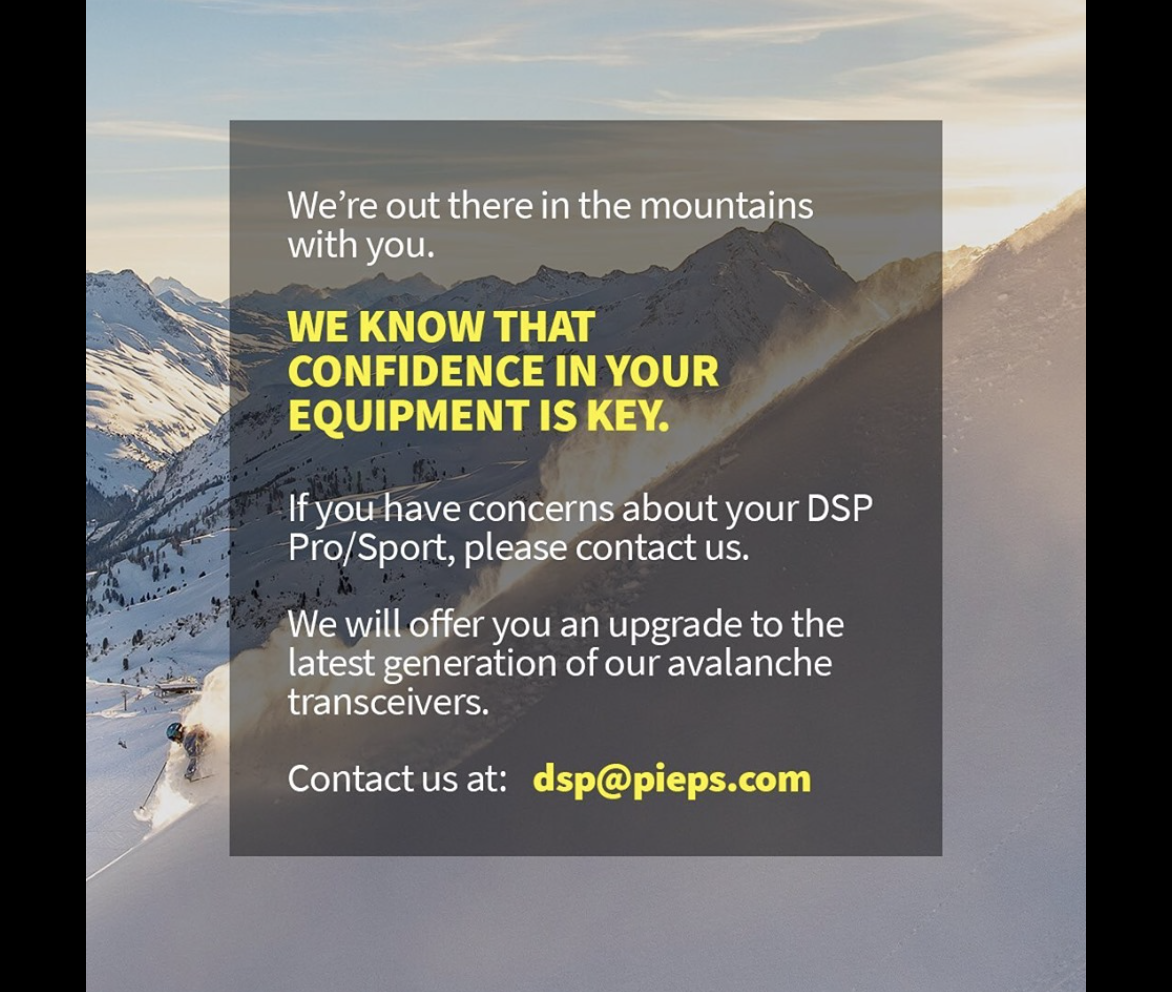 Avalanche Canada also posted this on Facebook, Instagram, and Twitter:
"All avalanche transceivers currently on the market must meet stringent international standards for reliability, robustness, and compatibility. However, reports of the safety issues related to the Pieps DSP Pro and DSP Sport models are troubling and can't be ignored.
Pieps is offering an upgrade to the latest generation of their transceivers. We encourage everyone who owns a DSP Pro/Sport to exercise this option.
Avalanche Canada continues to stress that every winter backcountry user needs a modern, three-antenna digital transceiver, as well as a probe and shovel. We do not promote or advocate any brand over another. Having diverse equipment in the marketplace, with different features and at different price points, gives users a choice and serves everyone better."
Read more:PIEPS DPS BEACONS MECHANISMS OF FAILURE
Read more: PIEPS OFFERS AVALANCHE TRANSCEIVER UPGRADES
The Canadian Avalanche Association (CAA), which represents professional avalanche workers, issued the following critical update:
Dear CAA members, students, and stakeholders:
We write to you to inform you of a potential issue affecting a transceiver you may own or use.
As you may know, there has been substantial traffic on social media and other platforms regarding the potential failure of the Pieps DSP Pro and Pieps DSP Sport transceivers. These reports relate the slider mechanism on these models unintentionally reverting to the off position under certain conditions. These reports cite the potential for this issue to have adverse effects on a rescue.
In response to these reports, Pieps recently issued the following statement via social media:
We know that confidence in your equipment is key. If you have any concerns about your DSP Pro/Sport, please contact us. We will offer you an upgrade to the latest generation of our avalanche transceivers. Contact us at: dsp@pieps.com
That is all the information we have at this time. For additional information, please contact Pieps directly.
We encourage everyone to ensure the working order of all gear in one's personal kit or operational inventory, including safety equipment, clothing, modes of transport, and any items that need to be counted on in the field.
Sincerely,
Joe Obad, Executive Director
e