Guides Save Lives
Two ski guides with Big Red Cats in Rossland have been credited with saving the lives of several clients caught in a large avalanche. A group of twelve from Utah was catskiing at Big Red Cats when the a large avalanche hit the group. The group, pictured below, was experienced in avalanche rescue and this factor also contributed to the positive outcome.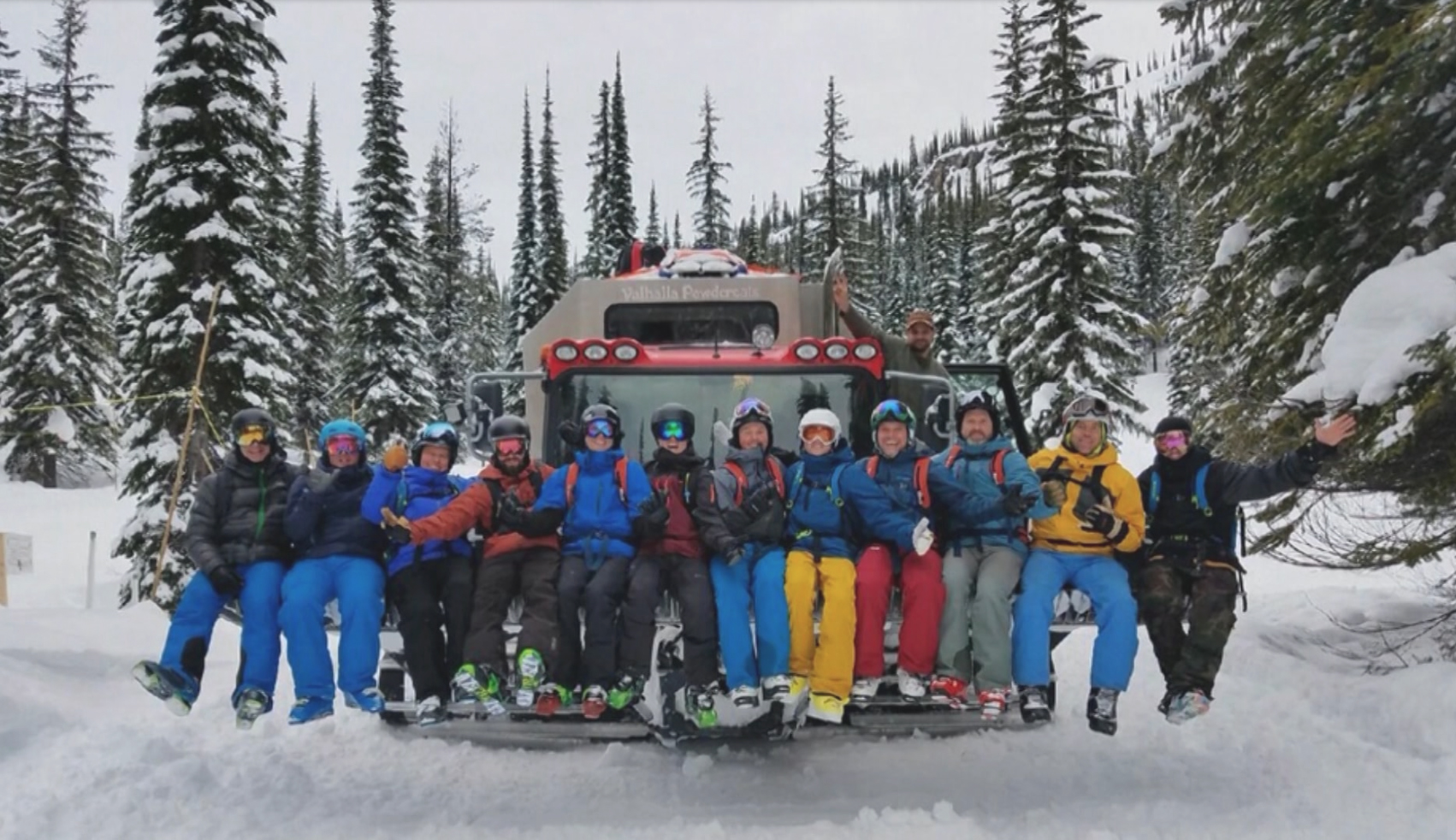 "All of a sudden I heard a loud whoompf. The whole thing ripped out." -Jason Bond, skier
The 75 meter wide slide buried seven. The rescue took eight hours and three toboggan runs to get everyone to safety. One of the skiers remains in critical condition, our best wishes are with him. This video tells the story:
Earlier this week the following heart-felt message was released from an owner and manager of Big Red Cats:

Please be safe – The backcountry is beautiful, but can also be dangerous
I've been reticent to post anything, because it is difficult to talk about, and I don't want to glorify any of this in any way. But it has to be talked about, especially with you, our guests. All businesses say that they care about their customers, but I can tell you, you don't realize just how much you do care until something bad happens. Then, there is nothing else you can think about.
You may have seen in the media recently that there was an avalanche at Big Red Cats on Thursday, and one of our "uber-expert" groups was caught in it. One of the group members is still in hospital, and will have a lengthy recovery, and our thoughts and prayers are with him every minute of every day, and long into the night.
We all know that the backcountry is an unpredictable place. My main reason for posting right now is to tell people to please be careful out there. As we go through a period of less snowfall, it will be tempting to travel far and wide to find untracked terrain. Be wary of skiing runs which may not have been previously skied before the last storm system. The snow beneath that layer is faceted in this region, and without old tracks breaking the plane, if it goes, it can go big. When you perform your stability tests, you may be getting a falsely optimistic result, because the instability is down deeper, and it seems to have been bridged – but in shallower spots, it may not be. You might ski all day with no big reactivity, you might ski a dozen people down a slope, to have it fail with the 13th. That happened here. I don't want it to happen to any of you. Snowmobiles especially, with the extra weight, the ability to travel across more ground, and vibration, may trigger something deeper in the snowpack.
But it's what we love, isn't it? So if you do go out, be prepared. Make sure that you have a plan for if anything bad does happen, so that you can get out again. Even if you do plan carefully, things may still happen. Maintain separation between skiers to keep the weight distributed, have a spotter, have communication to the outside world. Regroup everyone well off the main slope. Think about your own skills. If your buddy is buried, and suffers serious injury – can you find him/her? Do you know CPR? Do they – in case you're the person who is buried? Will you physically be able to get them out – or do you have comms with rescue services who can? Have you drilled and drilled and drilled with your beacon search, so that your body remembers how to got through the process, when your brain is still in shock? Do it.
It is a horrible, horrible thing. We can look back to find lessons learned, we can make some alterations, but no matter what you do, sometimes things will happen out in the backcountry, and advance planning and education just may make the difference between life and death.
We're being very selective with which runs we're skiing at the moment. If you're looking for steep, wide-open bowls, be prepared for the fact that you may not be able to go there. Even some runs in the trees are off the list. When the snowpack changes and we move on, we will test and adjust, but right now, it's better for us to be conservative.
Thank you to everyone who has sent their best wishes, but please send all of your positive healing thoughts and prayers to Jake. That's where ours are.
Sincerely, Paula Gaul
The outcome is unsurpassed in the industry, a testament to Big Red Cats operation and guides. Well done!