Three survive full burials in Kananaskis
Three backcountry skiers survived after being fully buried by an avalanche for 10 minutes on Sunday.
The trio was skiing with three others at Hero's Knob, a popular backcountry spot in Kananaskis Country, when their group triggered the slide at about 2 p.m. One of the skiers was buried up to the waist, while three others were completely buried. The remaining two quickly got to work digging out their companions, and they were soon helped by other skiers in the area.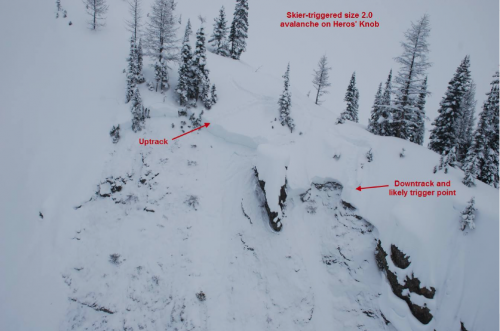 This avalanche occurred on the Feb 10th persistent weak layer which has been a concern in the snowpack for much of the winter, and it will continue to be an issue until the end of the season.
It appears that two of the buried skiers were able to survive from air pockets, though the third had snow in his mouth and down his throat, said Jeremy Mackenzie, public safety specialist with Alberta Parks.
They were buried for about 10 minutes.
The team of skiers was equipped with all the necessary backcountry safety gear – transceivers, shovels and probes – and quickly located and dug-out their friends.
Rescue crews responded to a SPOT device activation and heli-evacuated the party. One person suffered minor injuries and everyone else skied away unscathed. A very lucky day.
"It was a very rapid extraction by the people on scene, which is a great thing," Mackenzie said. "That definitely saved lives today."