Forecasters Blog – Play Safe out there
by James Floyer
I'm writing this as a bit of an early heads up for the weekend and into next week. Conditions throughout western Canada, and particularly in the Columbia Mountains, are changing, and in many areas avalanche danger will be on the rise.
We've really been blessed through much of this season with generally stable snowpack conditions. Locally, I've skied terrain this year that during previous seasons I haven't remotely considered venturing into. I've talked to other skiers and sledders who have said similar things.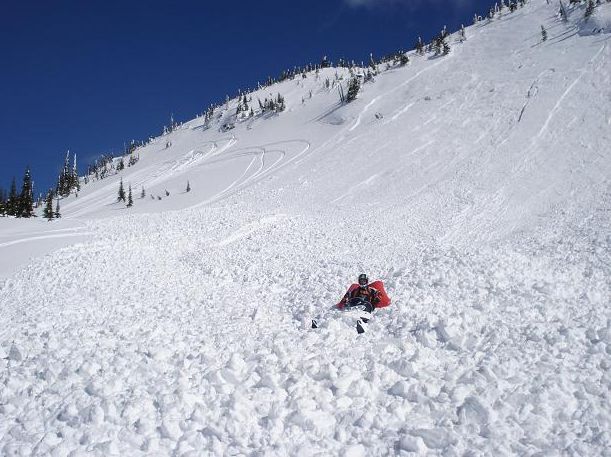 On Friday, it looks as though the snow tap will get turned back on again, with a series of storms lined up to bring winter back to the mountain regions. The storms will bring the "regular" danger elements associated with new snow loading, wind loading, cornice development etc… However, I'm also concerned with a buried weak layer that's already been responsible for a number of skier-trigged avalanches.
The story started around 12th February, when a weak layer of surface hoar that had grown during the previous dry spell became buried by new snow. We've now seen a few storms drop sufficient snow on this layer for it to become reactive. There have been several skier-triggered avalanches, and one snowmobile incident reported to us from the Columbia Mountains in the last 2-3 days. While the official report is still in preparation, it is likely the fatal incident from east of Jumbo Mountain on Monday ran on this layer.
What we know about this layer is that it is widespread at treeline and alpine elevations. It has been reported to exist on all aspects. However, appears to be particularly reactive on southern aspects, where it may have been deposited on top of a sun crust.
While it's too early to say how long this problem will linger for, my fear is with additional load from Friday's storm, we're likely setting up for a fairly hazardous weekend. I don't see anything in the incoming weather helping to stabilize this layer out, and the additional new snow will make larger and more destructive avalanches more likely.
My advice would be to play things safe if you're heading out this weekend. It's not the day to go out and recklessly charge up (or down) the biggest slope on the mountain. It's the time to choose small, lower angled slopes with good runouts (no terrain traps). If you're a skier, you might decide it's best to stay in the trees (but be wary of steep open glades). As you're traveling, be aware of the possibility of remote triggering and avoid exposure from above. Bear in mind we've got used to dialing things up this season, but it's the ability to dial things back at the right time that keeps us safe.