Avalanche Heads Up For The Long Weekend
By Shannon Werner
Wow! I can't believe it's already Feb 8th and the first BC Family Day Weekend, very exciting. Are you going to be out in the backcountry this weekend? I will be. The weather looks fantastic with blue sunny skies and a bunch of fresh powdery snow to indulge in. What a great opportunity to get out and play.
The main reason for this blog post is to encourage and remind recreational backcountry users to pay close attention to the Bulletins through the weekend period. So far this season we've been enjoying a fairly stable snowpack and folks have been highmarking, skiing big slopes and dropping into those completely awesome aesthetic lines with a high level degree of confidence. The backcountry has been getting schralped this year! There is nothing wrong with that, as long as your travel habits and use of terrain changes when the snowpack and avalanche characteristics change. It's important to maintain a diligent approach to terrain selection to best manage the current conditions.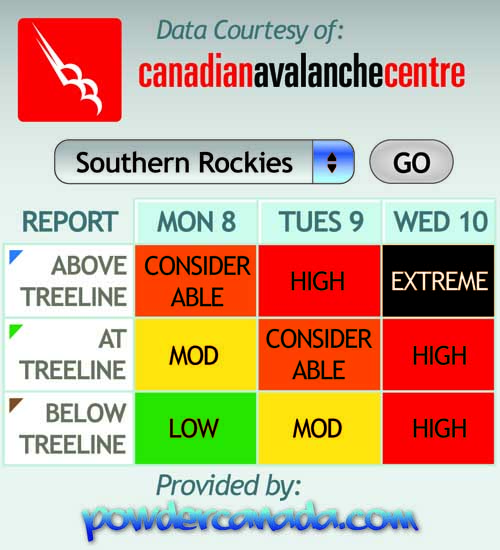 So far, it's been an unusually quiet winter in terms of avalanche accidents. I'd really like to applaud you. I truly feel that backcountry recreationalists are becoming more engaged and involved with personal avalanche awareness and a skill set that will help them manage their risk and decisions while traveling in the mountains. I also believe with feedback from you, our users and support from our sponsors the Canadian Avalanche Center has been able to provide more products and tools to help you with this process. Whatever has happened, it seems to be working. We've seen a steady increase in the number of people taking Avalanche Skills Training courses and a steady increase of hits to our website, especially our bulletin page. Last year we saw 1.5 million site visits, which is fantastic. Every year we see more and more people going into the backcountry and so far this year (touch wood) no recreational avalanche fatalities yet.
So, when you jump into your vehicle tonight jam packed with your whole family and best buds, and you're headed to the mountains for the weekend here's a few thoughts to take with you on the road:
• Don't let your guard down, stay in tune with the public bulletin, ask around and gain local knowledge on current conditions in the area where you're headed.
• Keep in mind that the snowpack is dynamic and ever changing, which means you need to adjust your travel habits to match what's changed in the snowpack since the last time you were out there.
• Timing and intensity of the sun is tough to predict, but you can bank on it weakening the upper snowpack if it shines through.
• Persistent slab avalanche problems are tricky to manage and are currently easy to trigger by the weight of a skier or sledder. Good group management is essential.
• Be aware of overhead hazards like cornices and large slopes that may produce large avalanches running full path.
Considering that in years past we have seen an average of 14 fatalities a year, it's been a pretty remarkable season so far. I encourage everyone to keep it up, enjoy your day in the backcountry and come home for the après party. Have a great weekend and remember to keep your head and ski tips up out there.