Skiers Survive avalanche in Purcells
Two backcountry skiers and a dog were rescued after getting caught in an avalanche near Kimberley, B.C., yesterday afternoon.
At around 4 p.m., Kimberley Search and Rescue and B.C. Ambulance Service personnel were called to the Hellroaring Creek area after a 35-year-old man from Quick, B.C., and 36-year-old woman from Cranbrook were caught in a slide, which happened about five kilometres from the remote trail head.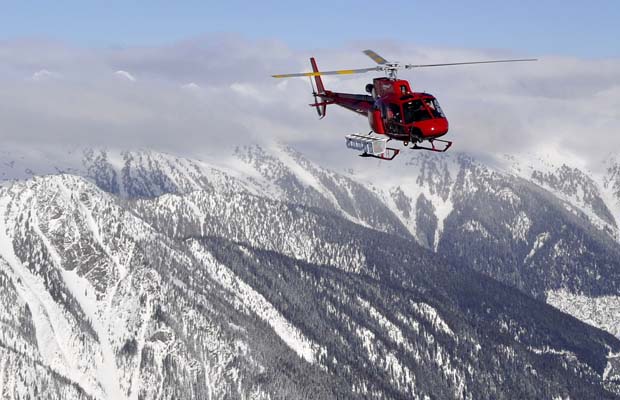 "The pair used a spot beacon to send for help," said search manager Wendy Hetherington.
The woman was able to get free and dig the man out before going for help, police said Sunday.
Rescuers met the woman on the way in, said police spokesman Cpl. Chris Newel.
He said a team of more than a dozen search and rescue volunteers worked for several hours to retrieve the man.
They stabilized him and brought him down to an ambulance at the trailhead—located about 45 minutes up a remote logging road. They had to access the slide zone on snowmobiles and a snow cat, Newel said.
The man was taken to East Kootenay Regional Hospital.
It was first thought the man was in critical condition, but Newel said his exact injuries aren't known at this point, but appear to be "serious."
The woman did not have any noticeable injuries but was also taken to hospital for evaluation.
"The Kimberley SAR team did an amazing job under very adverse conditions," Newel said. "Their dedication and commitment to helping others is to be commended."
Rescuers also found a dog that was with the couple during the slide.
The Hellroaring Creek slide came a day after an avalanche killed a man during a guided ski tour north of Nelson on Meadow Mountain.
The man was with two guides and nine others when he got caught in the avalanche.
He was wearing a transceiver which helped one of the guides locate him near the surface of the snow. The group dug him out but was unable to revive him.
So far this ski season four people have died in B.C. avalanches, according to Stuart Smith, operations manager at the Canadian Avalanche Association.
Nine people died from avalanches last ski season and 12 the season before that, most occurring in late winter and early spring, according to CAC data.
Read more: http://www.canada.com/news/Kimberley+avalanche+leaves+skier+seriously+injured/6103829/story.html#ixzz1ldd6xaAs
By Evan Duggan