Bruce Jamieson's Avalanche Research Saving Lives
Understanding why, how and when avalanches are likely to occur is critical to keeping people safe in Canada's mountains. Communicating safety tips and risk updates to skiers, snowboarders and snowmobilers is essential to saving lives.
Dr. Bruce Jamieson, Natural Sciences and Engineering Research Council (NSERC) Research Chair in Snow Avalanche Risk Control, and associate professor in the U of C's Schulich School of Engineering, has invested 30 years in avalanche research, forecasting, hazard assessment, control, education and communication.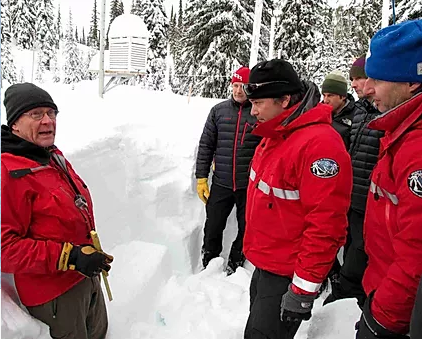 Increasing public safety through avalanche research and education: Dr. Bruce Jamieson's avalanche research is helping backcountry users to better assess avalanche risk and make safer decisions.
His findings and knowledge reach professional backcountry guides, avalanche forecasters and the general public through ski industry associations, avalanche bulletins, training materials, academic papers and worldwide presentations. He has published three books on backcountry avalanche safety that are used as student manuals for the Canadian Avalanche Centre's avalanche skills training courses for winter recreationists.
His work has the potential to lower the number of avalanche-related deaths in Canada.
Learning, teaching and empowering
In the past, Canada had twice the typical number of yearly deaths due to avalanches. In response, Dr. Jamieson's team advanced those areas of research designed to support safer decisions by the public.
The team produced a training CD detailing 'Pops and Drops' to help recreationists recognize unstable snow. The CD is used in the Canadian Avalanche Centre's two-day avalanche skills training and the more-advanced four-day backcountry programs.
Dr. Jamieson has also completed an analysis of Canada's avalanche bulletins to determine if they might be improved through changes to the configuration of the areas they report on, or adjustments to their distribution cycles. And he is part of a team that launched the Avaluator, a decision support card to be used by the public in conjunction with avalanche bulletins to help determine the risk of avalanche in specific areas.
"The multi-disciplinary team that developed the Avaluator included social scientists," says Dr. Jamieson. "Reaching the public with increased avalanche risk information is essential—but understanding backcountry users' decision-making about proceeding into an area, or not, is critical as we work to increase safety and help save lives."
Dr. Jamieson is entering the final year of a five-year applied research project with combined funding of $1.3 million from NSERC, 55 companies involved in Canada's skiing sector and the Canadian Avalanche Centre; the project also receives extensive in-kind support. The research team led by Dr. Jamieson includes U of C graduate students and colleagues in British Columbia, the U.S. and Europe.
"Based at the University of Calgary, Dr. Jamieson leads the largest field program of snow avalanche research in the world," explains Clair Israelson, past executive director of the Canadian Avalanche Centre. "Knowledge transfer is exemplary; research results are shared through spring and fall sessions with practitioners, directly improving our understanding and capacity to predict avalanches. Dr. Jamieson and his team produce world-class research that will save lives and position Canada to achieve its potential as the world's premiere winter tourism destination."
Dr. Jamieson's presentation video for advanced recreationists and practitioners identifies the five types of fracture character and shows the frequency of skier triggering on slopes that exhibited each type of fracture character in compression tests. The frequency of skier triggering is also presented for each type of fracture character separately for easy, moderate and hard taps.
Fracture character in compression tests from Bruce Jamieson on Vimeo.
Lists of contributions and publications can be found at http://www.schulich.ucalgary.ca/asarc/
Dr. Jamieson's research is supported by Canada's Natural Sciences and Engineering Research Council, HeliCat Canada, Mike Wiegele Helicopter Skiing, the Canadian Avalanche Association, Canada West Ski Areas Association, Backcountry Lodges of B.C., Association of Canadian Mountain Guides, Tech Mining Company, Canadian Ski Guides Assocation, Parks Canada, Canadian Avalanche Foundation and private individuals. The field work is in cooperation with Mike Wiegele Helicopter Skiing, Mt. Revelstoke and Glacier National Parks and Kicking Horse Mountain Resort.
His current research topics are listed at: http://www.ucalgary.ca/asarc