2022 State of the Mountains Report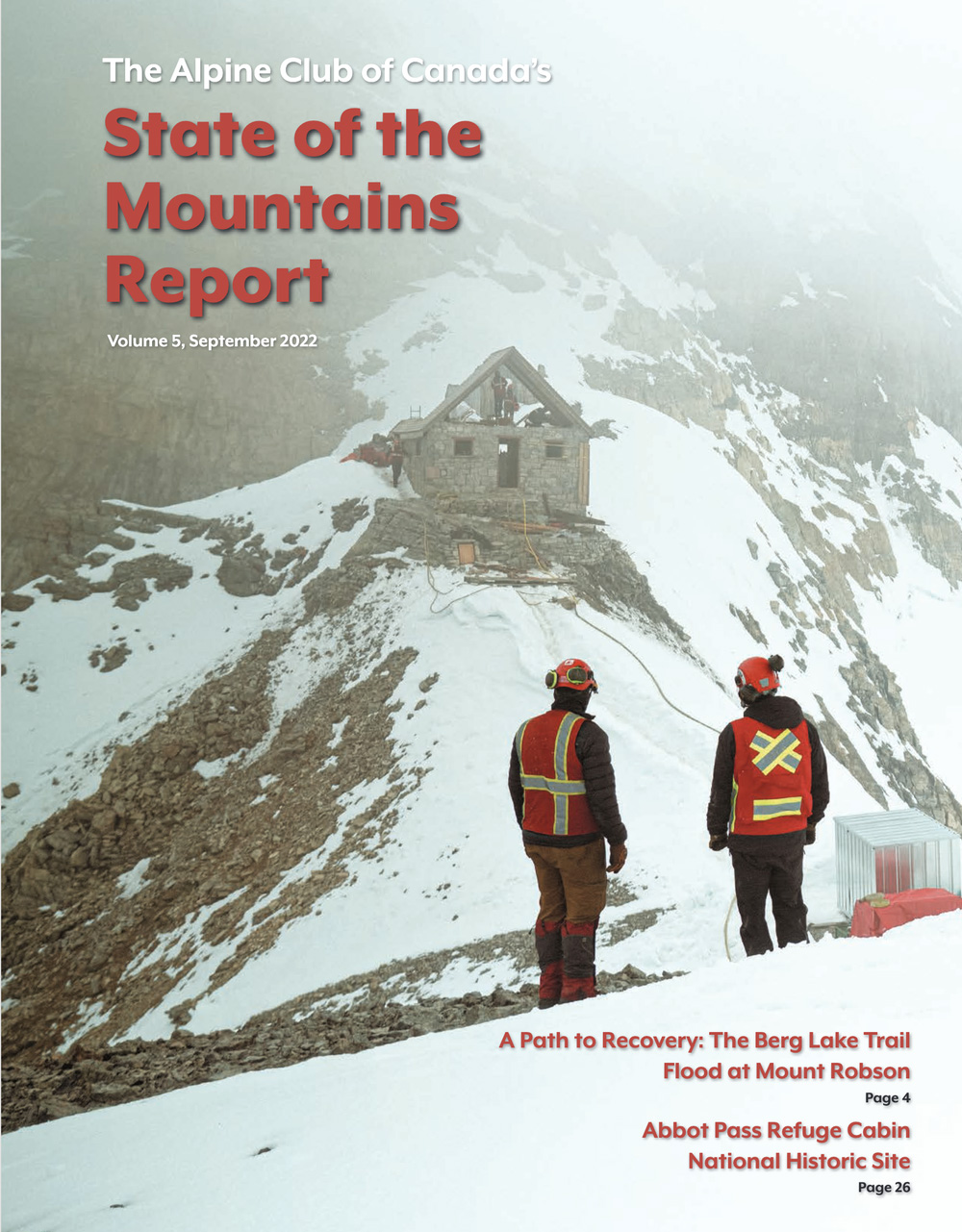 The State of the Mountains Report is an annual mountain report produced by the Alpine Club of Canada highlighting the changes in Canada's alpine environment.
The Report is a commitment by the ACC to provide accessible, current, and accurate information about the forces that affect Canadian mountain places, ecosystems, and communities.
In 2011 the ACC published the first State of the Mountains Report, which highlighted the startling impacts of climate change on the alpine environment of Alberta and British Columbia. The 2011 report was motivated by their commitment to summarize and better communicate an understanding of the environmental and cultural forces affecting these high places.
The tradition continues with an annual State of the Mountains Report produced by the ACC in collaboration with mountain researchers, community members, and partner organizations. The State of the Mountains Report gives Canadians, and all readers alike, the opportunity to hear the voices of people who have spent countless hours researching our alpine environment. The contributors in the report have, in one way or another, dedicated their lives to the alpine and have offered their first hand experiences, expertise and photographs to tell the stories of how change in Canadian mountain environments is affecting people and ecosystems.
The 2022 content includes:
• Flooding at Mt. Robson's Berg Lake Trail
• Sustainability initiatives in the Town of Banff
• Canadian Mountain Network on how we understand mountains
• iNaturalist.org as a community science platform
• The life of the Abbot Pass Refuge Cabin
• … and much more!
These essays make great lunch time or cozy evening reads – learn more about the places you love.
Click here to read The State of the Mountains Report 2022.

The Alpine Club of Canada: Vision and Mission
The Alpine Club of Canada is guided by the following vision to bring together, and give voice to, Canada's mountaineering community. These represent the principles and beliefs of the ACC, going back over 100 years the mission has been to promote alpine experiences, knowledge and culture; responsible access; and excellence in mountain skills and leadership.