Breathing Assistance in Deadly Avalanches
Safeback is the name of a newly developed breathing system. This Norwegian invention can extend the life of a person buried in an avalanche.
It is both cold and brutal to be caught by an avalanche. But even so, there are extremely few who freeze to death after being buried under the snow. Nor are physical injuries the primary cause of death. The fact is that three out of four avalanche-deaths are due to suffocation. Many of these could have been prevented if the victim had access to more breathable air.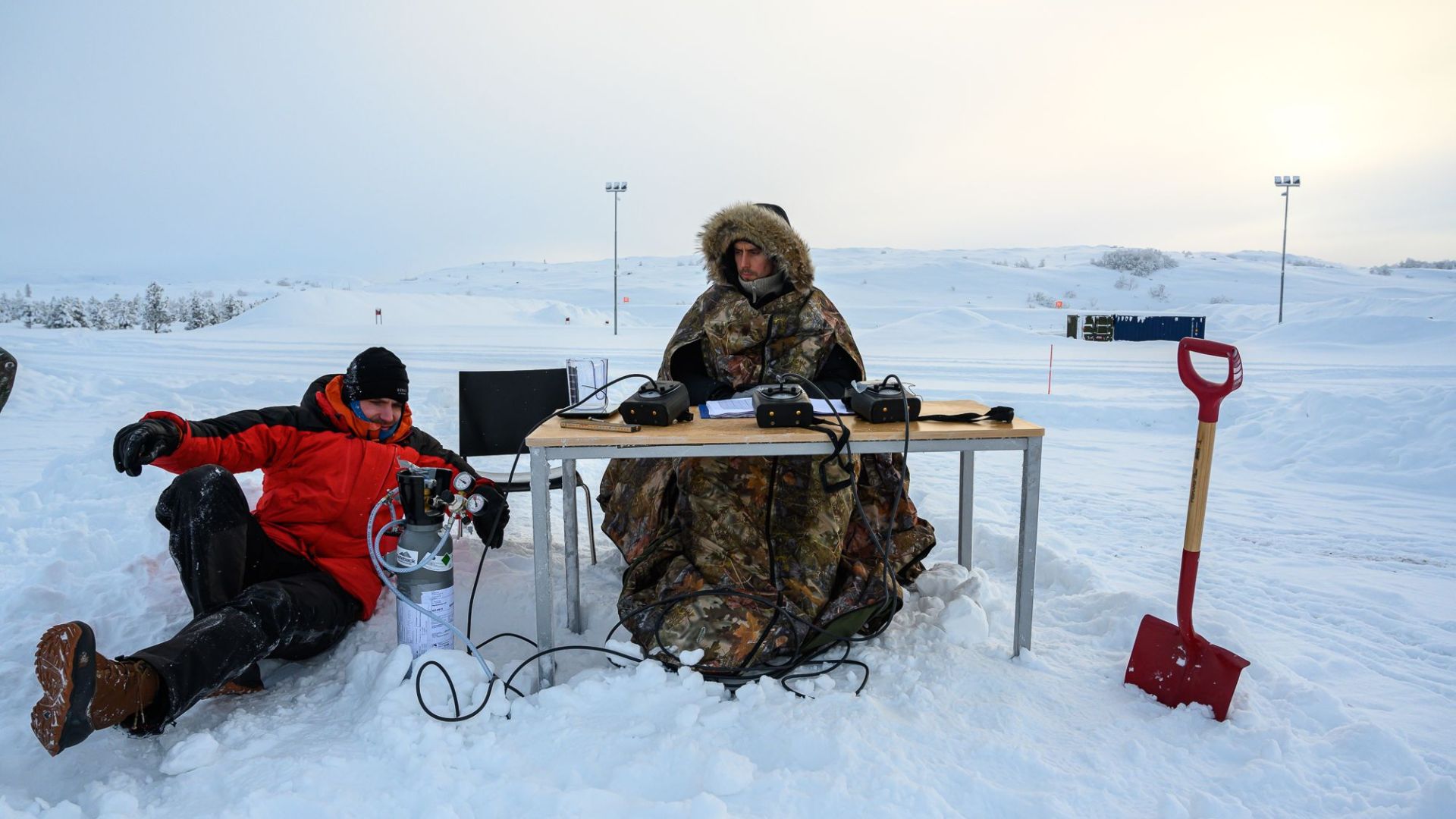 The man in the hunter's cloak is André Mjølhus. The man lying on the snow is Tor Berge. Additionally, they're collaborating with FFI's Chief Researcher, Svein Martini.
These men are out in the field to find out more about how Safeback works in extreme cold temperatures, before the product is launched.
We're in Kirkenes, high in Norwegian Lapland. Behind a desk, in the middle of a snowfield, a person sits bundled up, taking careful notes. Just next to him, another guy in more ordinary outdoor gear is lying on the snow. He's controlling a gas pump which is sending CO2 into the snowpack.
It's a pretty absurd setup, mostly because of what the photographer cannot see below the snow: a test mannequin. This particular mannequin is wearing a backpack equipped with the Safeback system.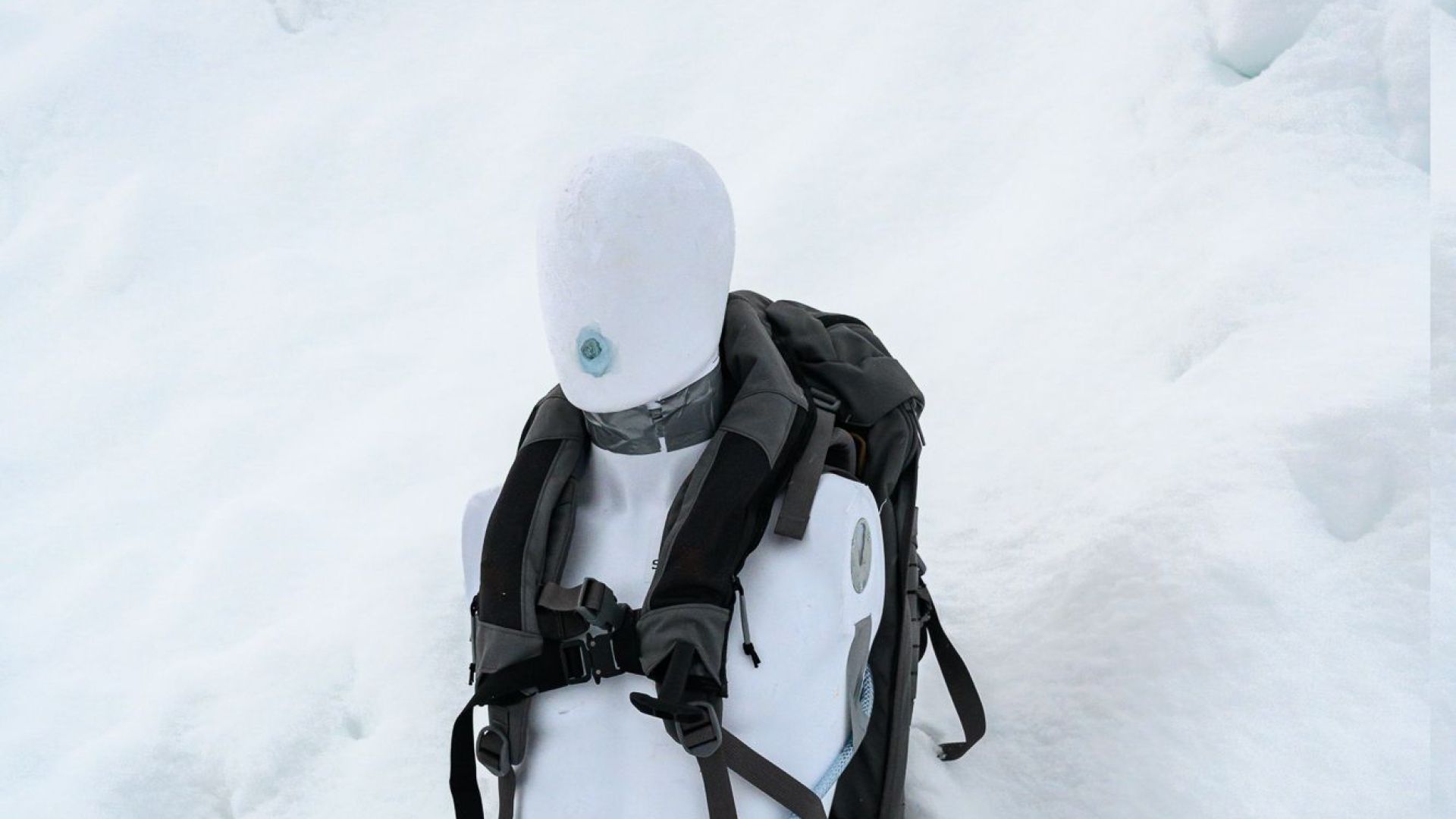 More than enough air
The product's full name is Safeback SBX. It is a small, light device with two hoses that attach to the shoulders. Clean air is transported from the main box and up to both shoulders. The system then presses this air out through openings at the ends of the tubes.
This air will disperse though the snow, replacing the air around the nose and mouth. Pulling on the T-shaped handle activates the mechanism. Where does the clean oxygen come from? Directly from the snow that surrounds the backpack of the avalanche victim. That area normally contains more than enough air to keep a person breathing – for a long time.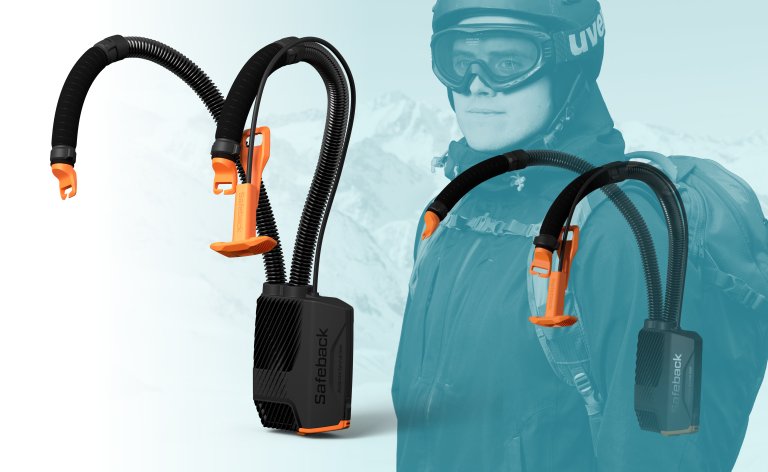 The idea is simple. But it must work just as well in practice as in theory. That's how they ended up above the Arctic Circle. Kirkenes is one of many test arenas to test the device in different types of snow.
An Idea Born out of Love for Backcountry Skiing
André and Tor were two engineering students, bound by their shared interest in backcountry skiing when they met in Bergen in 2016. Together with their third partner, Sigmund Andreassen, they began to discuss how alpinists and outdoor enthusiasts could become even safer in avalanche situations.
Because accidents are far too common: the statistics show that roughly 100 people die in avalanches every year. Many of those are skiers and snowboarders. Some of those freeriders are Norwegian. Autopsies of victims have shown that 75 percent die because their own breath replaces the breathable oxygen with more and more CO2. Their rescue team doesn't manage to find them before the oxygen is gone. It can take less than 15 minutes to lose your life in this way.
Nearly Caught in an Avalanche
"Our invention can deliver air for 90 minutes. It can be the difference between life and death for many who are caught by avalanches today," notes Tor Berge, who is the CEO of the startup company, Safeback AS.
Berge is in the target market himself. He has nearly been caught in avalanches before.
"I have had a few slides rolling down the mountain around me," he explains.
He and a few expedition partners took the Haute route between Chamonix, France and Zermatt, Switzerland. Chamonix sits at the foot Mont Blanc and is considered by many to be the capital of extreme sports in Europe. Its terrain is both steep and complex.
"On our trip, there were several slabs which broke. The whole trip, we had to constantly be on the lookout for signs of danger: Ski, stop, ski, and always keep a responsible distance to one another.
Some might say that the safest thing would be if nobody ventured into the backcountry, and all alpinists stayed within the boundaries of normal ski resorts.
But that's not the way the world is. This is a sport which has attracted very many people for a long time. Today, freeriders are becoming more educated about the danger of avalanches and have better equipment than ever before. Beacon, shovel, and probe are now standard, with airbags becoming more and more prevalent. Safeback can make your backcountry trip even safer," says Berge.
Written by LARS AARØNÆS, research journalist