Whistler SAR Rescues Skiers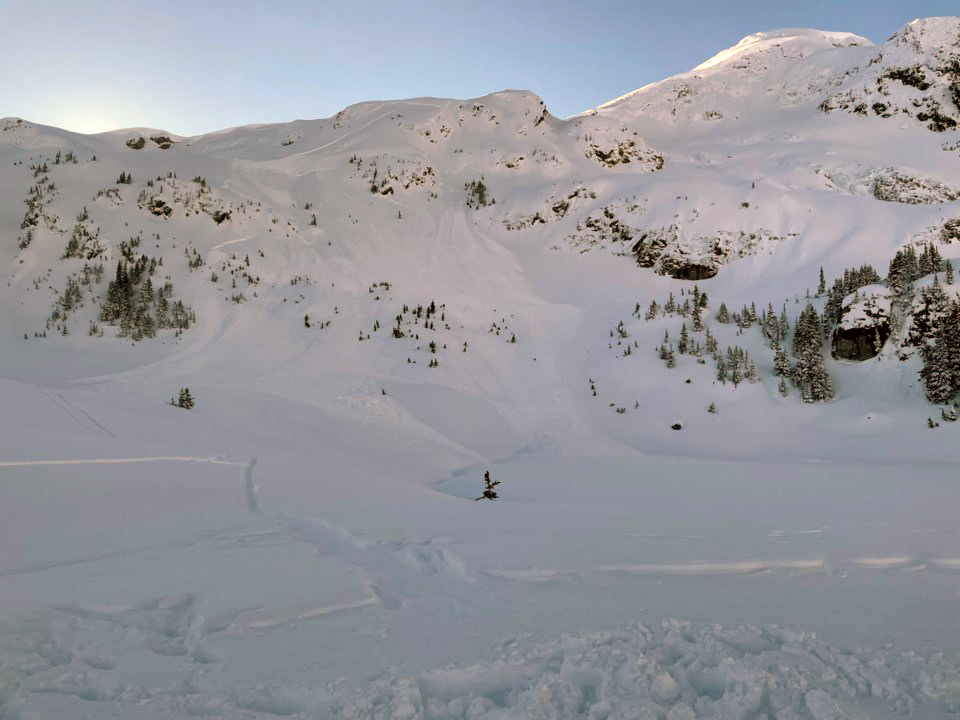 Whistler Search and Rescue (SAR) rescued a group of skiers who were in a size 2.5 avalanche on Rainbow Mountain this week.
According to a release from Whistler Search and Rescue, crews were called to the area at about 10:30 a.m. on Feb. 1 in response to reports of injured ski-tourers in need of medical evacuation.
Whistler SAR said the group had been heli-dropped at the top of a nearby run earlier that morning. They were in the process of skiing a second lap on a large, north-facing slope when the incident occurred at about 1900 metres of elevation.
All five skiers were dropping into the slope, one at a time, at the same spot on a convex slope, the release explained. Four skiers had already entered the slope and were reportedly resting on two natural benches on the mountainside as the fifth member of the group prepared to make their first turn. That skier appears to have initiated the slide, but managed to self arrest at the fracture line, said Whistler SAR. As such, that individual was not caught in or injured by the avalanche.
Whistler SAR said one skier in the avalanche path opted to "straightline it" towards nearby flats and successfully outran the slide.
The same can't be said for the remaining three members of the group. A second skier was caught up mid-path and came to rest on a bench after suffering lower leg injuries, while two more skiers were swept up and carried the full length of the approximately 500-metre slide.
Both managed to self-extricate from the toe of the slide after suffering "near complete burials," with just their heads left above snow. The skiers were flown by helicopter to a waiting ambulance and subsequently brought to the Whistler Health Care Centre for treatment of "chest injuries and other injuries," said Whistler SAR.
Crews opted to rescue the injured skier who was caught mid-path via helicopter longline, due to lingering overhead hazards.
Twelve Whistler SAR volunteers attended the scene. Whistler Blackcomb Mountain Ski Patrol's Rapid Intervention Team was also deployed on-site, so "in the event that if something further might have occurred, help was close by."
Whistler SAR manager Brad Sills said he's noticed a troubling trend emerging, where the volunteer agency's call volume seems to increase when Avalanche Canada's public bulletin rates the Sea to Sky corridor's avalanche risk as "considerable."
"We would like to remind everyone that this designation should not be construed as a safe or medium risk, in that, within the definition, it clearly states that human triggered avalanches WILL occur," Sills said.
According to Avalanche Canada, the slide on Rainbow Mountain broke 40 centimetres deep and ran on the facet-crust layer formed in late January. "The avalanche propagated across adjacent roll-over features and triggered a sympathetic slide on a small feature 200 m away."
The Tuesday morning avalanche came following reports of "numerous large (size 2-2.5) human and explosive-triggered avalanches" the day prior that mostly broke between 20 and 50 cm deep.
Be smart and be safe people, there's lots to learn from this accident. Best wishes to those who were injured.
Source: Pique Magazine