Shuttling Guests with Snowcats at Kimberley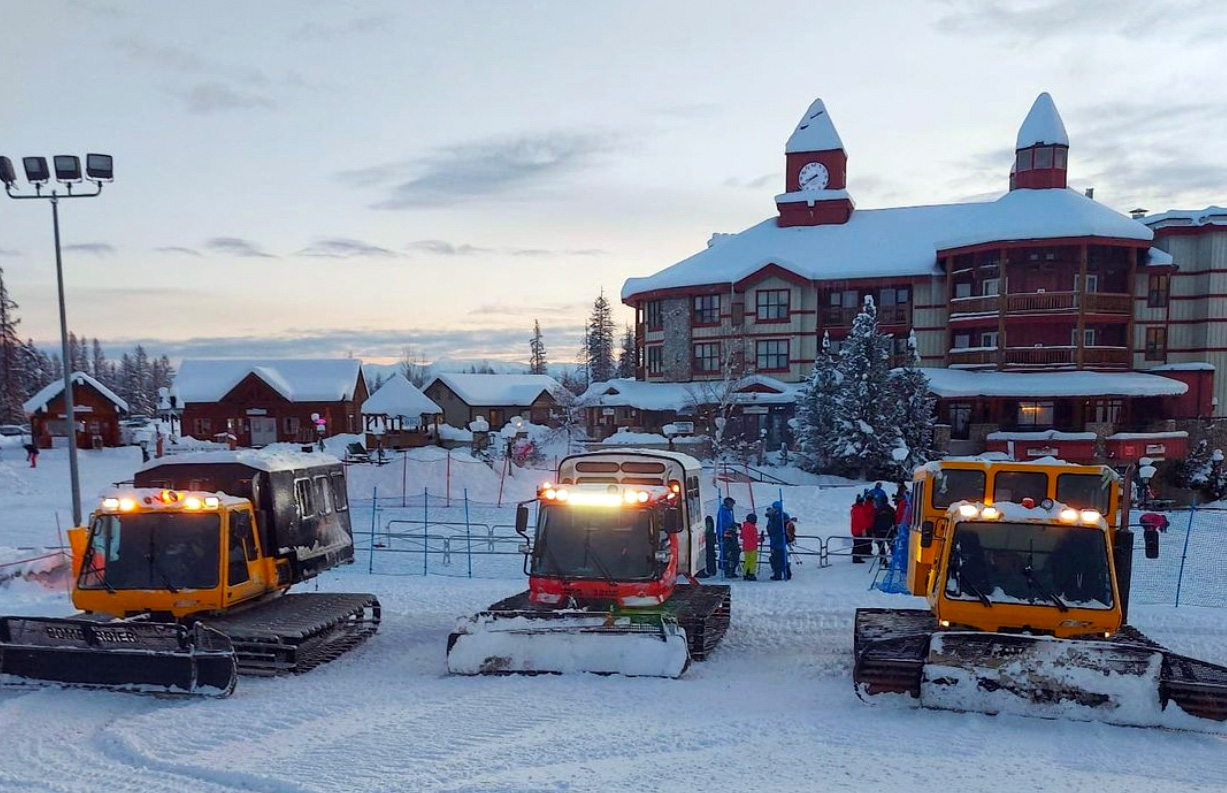 Kimberley Alpine Resort (KAR) is shuttling guests with snowcats as a result of the December fire taking out their sole lift to the upper mountain. The upper lift control building that was severely damaged by the fire contained all the specialized electronic equipment that runs the quad lift.
Ted Funston, KAR General Manager, stated, "the time required to source the parts and get the lift operating will be measured in months, rather than weeks. Our goal is to provide guests with skiing and riding this season so we are offering the Easter Chair, Tamarack Chair, Owl T-bar and Magic Carpet supported by snowcats."
Funston worked with staff and quickly made plans to move people up the mountain to the back side by snowcats. Loaner snowcats from Revelstoke and Kicking Horse Mountain Resorts were provided to support the initiative. Staff put in place nearly 3 km of safety fencing to separate the snowcats from downhill traffic.
KAR created a reservation system on Eventbrite to book rides, free of charge with a valid ticket or season pass.
Guests are being picked up in the base area near the Conference Centre and dropped off at the top of the Quad Chair. This positions guests to have access to a green run (Caper) to easily get to the backside Easter and Tamarack Chairs.
Some people are showing up to the snowcat staging area and are getting on the cats on a stand-by basis. They are keeping four seats in the 12-seater cat every time for walk-on riders, and some people are not showing up for their reservations.
They ask that those who are able to walk to the back side to please continue to do so. This allows guests who are not able to do the hike, such as families with young children, older skiers, and people who are less mobile, access to the backside.
Tickets are released for Snowcat Shuttle reservations at 6pm daily
– A valid lift ticket is be required to load (note: half day tickets will scan as valid starting at noon)
– Please arrive 10 minutes before your scheduled reservation.
– Loading location is in the lower base area next to the Conference Center.
– Please limit yourself to one snowcat lift per day. Limited to 4 max seats per reservation.
– If you are unable to make your reservation time, please cancel your booking
Best wishes to Functon and staff and all the guests and passholders at KAR. You are an impressive group!