Freeride World Tour Champions Crowned
The world's best freeriders captivated audiences for a 25th edition of the Xtreme Verbier that will be long remembered.
Among one of the strongest rosters in Xtreme Verbier history, the 2021 kings and queens of freeride were crowned today. Due to snow conditions, athletes in all categories started at 3,020m (instead of 3,300m), but that certainly didn't stop them lighting up the lookers-right of the Bec des Rosses – leaving judges and viewers in awe and wanting more. With 15,000 points up for grabs for first place (instead of 10,000 with the other stops), athletes were under even more pressure to perform for the honour of lifting the FWT trophy.
Fernie BC's Katie Anderson was second in Women's snowboard in Verbier and that earned #2 overall on her rookie year in the FWT! She was the only Canadian to qualify to compete in the final event.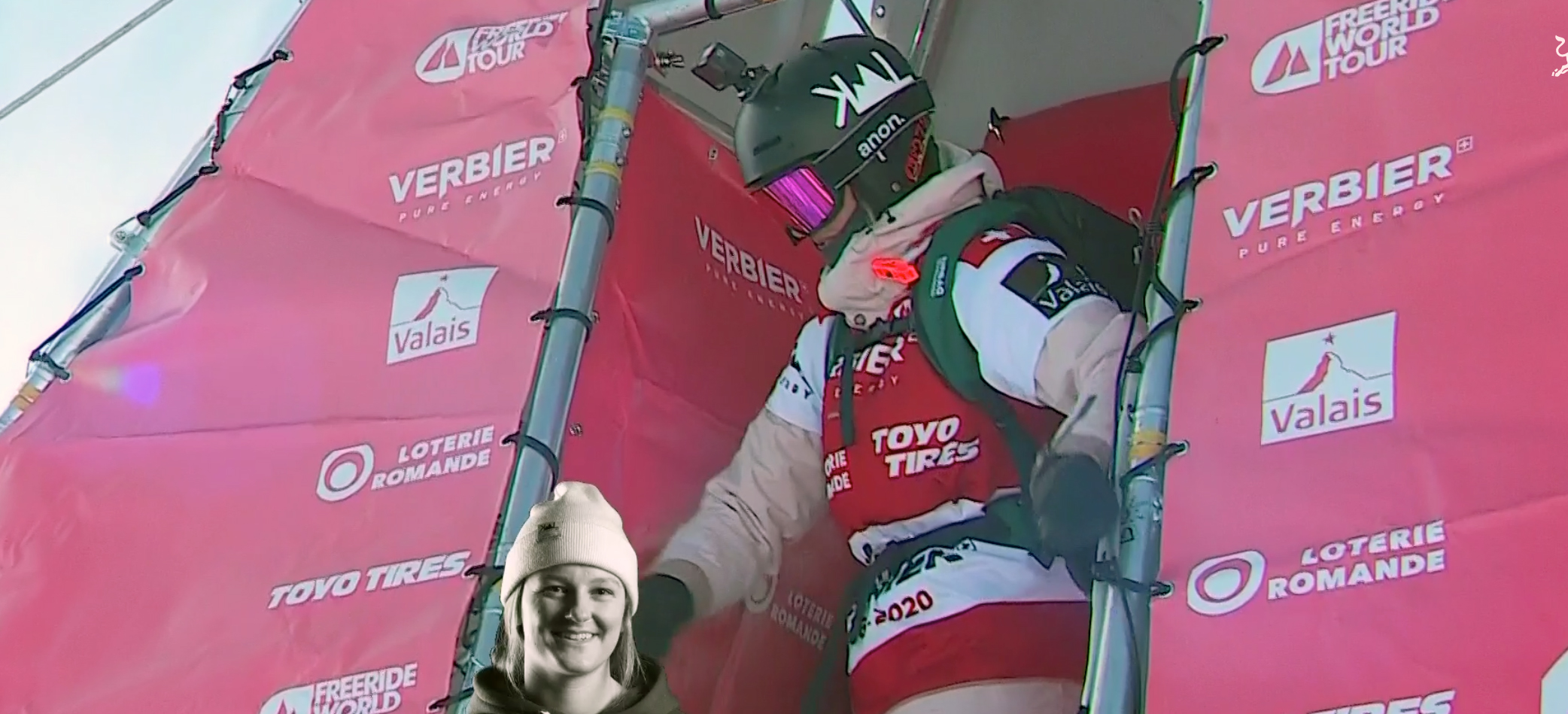 Here's what went down in the 25th edition of the Xtreme Verbier:
SNOWBOARD WOMEN
FWT21 World Champion: Marion Haerty (FRA)
Marion Haerty (FRA – 1st Place) completed an astonishing perfect season in FWT21 – the first athlete ever to do so – taking a win at every event. She put down a fluid run with three solid airs taken with her characteristic confidence. Katie Anderson (CDA – 2nd Place) produced an express line for her first time on the Bec, with a couple of drops and a method grab to lock in second place. Erika Vikander (USA – 3rd Place) showed off some technical riding in the steeps and completed a fluid run top-to-bottom.
"I don't think about the record or the awards. I just think about how I like to snowboard. I want to push myself and the level further, and maybe that's why I won today. I'm not in a competition against the other girls, only against myself."
− Marion Haerty, FWT21 Xtreme Verbier Winner
FWT21 overall rankings in snowboard women:
1. Marion Haerty — 35 000 pts
2. Katie Anderson — 26 400 pts
3. Erika Vikander — 24 000 pts
4. Manuela Mandl — 20 800 pts
SKI WOMEN
FWT21 World Champion: Elisabeth Gerritzen (SUI)
Hometown hero, Elisabeth Gerritzen (SUI – 1st Place), earned her second Xtreme Verbier Crown and the FWT Title with a huge performance on the Bec. Elisabeth put herself straight into a precarious zone and made the most of it with two big airs up top. She then charged the rest of her line at speed and finished with a massive air. Reigning FWT champion, Arianna Tricomi (ITA – 2nd Place), ripped a fluid line with multiple features. She started with
a smooth drop in the steeps and followed this with a double into a technical zone with a mandatory air to exit, then a 360 before the finish line to put the icing on her run. Hedvig Wessel (NOR – 3rd Place) went straight into the guts of the gnar and chose a super technical line incorporating multiple airs in the steepest zone of the face.
"I was semi-happy about my run, but it didn't feel as good as my line in 2019. It was nervous moments waiting for the overall rankings to show up. I knew it would be tight, and I didn't think it was in my reach to take the overall win, so it was really unexpected and an amazing surprise… Knowing that no women skier has ever won twice on the Bec, it became my goal, so I'm stoked to make it happen and to feel comfortable in the steep terrain."
− Elisabeth Gerritzen, FWT21 Xtreme Verbier Winner
FWT21 overall rankings in ski women:
1. Elisabeth Gerritzen — 27 620 pts
2. Hedvig Wessel — 27 600 pts
3. Zuzanna Witych — 22 800 pts
4. Juliette Willmann — 20 915 pts
5. Tracy Chubb — 18 945 pts
SNOWBOARD MEN
FWT21 World Champion: Victor De Le Rue (FRA)
Victor De Le Rue (FRA – 1st Place) made short work of the Bec, sending a full-throttle line with zero hesitation to take the Verbier Crown and the FWT Title. Victor first pointed a huge double drop and linked this with a floaty 360 straight into another cliff at warp speed. Cody Bramwell (GBR – 2nd Place) put down another dominant performance with a solid line. He started with two airs in the steeps up top, then linked a risky 360 above some serious consequences into a big air with no hesitation. If this wasn't enough, a laid-out backflip off the bottom wind-lip secured the second position. Blake Moller (USA – 3rd Place) found an innovative line and sent a wild 360 into the exposure then pinned the rest of the face in full control, finishing with a floaty air to lock in the podium.
"It was a weird beginning to my winter with a broken shoulder and all the resorts closed in France, meaning I didn't ride much. I had two bad runs in Andorra, then went to Austria wanting to do a run I was stoked about, which put me in the first place. That boosted me up, and in Verbier I tried to stay in the same state of mind, forget about the competition and just do the run. And it went perfect!"
− Victor De Le Rue, FWT21 Xtreme Verbier Winner
FWT21 overall rankings in snowboard men:
1. Victor De Le Rue — 31 400 pts
2. Blake Moller — 27 600 pts
3. Cody Bramwell — 27 120 pts
4. Camille Armand — 18 240 pts
5. Nils Mindnich — 17 715 pts
SKI MEN
FWT21 World Champion: Kristofer Turdell (SWE)
Kristofer Turdell (SWE – 1st Place) completed his season goal and dream of winning the Xtreme Verbier with an epic display of his strength and big mountain dominance. Kristofer charged a crispy clean line, which featured multiple airs up top, a picture-perfect cliff in the middle and a backflip to finish. Former Xtreme Verbier Champion, Wadeck Gorak (FRA – 2nd Place) unveiled a line loaded with airs and huge tricks. Wadeck started with a big double in the steeps, linked this with a 360 and finished with two trademark backflips to claim the podium. Aymar Navarro (SPA – 3rd Place) proved he is one of the most powerful freeriders around, sniffing out the biggest double on the face and sending it to the moon.
"I don't know how to describe it. The excitement and nervousness you build up before the competition makes it hard to sleep and eat in the morning. Then, suddenly, it's over. I over-planned my line but did a second face inspection this morning and altered it. I am really happy to link this line together."
− Kristofer Turdell, FWT21 Xtreme Verbier Winner
FWT21 overall rankings in ski men:
1. Kristofer Turdell — 31 720 pts
2. Ross Tester — 30 800 pts
3. Carl Regnér Eriksson — 24 320 pts
4. Wadeck Gorak — 24 320 pts
5. Reine Barkered — 23 860 pts
6. Andrew Pollard — 23 400 pts
7. Aymar Navarro — 23 000 pts
8. Maël Ollivier — 21 700 pts
9. Blake Marshall — 20 360 pts
10. Isaac Freeland — 18 000 pts
After four enthralling events across three destinations, the FWT21 has climaxed with an Xtreme Verbier that did not disappoint. With COVID threatening the events, the FWT performed over 1,500 PCR tests throughout the season to ensure the safety of all the athletes and staff – of which they had zero positive results.
Congratulations to all the riders who have entertained onlookers all season with their progressive freeriding – sending and spinning in ways that continue to drop jaws. A special shout out to the FWT21 Champions: Marion Haerty, Elisabeth Gerritzen, Victor De Le Rue and Kristofer Turdell; and to Katie Anderson who did so well on her rookie year!
FULL RESULTS OF FWT21 XTREME VERBIER
Snowboard Women
1. Marion Haerty — 70,00 pts
2. Katie Anderson — 65,33 pts
3. Erika Vikander — 61,67 pts
4. Manuela Mandl — 58,33 pts
Ski Women
1. Elisabeth Gerritzen — 88,33 pts
2. Arianna Tricomi — 84,33 pts
3. Hedvig Wessel — 68,33 pts
4. Zuzanna Witych — 63,00 pts
5. Tracy Chubb — 55,33 pts
6. Juliette Willmann — 30,00 pts
Snowboard Men
1. Victor De Le Rue — 92,67 pts
2. Cody Bramwell — 89,67 pts
3. Blake Moller — 82,00 pts
4. Sammy Luebke — 76,33 pts
5. Camille Armand — 60,33 pts
6. Nils Mindnich — 59,67 pts
Ski Men
1. Kristofer Turdell — 90,67 pts
2. Wadeck Gorak — 88,00 pts
3. Aymar Navarro — 86,33 pts
4. Ross Tester — 85,67 pts
5. Carl Regnér Eriksson — 83,67 pts
6. Drew Tabke — 80,33 pts
7. Andrew Pollard — 78,67 pts
8. Blake Marshall — 77,00 pts
9. Reine Barkered — 72,33 pts
10. Tao Kreibich — 66,00 pts
11. Léo Slemett — 58,33 pts
12. Maël Ollivier — 47,33 pts
13. Isaac Freeland — DNS