Winter 2020-21 Extended Forecast: A Winter Divided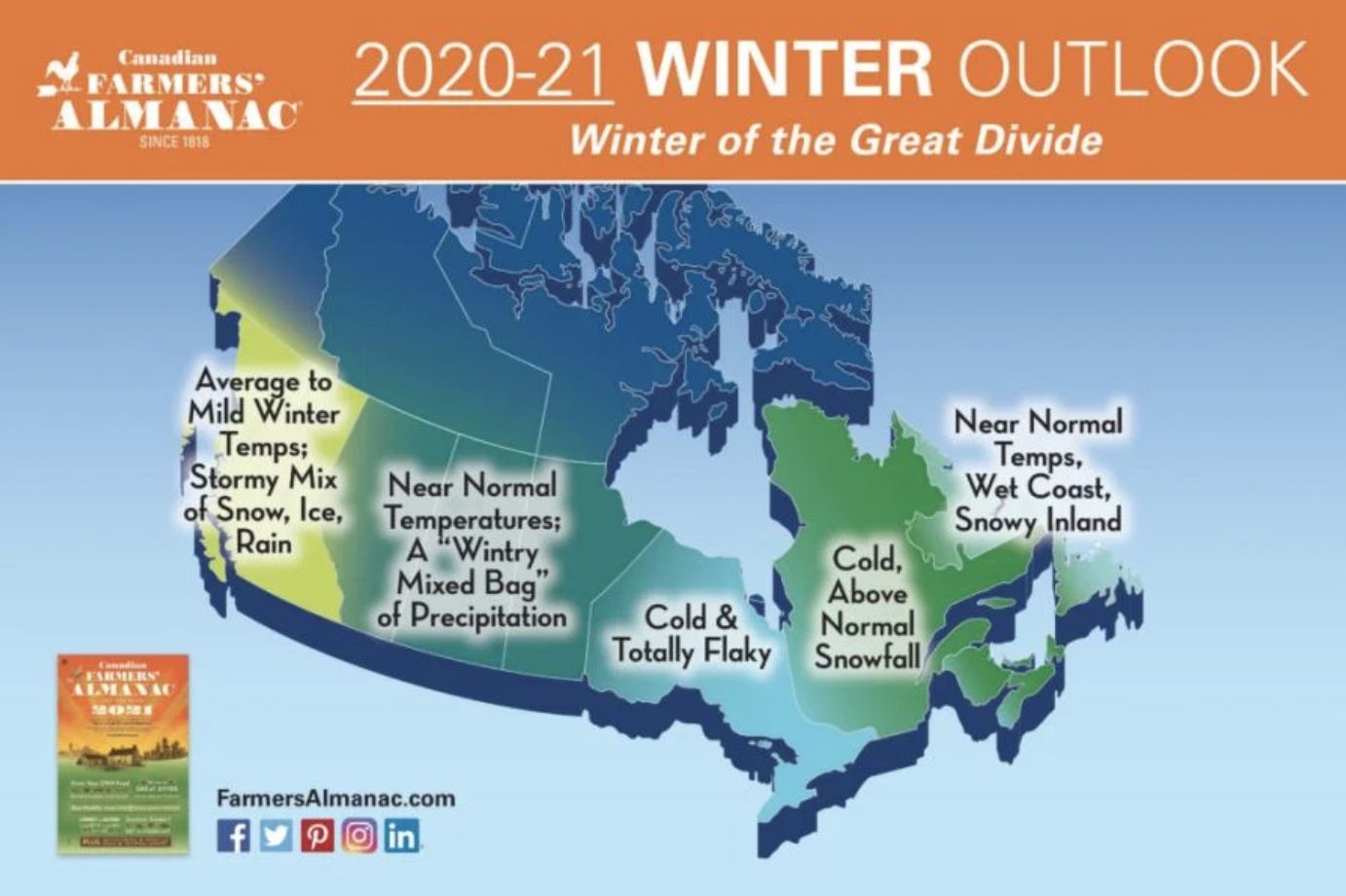 The Canadian Farmers' Almanac has an unusual forecast this year, calling it "The Winter of the Great Divide: Wet, white, and wild in the West, everything crazy in the East."
"Based on our time-tested weather formula, the forecast for the upcoming winter looks a lot different from last year, quite divided with some very intense cold snaps and snowfall." —Editor Peter Geiger, Philom.
While the eastern provinces are expected to see unseasonably mild temperatures for the majority of this winter, the west will be a different story.
Eastern British Columbia, along with Alberta, Manitoba, Saskatchewan and western Ontario will see much colder than normal temperatures. The Pacific coast is forecasted to see near normal conditions.
In addition, above-normal snow is expected over the interior of BC. While we're expected to have more snow to shovel this winter, an active storm should bring a heavier than normal dose of rain to western British Columbia.
"Traditionally, people who follow our forecasts closely say that their accuracy runs in the neighborhood of 75% to 80%," The Farmers' Almanac said. "But, we remind everyone that our predictions are long-range and are meant to give you a good idea of what might come your way in the next year."
About The Canadian Farmers' Almanac
Every year since 1818, they have provided long-range weather predictions that help you plan ahead. These forecasts are based on a mathematical and astronomical formula that is guided by the rules set forth by their founding editor. This formula has been altered slightly over the years, but it remains very much the same as the one the original editor, David Young, created for accurately predicting the weather up to two years in advance.