Hans Gmoser "take advantage of gravity"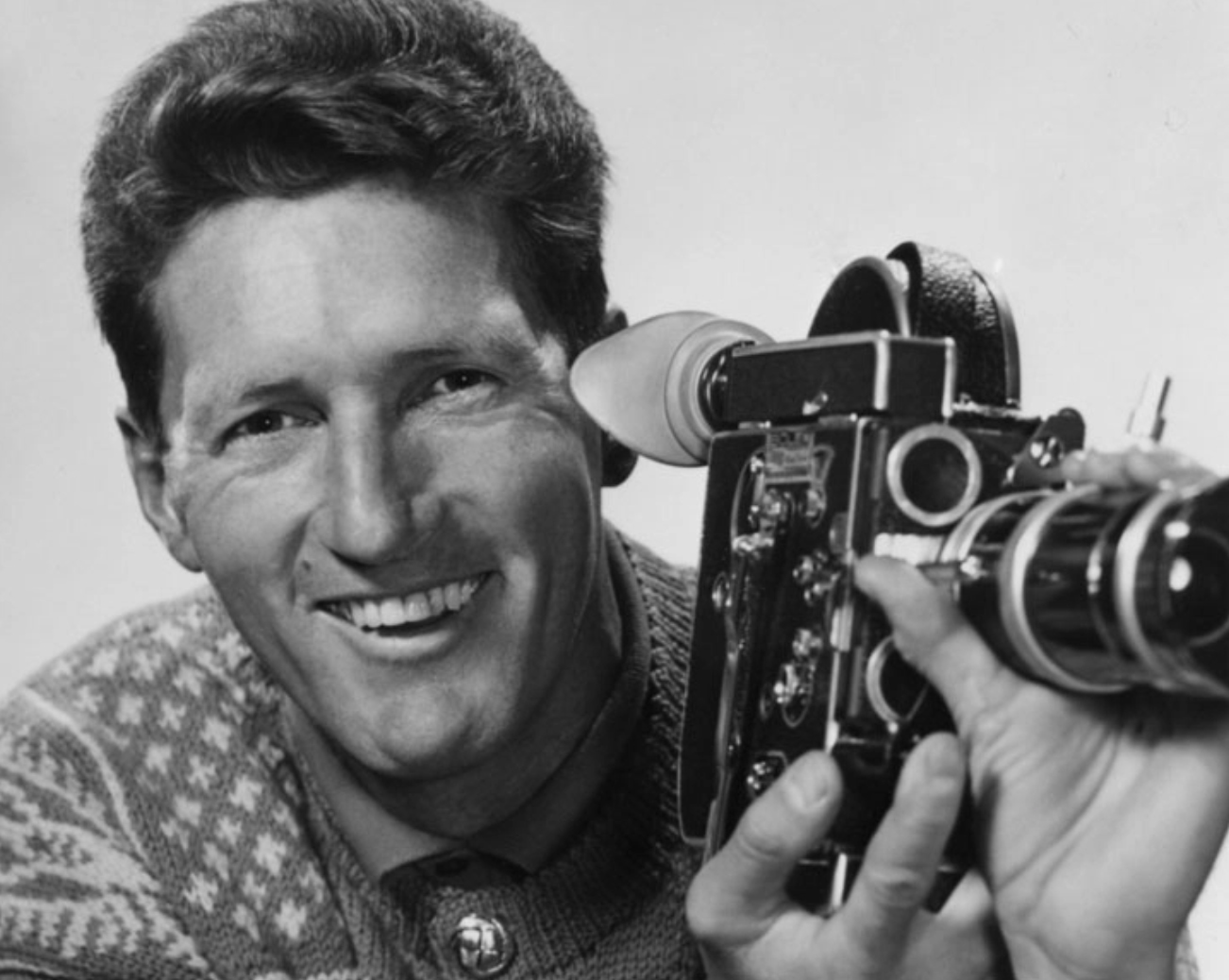 Hans Moser knew how to take advantage of gravity and tell the story on film. The inventor of heli-skiing, father of modern Canadian alpinism, and in the late '50s through the middle '60s — one of the most famous mountaineers in North America, has stories to tell! "Great friends, sharing great adventures, in the most beautiful places on earth."
The Whyte Museum of the Canadian Rockies has edited clips from Hans Gmoser's historical films and comments, "We are humbled by what those skiers could do while wearing leather boots and wooden skis. Or the tough climbs they accomplished with gear that now is used mostly to decorate the walls of lodges. Interviews with many current ACMG and Honorary Members, as well as old footage of some of them crushing it. Enjoy!"
About Hans Gmoser: Mountaineer & filmmaker
Hans Gmoser was an energetic pioneer in the second generation of Canadian mountaineers shaped by the Swiss tradition and Austrian alpine guide Conrad Kain. The first generation of mountain guides was waning as Gmoser came on the scene in the 1950s. Hans Gmoser was born in Austria and came to Edmonton as a young man in 1951, and was soon lured to meet the challenges of the Rocky Mountains. Gmoser joined the Alpine Club Of Canada in 1952, the same year that he met German-born Baroness Lizzie Rummel and ski instructor Erling Strom at Sunburst Lake Cabin and Mount Assiniboine Lodge, where Gmoser worked as a guide in 1953-54. In the autumn of 1952 Gmoser and Leo Grillmair climbed the narrow Yamnuska face that is now called Grillmair Chimneys.
In 1953, Hans Gmoser pioneered the Calgary Route at Mount Yamnuska, near Kananaskis. The Stanley Mitchell Hut in the Little Yoho Valley became the Christmas home for Gmoser in the early 1950s, and by January 1954 he moved to Banff to pursue professional mountaineering. Gmoser was fortunate in 1955 to assist the well-known Swiss Guide, Walter Perren, in teaching national park wardens basic mountaineering skills. In 1956, Gmoser become certified as a mountain guide. He had become a leading Canadian mountaineer and guide, and in 1956 he guided at the 50th anniversary of the Alpine Club of Canada.
Gmoser climbed Mount Robson in 1957, and, perhaps even more importantly, made the transition to lecturer, filmmaker and raconteur of the Rockies. His first film, With Skis and Rope, quite rare at the time in both its footage and visual mountain appeal, was an immediate hit. Gmoser climbed imposing Mount Blackburn and Mount Alberta in 1958, and in 1959, he led the Canadian Mount Logan expedition to the summit. 1959 was also an important year for other reasons: Gmoser's guiding company, Rocky Mountain Guides Limited, was finally incorporated, and he released his popular second film, Vagabonds of the Mountains.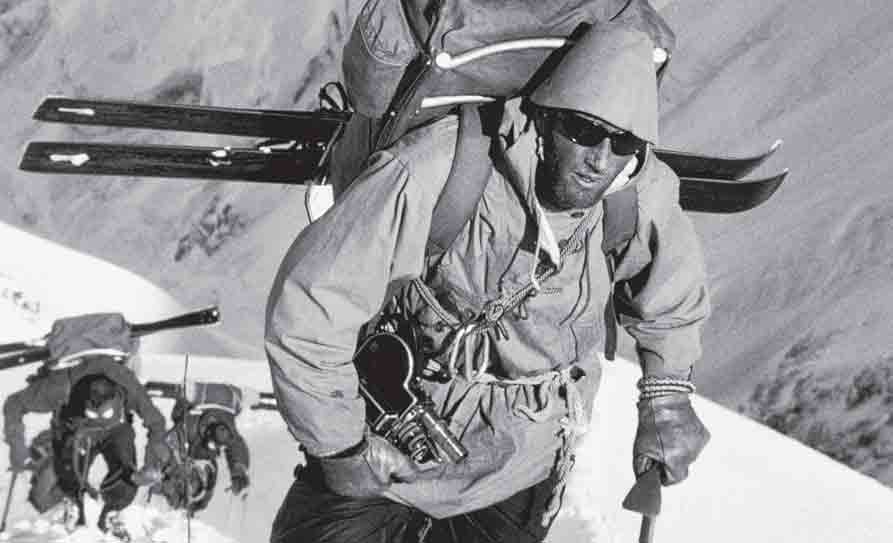 Gmoser was never fond of failure, but in 1960 his planned Canadian Icefield expedition floundered. His third film, Of Skis and Mountains, however, was a success. An astute businessman, his Rocky Mountain Guides Limited was also growing. Powder snow was his forte, and Gmoser's fourth film, Deep Powder and Steep Rock (1961), established him as an alternate visionary of mountain skiing. To The Forbidden Snowfields was released in 1962-63, to the delight of many North American mountain lovers including alpine racing legend Nancy GREENE.
Gmoser attempted helicopter skiing for the first time in 1963, and this would significantly alter his life and the nature of Canadian backcountry skiing, allowing the long trudge to cols and spacious bowls to be covered in more haste. Gmoser turned to the Bugaboos in the Purcell Mountains as the first site of his helicopter skiing, and the activity became his primary activity between 1965 and 1991.
In the spring of 1963 the influential Gmoser assisted in founding the Association of Canadian Mountain Guides, and he led an expedition to the summit of Mount McKinley (Denali) in Alaska that same year. It was also in 1963 that Canadian Mountain Seminars was initiated, and Gmoser's fifth film, Skis Over McKinley, was released in 1963-64. Adventure Bound followed in 1964-1965.
Gmoser's approach was contentious; it challenged the traditions held dear by mountaineering purists, as well as the supremacy of the Alpine Club of Canada. Gmoser was harshly criticized by legendary American climber Fred Beckey in the 1970s for his clientele and the commercialization of the sport. Beckey, however, did not dissuade Gmoser, whose business continued to succeed; Gmoser guided Pierre Trudeau on climbing trips (1968 and 1972) and by 1991 his company was operating nine heli-skiing areas, serving 5000 winter skiers and 3000 summer hikers.
Gmoser had become the reigning patriarch of the Canadian mountaineering family by the time he edged toward retirement in the 1990s. Many had been attracted by Gmoser's innovative approach to mountaineering, despite the doubts expressed by some in the field. There is no doubt, though, that when Gmoser died in 2006, he had forever redefined and altered the way climbers and skiers approached mountains in Canada and beyond.
Among many other honours he received throughout his life, Hans Gmoser was made a Member of the Order Of Canada in 1987.
Source: The Canadian Encyclopedia