Touring Smiles and Chatter Fun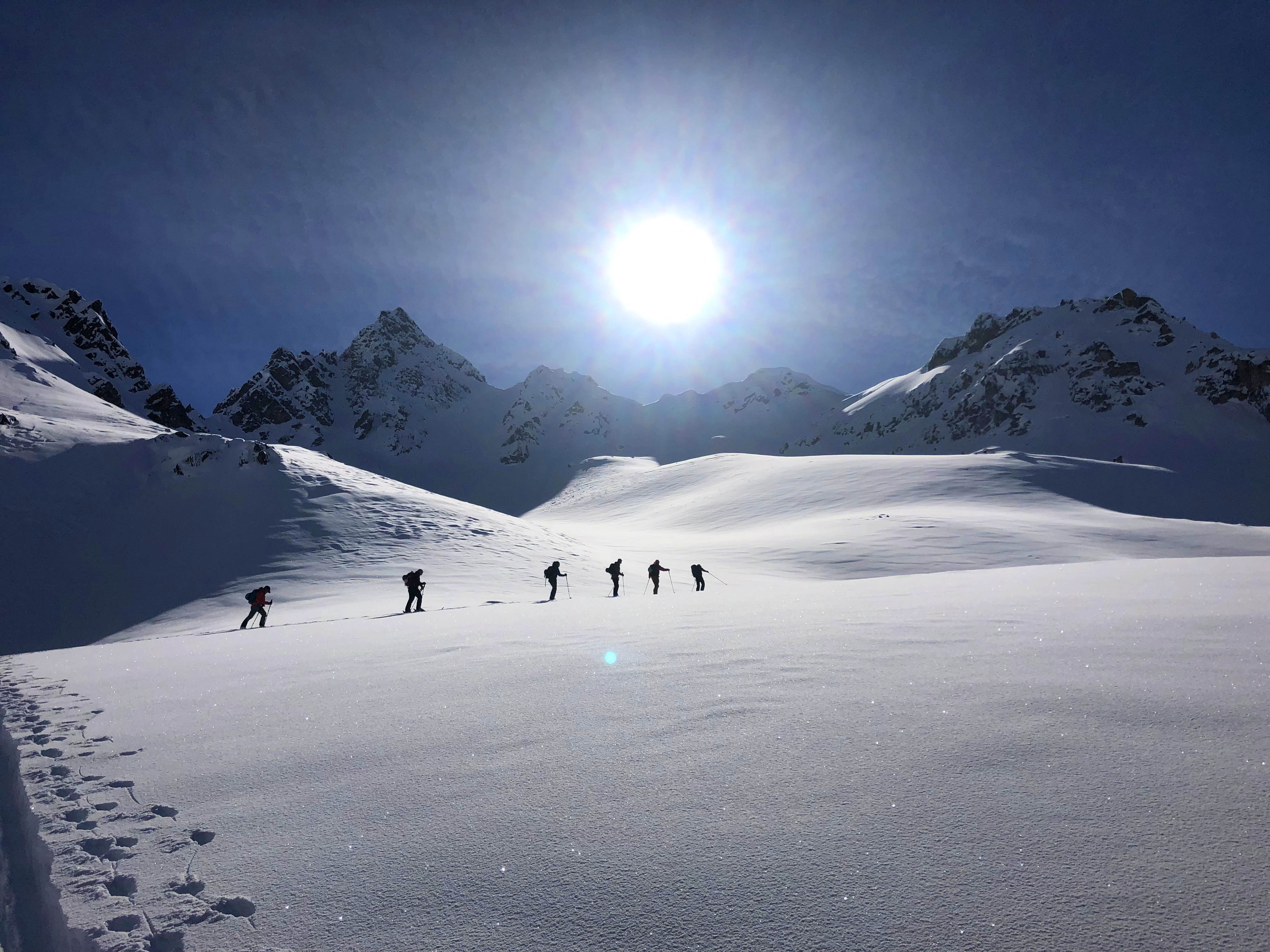 I asked Brody if I could ski the ridgeline and he shouted back, "See you at the bottom!" I pushed off and carved knee deep turns in crystal powder on the ridgeline to the left of the gully. The line narrowed and steepened above steep drops on either side—my heart was pumping with adrenaline. This was my first day of ski touring at Chatter Creek.
More than circumstance took me to Chatter Creek. I had skied Chatter a decade earlier with a wild group of powder shredders who partied and skied like there was no tomorrow. The expanse of the tenure, quality of the terrain, and modesty of the staff created a lasting impression. Unfortunately booking another trip has challenging, Chatter's existing clients keep returning for all the same reasons—Chatter offers the best catskiing anywhere. In 2017 Chatter started a small group ski touring program to complement their catskiing and I've been trying to book ever since. It too was selling out quickly.
2018 was not my best year health wise. In May I was diagnosed with HPV throat cancer and subsequently endured a five hour surgery in July, followed by 30 radiation treatments ending mid October. Cancer treatment takes its toll physically and mentally however I didn't anticipate the social exclusion I experienced. Ski and bike invitations declined and ski touring opportunities didn't materialize. Unfortunately, people can be uneasy with cancer survivors and avoid connecting.
Fortunately, Jodie from Chatter Creek reached out, they had a cancellation on a 4-day ski touring trip. I was booked in a flash to return to Chatter to ski tour!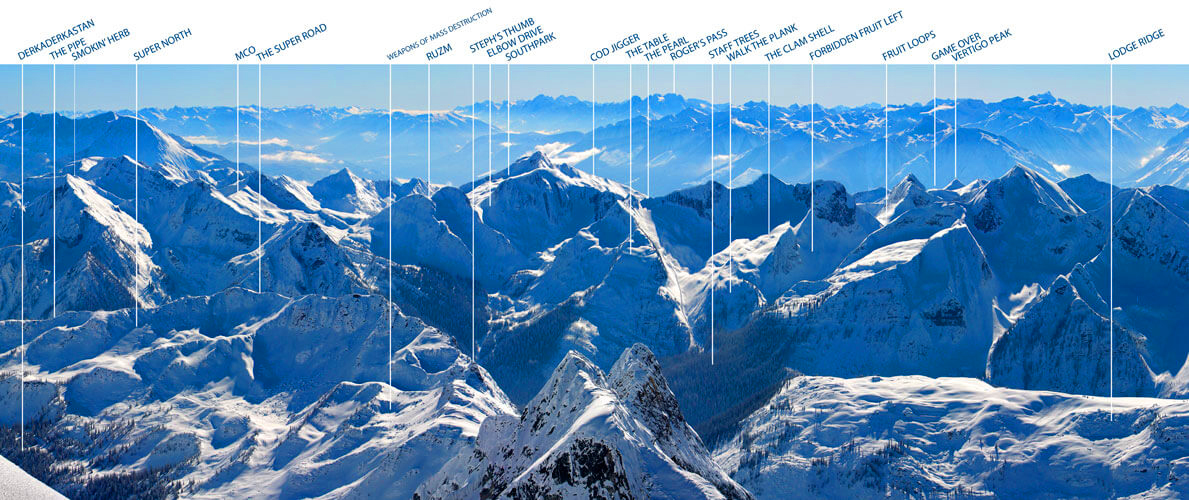 Chatter Creek's ski terrain extends over 235 square kilometers covering 58,000 acres and consists of tree runs, old burns, wide-open alpine areas, and glacier skiing. Most of Chatter terrain is between 1500m and 2900m above sea level. The views of the Rockies to the east include the Columbia and Clemenceau icefields and the Selkirk's to the west, Mount Sir Sandford and the Adamants—it's breathtaking. The higher elevation ensures colder temperatures, the snow stays light and dry, and is ideal for deep powder. Basically, you get the snow you want and lots of it.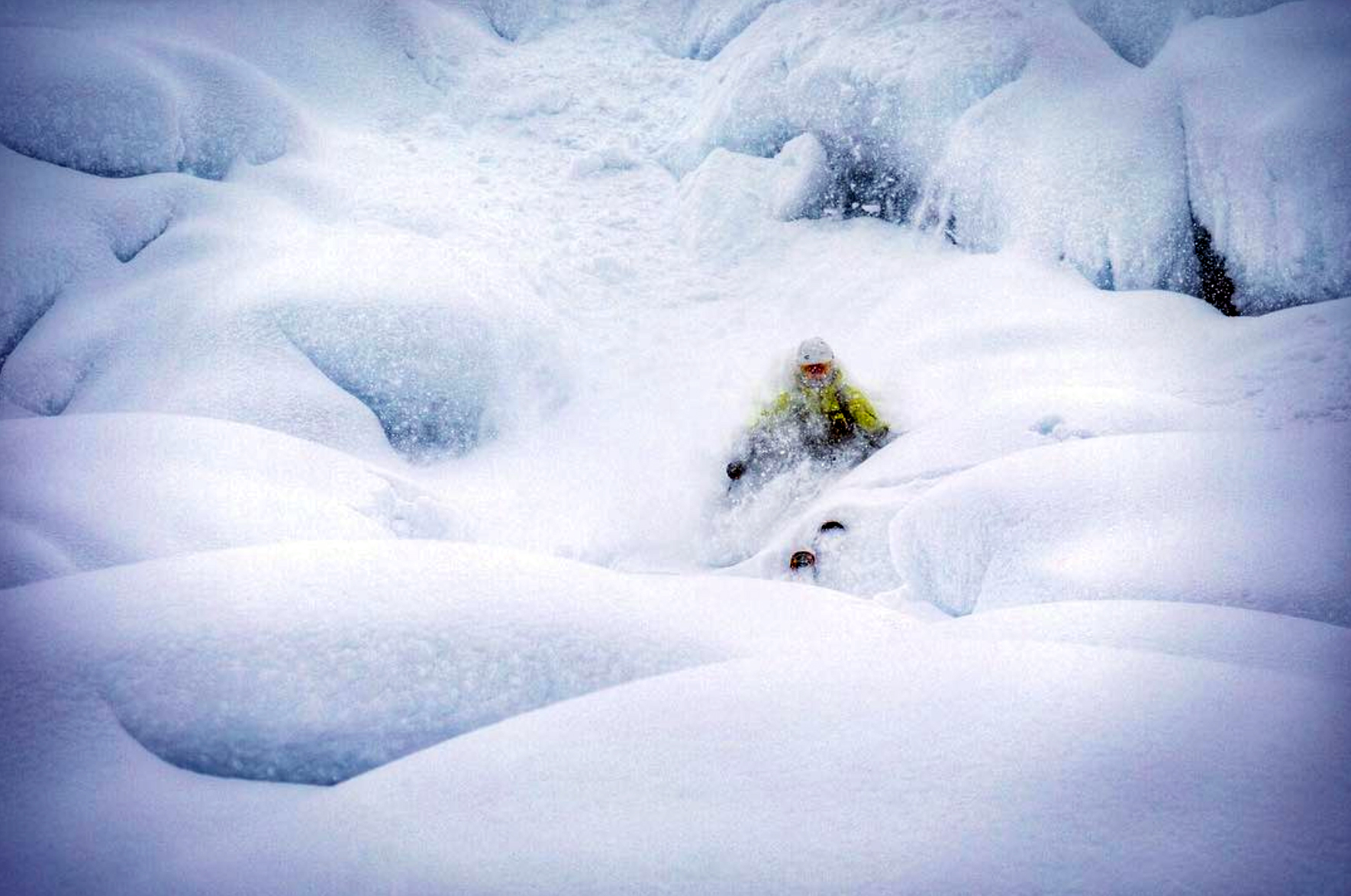 On my previous three day catski trip we dropped endless steep pillow lines, run after run. Chatter's pillow lines are the best I've skied anywhere. It takes a few runs to get comfortable skiing off the pillows into the unknown however they are sheer pillow delight. Pillows were part of my motivation to return however I was also burning to ski their high alpine. I suspected that small group ski touring would permit us to explore the big alpine and other areas beyond the reach of their snowcats.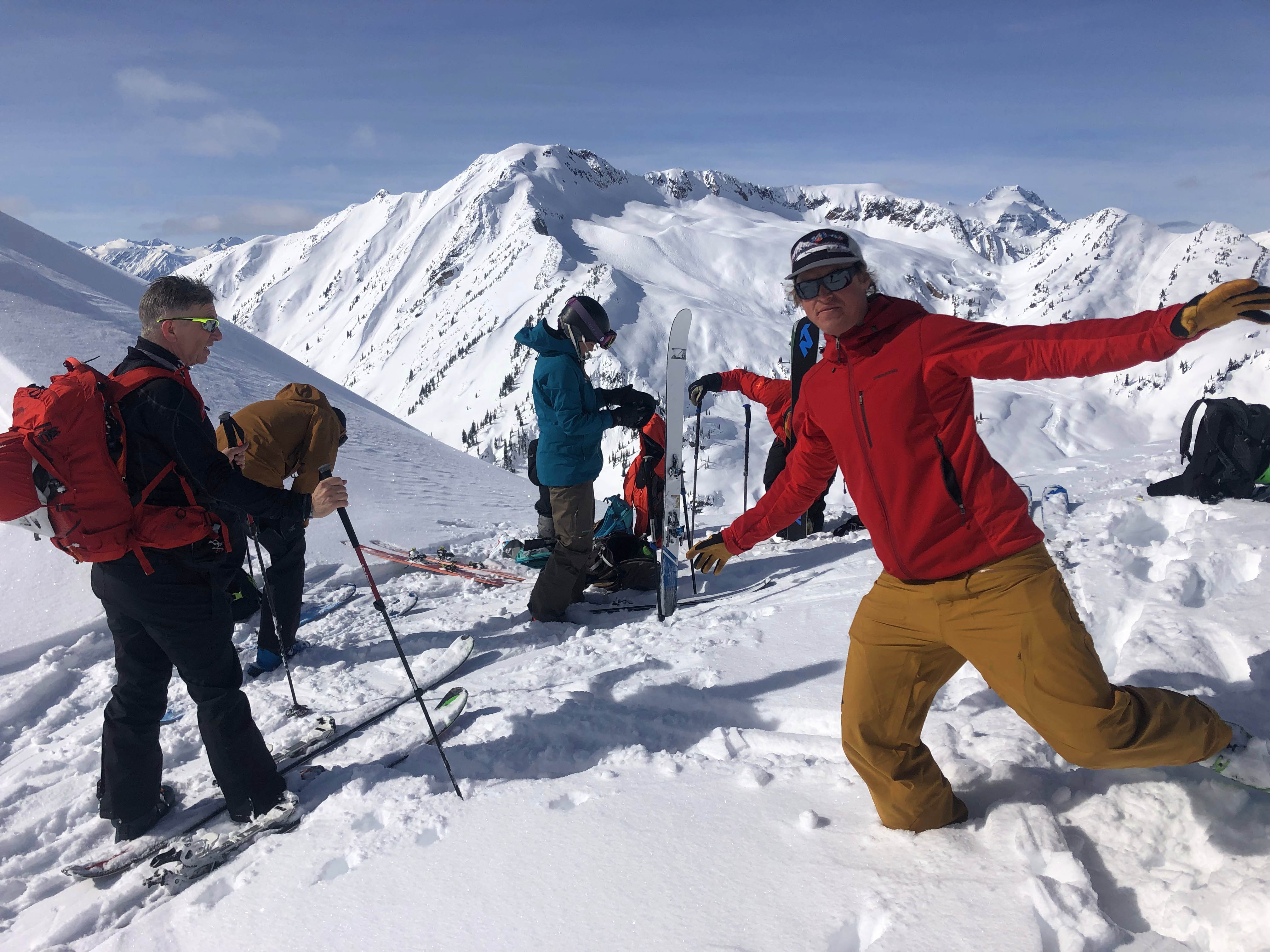 Chatters ski touring trips are fully guided by certified guides who know the snowpack and the terrain. Group size is up to six guests with two guides and a dedicated snowcat to get you out there for a big day of remote powder. On the days that we toured point to point, the snowcat was moved by staff, otherwise we toured back to where the cat was parked in the morning.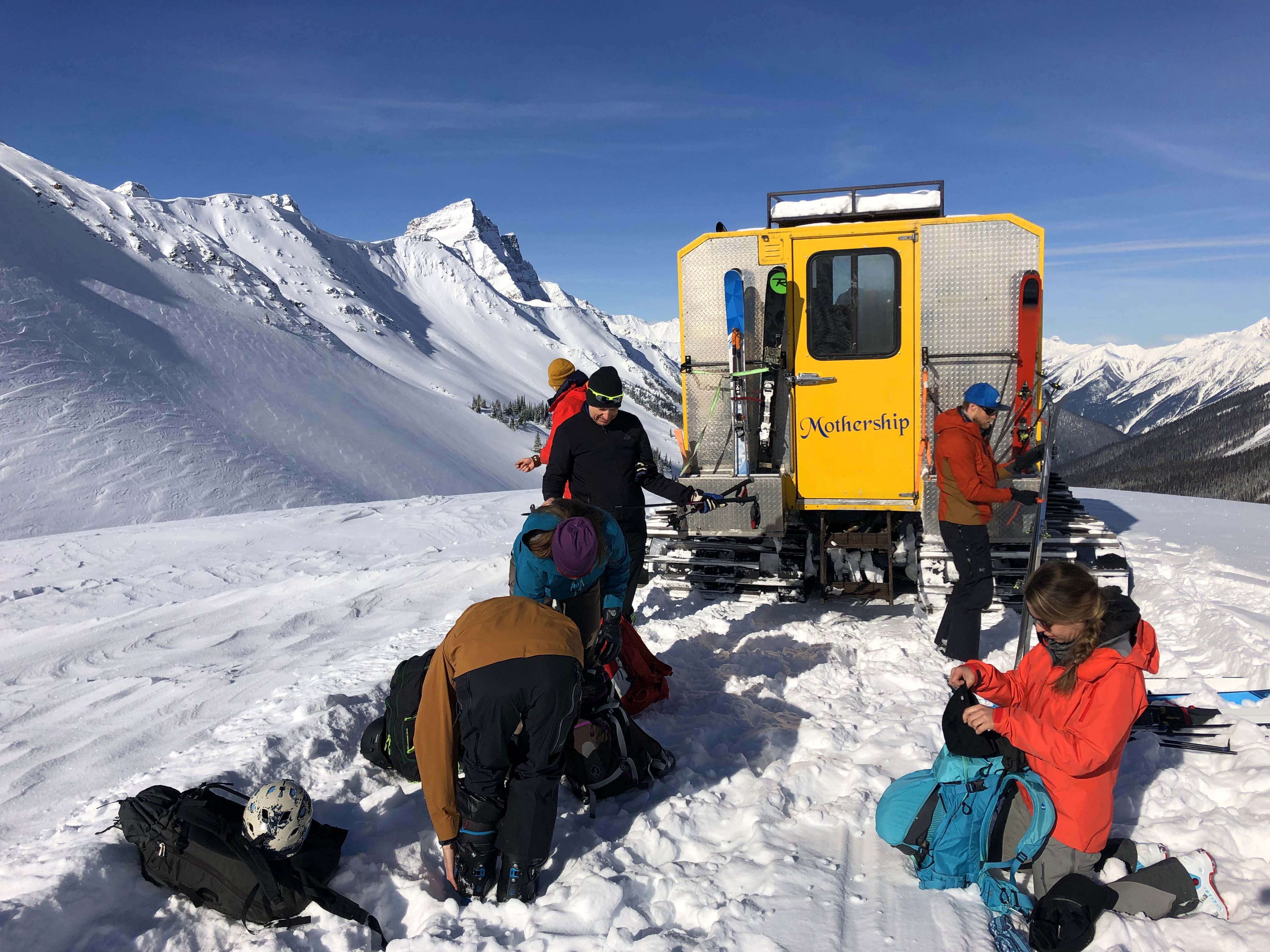 We enjoyed the same Chatter Creek experiences as cat skiers, including a helicopter transfer to and from the lodge, luxury lodging, gourmet meals and our own private table for breakfast and dinner. Chatter's staff and guides make the experience special; they are an exceptional crew.
Brodie and Nic, our guides, met us on our arrival and joined our ski touring group for dinner. My group was five in total, two gals and three guys. The guides pointed out that Chatter hadn't received fresh snow in weeks, I could see the expectations lowering with the group. The following day we skied a bowl and ridge with 40cms of light faceted powder, with no previous tracks, no cat skiers, and excellent terrain. It quickly became apparent that the snow was great and we were in great hands with top notch guides who were motivated to ski. I didn't drop the cliff line on the first run, I skied the narrowing ridge line and met Brodie at the bottom of the gully. High fives ensued. Wow, I was ski touring on top knotch terrain with a great group!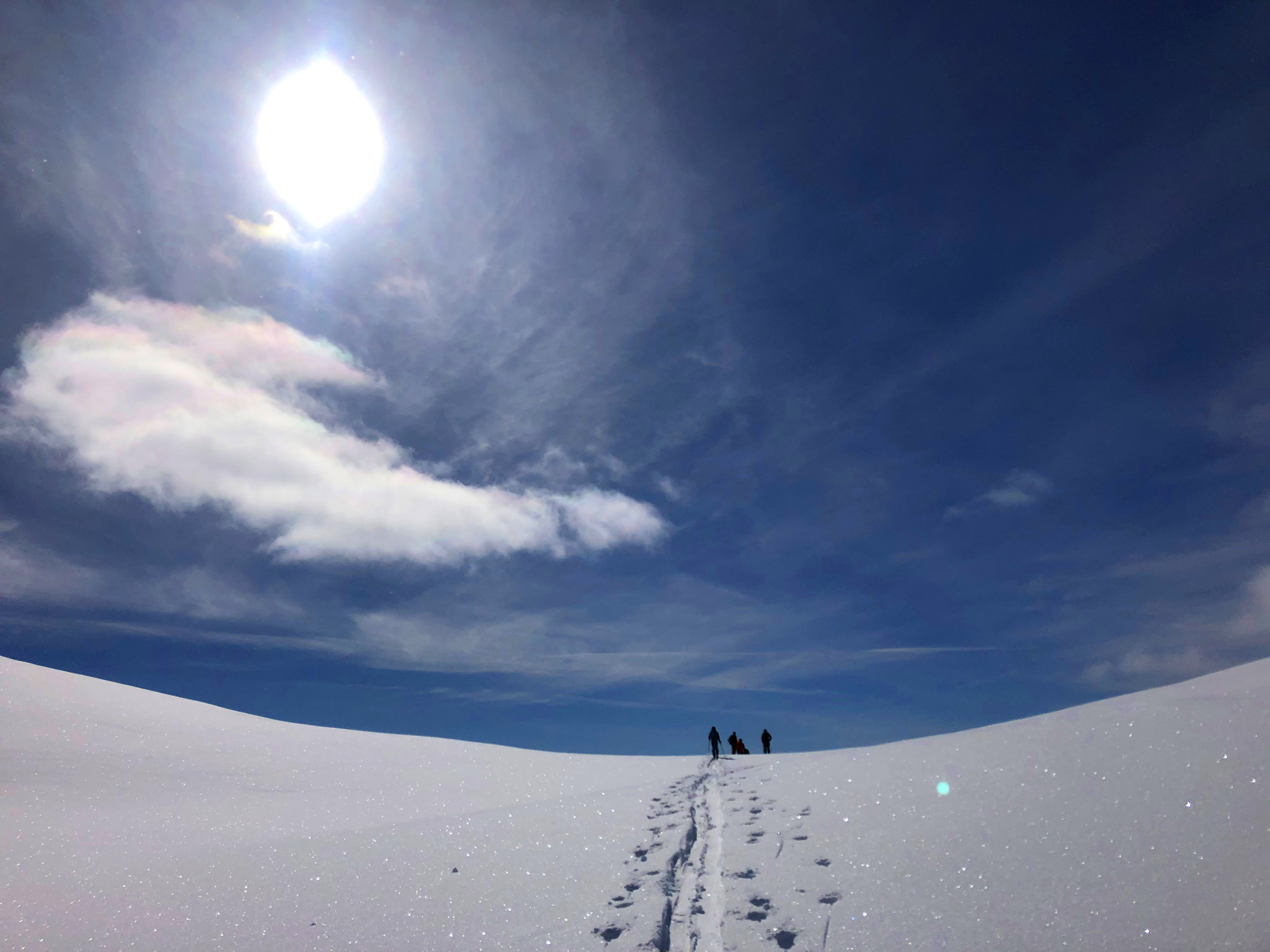 For me it was more than ski touring, it was another step towards surviving cancer and experiencing the lifestyle that I have enjoyed for decades. On the third climb of the first day I shared my health experience with the group and expressed my immense satisfaction from being able to ski tour. Everyone was stoked to be there enjoying the powder, we bonded as a group in a mere few runs. The Mothership was waiting at the days end with beverages and snacks and a smooth and scenic ride to the lodge.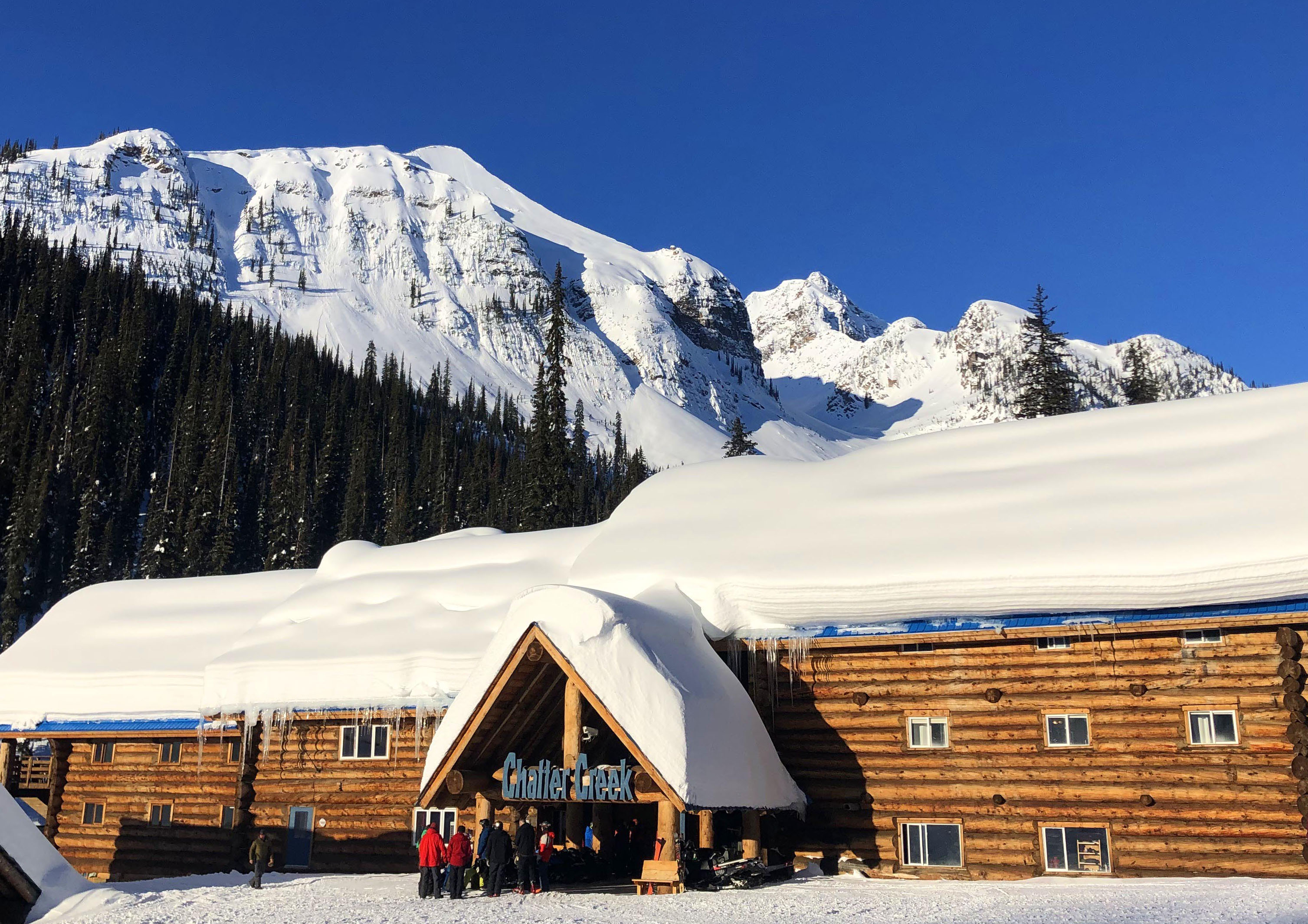 At the lodge that evening the celebrations and energy level was high. Everybody's expectations had been exceeded! A couple of cat skiers suggest that ski touring must have been challenging and asked if we were tired. Sure, we worked for our turns however I think touring is more relaxing that catskiing and physically less demanding on the joints and legs. Our differences didn't matter, everyone was having the experience of their lives!
Day two took us into bigger alpine terrain for a point to point tour and the group worked and enjoyed three big climbs and descents. The Mothership was moved two our end destination for another nice ride back to the lodge. Brodie was a very talented guide who also piloted the snowcat!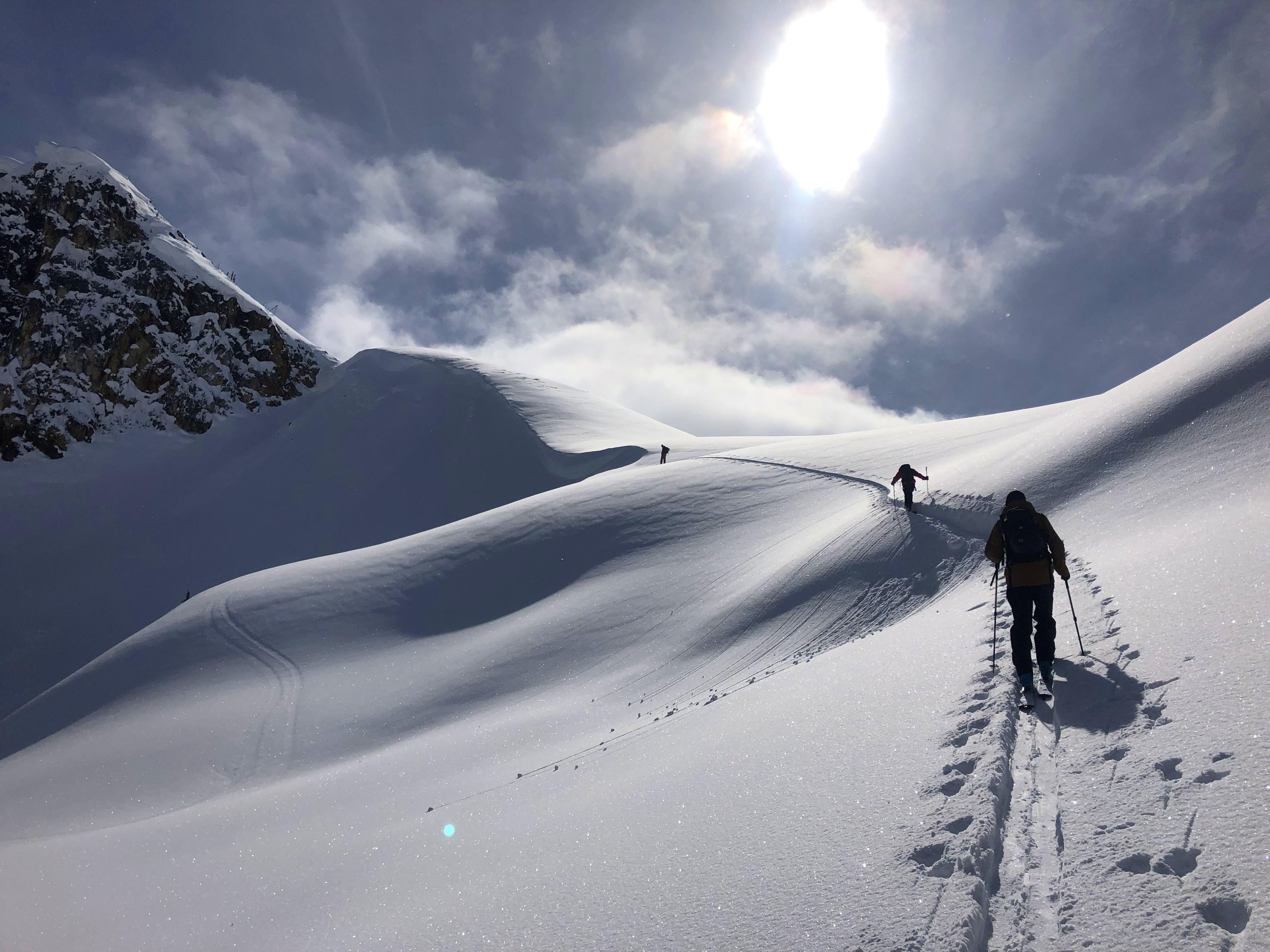 Day three saw some weather rolling in so we stayed lower and toured a ridge with steep tree lines and pillows. I'm always surprised by the comfort level good guides can have when skiing with a group of strangers. We were a capable group and the guides were good with steeps. Then again, Chatter Creek is about exceeding your expectations.
Day four we woke up to 50cms of fresh powder of the highest Rocky Mountain quality. The couple from Colorado had never skied snow like we experienced that day. I live in Fernie where we have several quality dumps per year and learned to breathe at the height of my turns to avoid choking on the powder. The group ripped and screamed all day, it was a story book finish to four days or ski touring.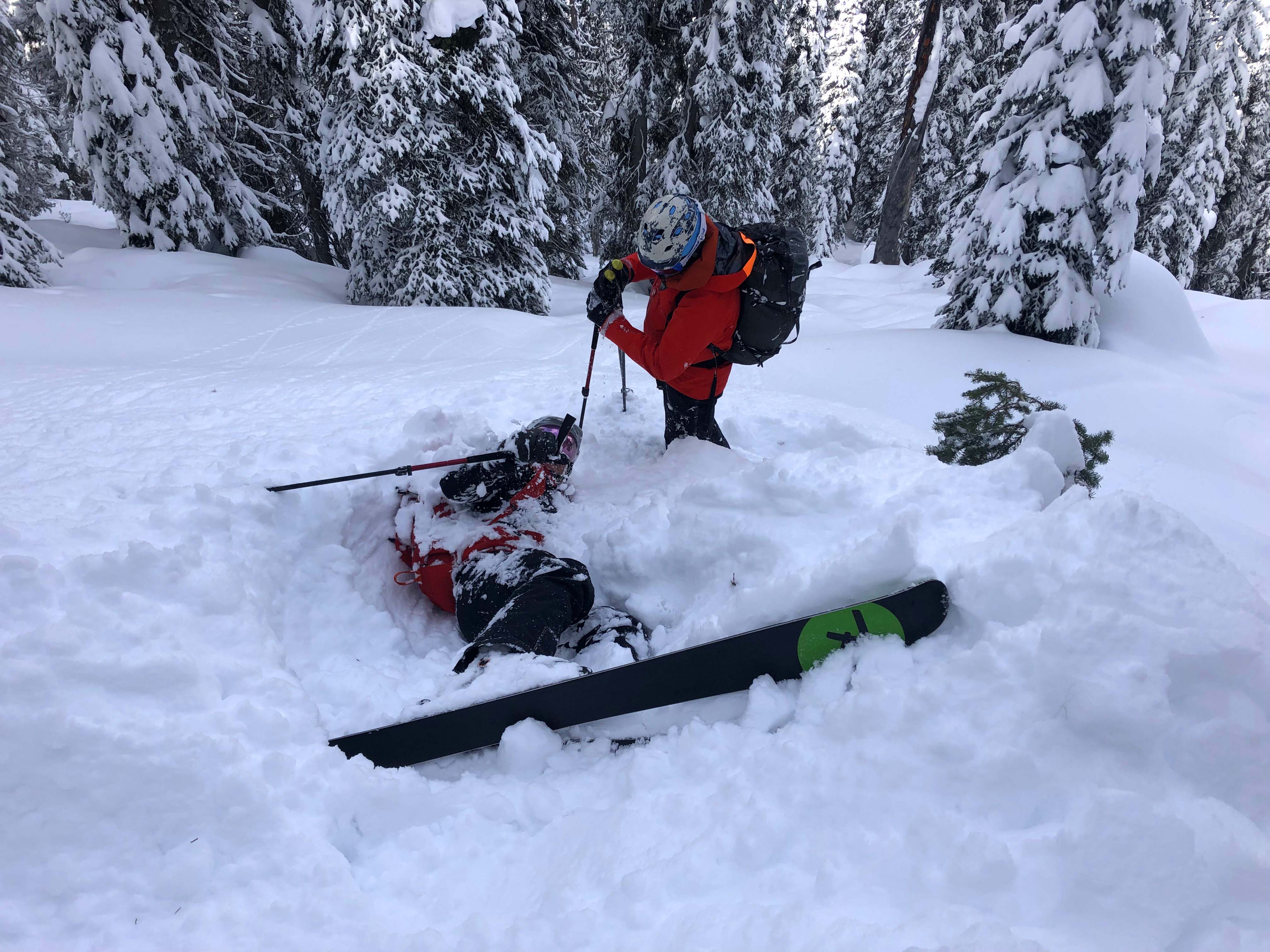 Timing is everything and Chatter offered what I was there for, and then some. A few days of big alpine runs and steep pillow skiing make life very real and being alive and well enough to ski tour made the trip so satisfying.
Should you consider touring at Chatter? Definitely! I recommend booking a touring a trip to Chatter if you have intermediate or expert touring skill. Avalanche knowledge and first aid is an asset however Chatters guides really take care of their guests. All good skiers should visit Chatter, it's the Whistler of catskiing, without the crowds, and offers the best snow anywhere.
Spending time in the mountains enjoying one of the most enjoyable activities in the world is always recommended. As Warren Miller used to say, "If you wait another year, you'll be a year older when you go!"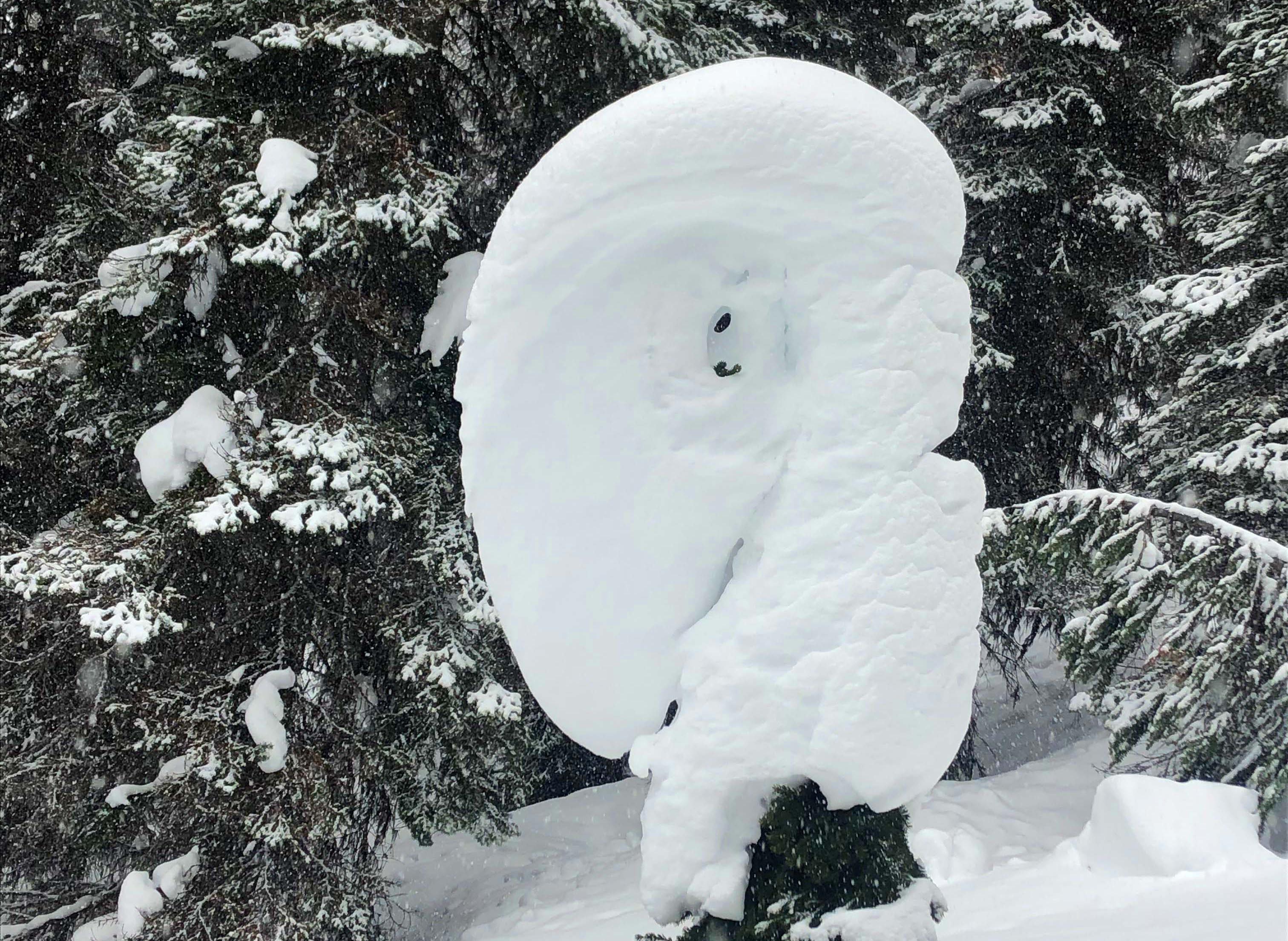 Choosing an outfitter for a guided touring trip
Not all guided ski touring operations are equal, do your research.
I previously joined a group on a guided ski touring trip that was comparable to attending a boot camp. The regiment kept everyone moving at the expense of having fun and they wouldn't let us ski the powder.
The outfitter didn't support farming powder turns or yoyo-ing and took us (often boot hiking) to summits–three peaks each day wa their motto, regardless of the conditions. We were taken to ski breakable crust on southern exposures. The weaker skiers literally cried as they did their best to descend the unskiable breakable crust on the southern exposed slopes. The skiing preference of our group would have been to yoyo and ski-out the north facing slopes laden with deep powder.
Read reviews prior to booking to ensure the outfitter matches your expectations.
Words and photos by Dan Savage