POW Canada Supports Climate Vote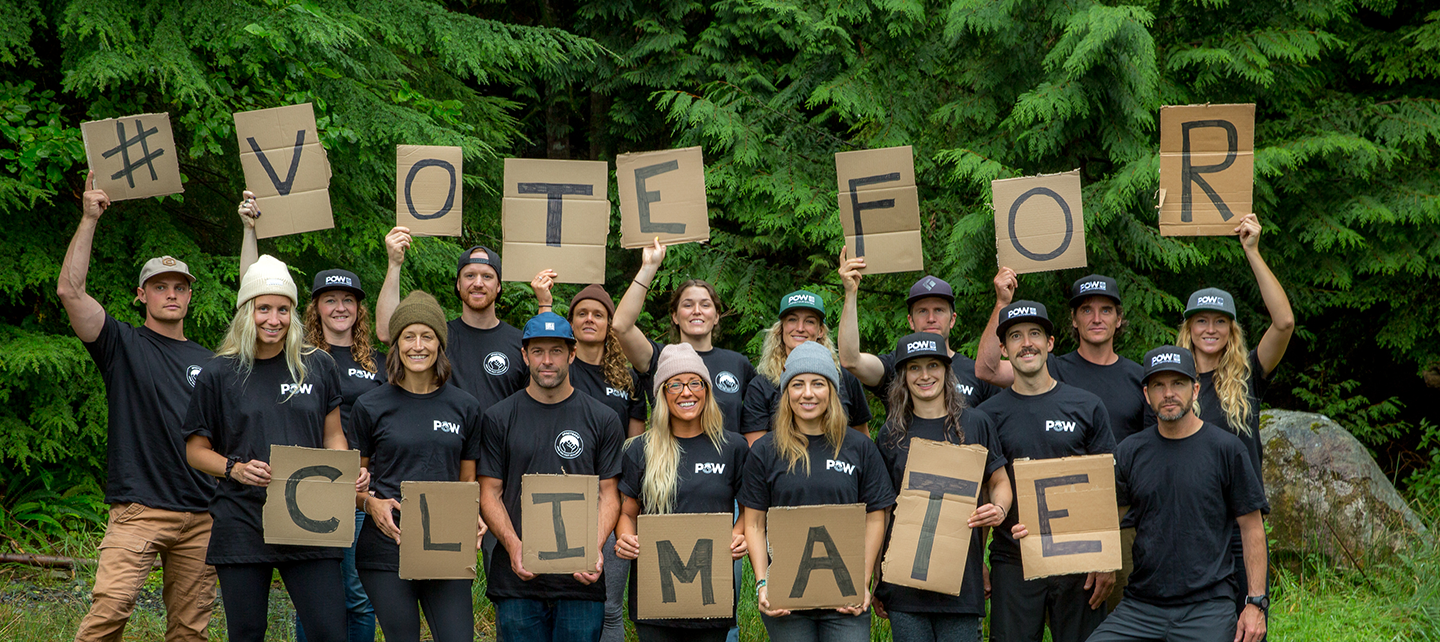 Protect Our Winters Canada has launched a VOTE FOR CLIMATE CANADA campaign that seeks to coordinate mobilization of the outdoor community in the upcoming federal election. They're committed to providing you with simple and straightforward information on which parties and leaders will put Winter on a path for a healthy and sustainable future and who will not. They ask that you please pledge to vote and ensure the election of a climate champion!
POW Canada is a passionate community of enthusiasts, professional athletes and industry brands uniting the outdoor community to address climate change. They believe our love of adventure in nature, demands our participation in the fight to save and protect it.
Now more than ever, POW is saying it's important that we all be climate activists – doing everything we possibly can to force positive change. Take action now here.
POW Canada has just released their Climate Policy Score Card for the Political parties. Here are some details on their report, "A Conservative government would not only bring climate action to a halt, but send us backwards. Although the Greens & NDP have the most ambitious plans, according to the latest polls (Latest Polling Results), they have less then a 1% chance of forming the next government. Time for strategic voting! Whereas values based voting is simple and straightforward (vote for the candidate or party that best aligns with your values), strategic voting is slightly more complex. You need to check your local riding polls and determine which party has the best chance of beating the Conservatives. That's who to vote for! If the Conservatives are not a threat in your riding, then you can revert back to values based voting."

POW referenced, and in some cases synthesized, platform evaluations by notable sources (listed below) to develop their rankings. Specifically, platforms were graded against the four major "asks" in POW Canada's Policy Statement: Renewables, Carbon Pricing, Incentives and Empowering Canadians (Transition). We opted to include Environmental Protection/Protecting our Playgrounds as a fifth category (Environment) as it's an important element of an overall climate plan and resonates deeply with the outdoor community.
In our review of Federal Party Platforms, we appreciate ambition on the climate file, but value specific actions and feasibility even more. The world has had aspirational targets and rhetoric for two decades. The climate crisis demands bold action and investment, and so must we.
POW Canada Climate Platform Analysis, FULL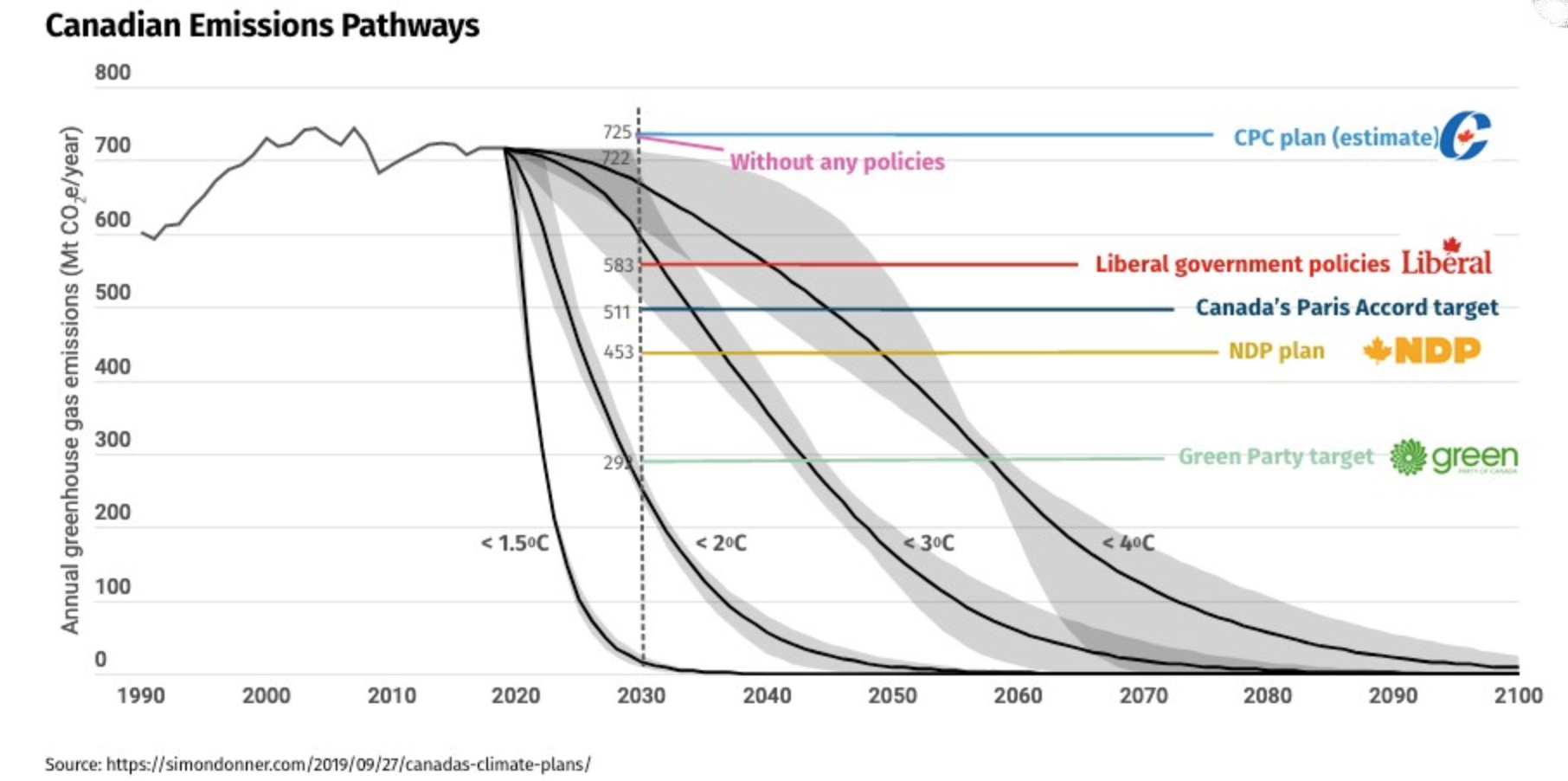 About Protect Our Winters Canada
The POW Canada board of directors is chaired by Mike Douglas who has been called one of the 10 most influential freeskiers of all time. He, along with the members of the New Canadian Air Force, pioneered modern freestyle skiing and developed the first high-performance twin tip ski with Salomon back in 1997. Since then he's won dozens of awards for his skiing, and has more recently added award-winning filmmaker to his resume. His company, Switchback Entertainment, produces documentary adventure films and the web series Salomon TV.
While it's important for individuals to take steps to lower their carbon footprint and adopt important initiatives such as composting, recycling and eating less meat, that's not the scale of change we need. In order to lower emissions to our target commitments, we need large scale policy solutions. All other sectors of the Canadian economy have organized themselves in a way to have influence over policy decisions which are important to their industry. The outdoor industry in Canada is massive, yet has never been organized in a way to have a collective voice and collaborative influence. That's our mission and goal. As outdoor enthusiasts we're on the front lines of climate change and see the impacts first-hand. If we don't step up and use our voice to protect the places we love and experiences we value, who will?
It's a daunting challenge, but we like challenge. We get to help dictate the outcome right now. If not, we won't be worried about powder days, tourism or having fun. We'll be worried about the stability of our environment, our jobs and our economy. We all have unique skills, gifts and experiences to contribute. Please consider how you can get involved with Protect Our Winters Canada to further our shared mission for climate action.
Protect Our Winters was formed in 2007, by pro snowboarder Jeremy Jones. He found that more and more resorts he'd always counted on for good riding were closed due to lack of snow. Something was clearly going on. He felt the need to act. But organizations focused on mobilizing the snowsports community on climate didn't exist—there was a gap between the impacts that climate change was already having on our mountains, and any organized action being taken to address it. And so he founded Protect Our Winters.
Since then, the movement has grown to include the wider outdoor sports community. Their playgrounds and livelihoods also depend on healthy winters. Protect Our Winters has grown from a kernel of an idea into a worldwide network of over 130,000 supporters – a social movement on climate, designed to activate a passionate community and create the will for meaningful climate action across the globe.