Red Mountain to Expand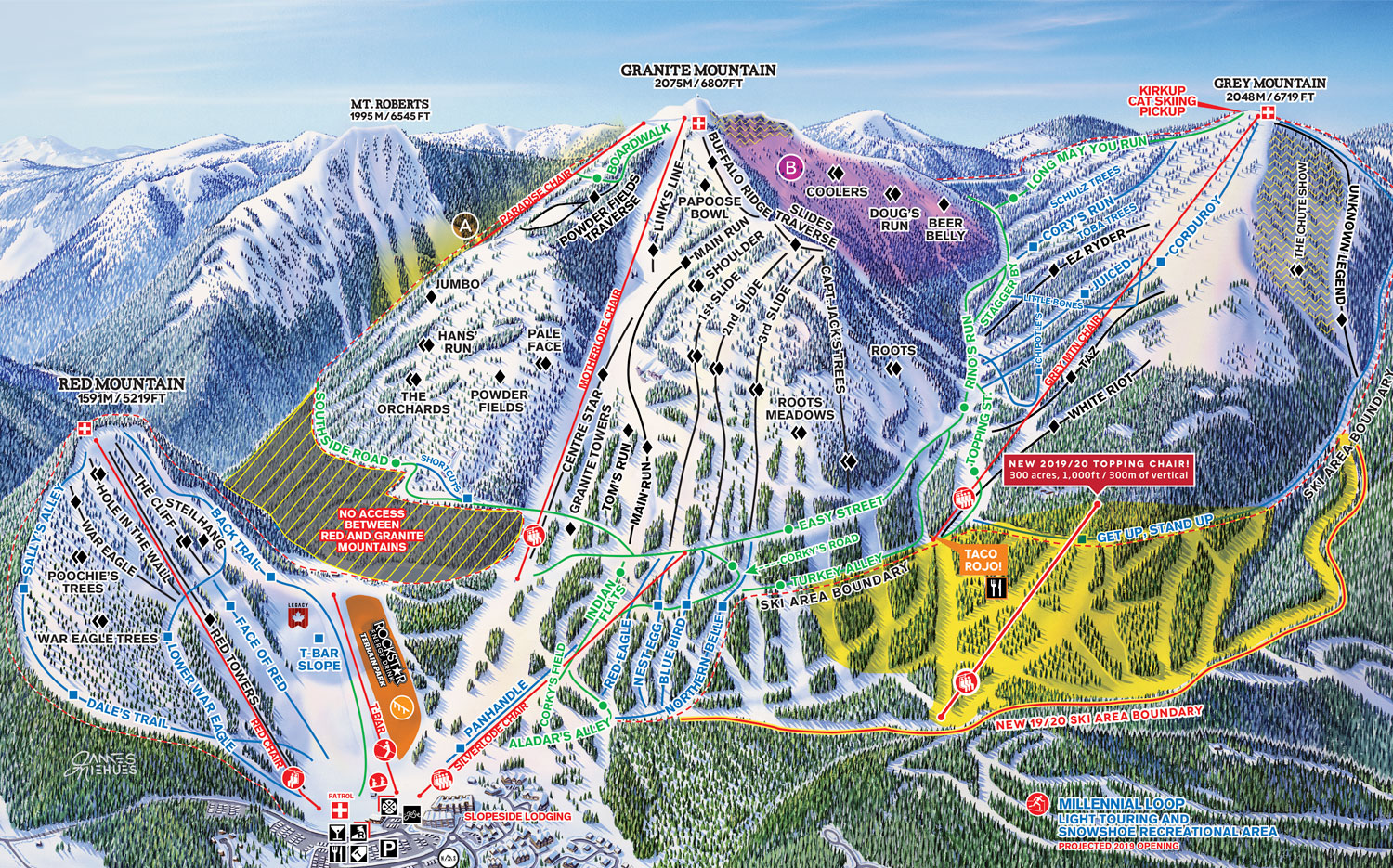 RED Mountain has announced new terrain and lift for next season. The Topping Chair expansion will deliver 300 additional acres of skiing and improve the flow of the mountain.
Here is the news release from RED:
"This new triple chair is exciting on its own," says RED CEO Howard Katkov. "But what's truly exciting is how the Topping Chair continues our dedication to 'improving the adventure' for our guests. With everything we do around here, we always try to keep that in mind and this new chair streamlines skier traffic around the resort beautifully."
Indeed, Topping Chair makes "getting up to the good stuff" easier for everyone. Grey Mountain is now a straight-shot from the top of Silverlode with Topping's addition, and should alleviate the occasional powder day bottleneck on Motherlode Chair. Skiers will be able to return to Topping from anywhere on Grey Mountain or from the legendary $10-a-run cat skiing on Mount Kirkup. (The big question is whether anyone's legs can handle all that RED will throw at them!)
Since 2013's opening of a whole new peak on Grey Mountain, RED has been expanding as an independent resort, while many others have been consolidated into large resort "chains". First, RED lassoed Grey Mountain in 2013, added Mount Kirkup Cat Skiing in 2014, and now the new vertical and acreage of Topping for 2020. Add to this a new boutique hotel, The Josie, opened in 2018 and a next-level, ski-in/ski-out modern hostel, Nowhere Special, just a month later in December 2018. It's hard to believe this storied resort in Canada's Kootenay region is actually the oldest in Western Canada.
"We always hold tight to our history," says Katkov, "but that doesn't mean standing still… The ski resort business is a competitive one with billion-dollar players and no shortage of options for skiers and snowboarders. We want all of our guests to come here for a week or a weekend and then wonder why they ever went anywhere else. It happens all the time and this is the metric we measure ourselves by."
The Topping Chair construction covers a total of 300 additional acres and boasts six new Intermediate runs with stellar tree-skiing, "squirrel trails" and "slots" on all facets. From the top of the new Topping lift, skiers and snowboarders will be thrilled by 1,000 vertical feet of what can sometimes be some of the best snow on the resort—thanks to its southeast facing aspect. This new lift-accessed acreage is just another addition to RED Mountain that makes it one of the largest remaining independent ski resorts in North America. It is sure to attract new destination visitors who only want to ski the biggest and the best with one of the lowest skiers per acre in North America.