Canadians Top 10 in Fieberbrunn FWT19
It was a mega day in the high peaks of the Austrian Tyrol as the world's best continued their campaigns for the Freeski World Tour 2019 crown.
For this 3rd stop, Canadian skier Tom Peiffer knew from Kicking Horse he needed to be mentally prepared and focus and came back within the top 10 with a 6th place. Canadian snowboarder Nicole Kelly shows consistency ranking 6th in Hakuba and 5th in Kicking Horse and Fieberbrunn.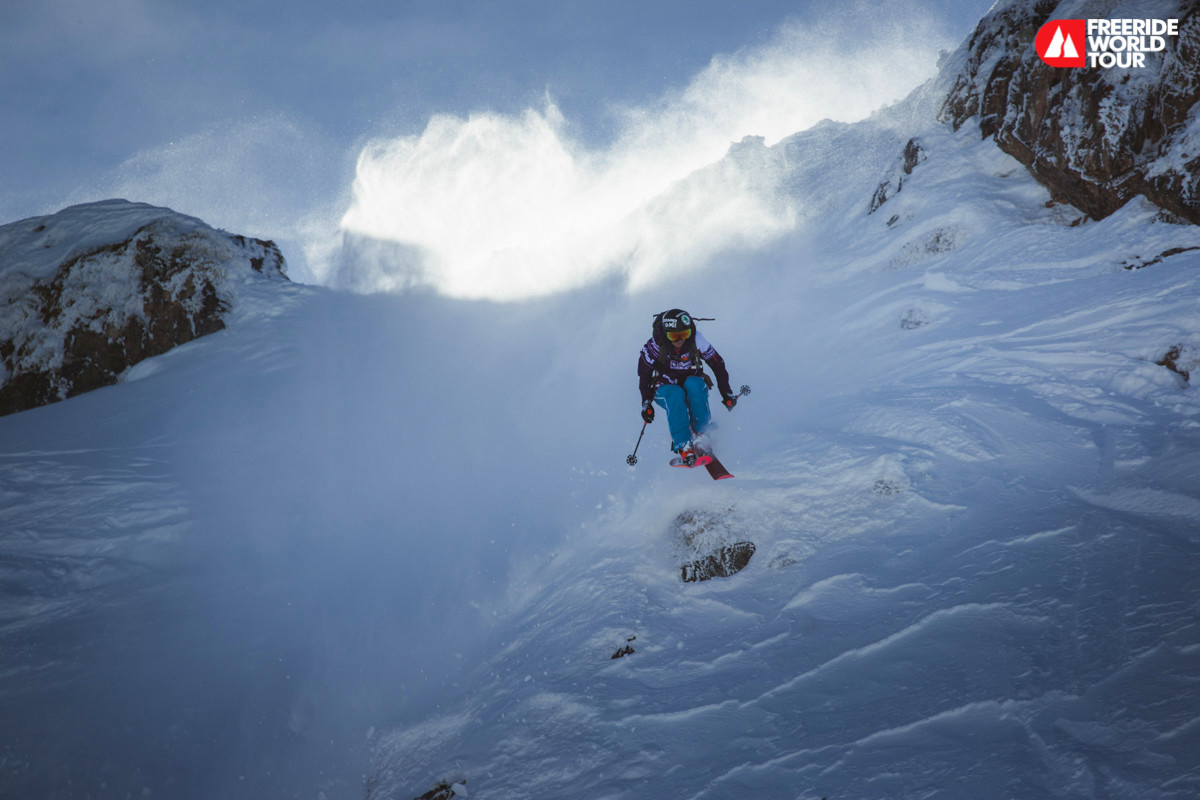 This challenging venue also gave everyone the jitters on a few runs including the run from Craig Murray, who landed on rocks after a 360 transfer attempt – "Feeling super lucking and grateful today. Thanks for all the messages", commented Murray on social.
One of the most technical and challenging venues on the calendar, the boiling pressure for crucial leaderboard points; these were the ingredients for another stellar line-up of performances by the world's best freeriders on a picture perfect day.
With the legendary "Wildseeloder" venue blanketed under blue skies and cold fresh snow, the intrepid roster of athletes wasted no time in choosing big lines and creative features hoping to finish the day standing in the winners' circle.
Here's what went down in Fieberbrunn:
SNOWBOARD MEN
Victor De Le Rue (FRA-1st Place) charged into top of venue throwing a big 360 over tons of exposure, which he followed by a huge air, another 360 and then yet another 360 to cap off an amazing run which he spent most of the time spinning consecutive front and backside 360s. Dave Baird (USA-2nd Place) wowed judges and viewers with a beautiful sequence of two huge back to back airs at the top of the venue, followed by smooth riding and a couple more nice airs through the finish. Sammy Luebke (USA-3rd Place) had a hard charging run carrying tons of speed through the top and stuck a nicely floated 360 in the middle section for a solid run.
"I was really impressed by everyone's runs, hitting so many features, so I added a few features to my run and I ended up first! I'm super stoked."
-Victor De Le Rue
SKI MEN
Markus Eder (ITA-1st Place) continued his 2019 world title campaign with a beautifully floated 360 at the top of the venue with tons of exposure below, a fast and smooth middle section with plenty more air time, a very creative floaty transfer, and a massive backflip at the bottom for another well-deserved win. Andrew Pollard (USA-2nd Place) had a solid run with a smooth step up 360, a nicely floated corked 360 and smooth skiing from top to bottom. Léo Slemett (FRA-3rd Place) the last rider to go, opened up a new, very steep and exposed line at the top sticking a huge double air, which he followed by fast riding through the middle and a beautiful backflip at the bottom for a strong run.
"Amazing moment and I'm really happy. It's the first time in three years of competing here that I was able to do the line I wanted. It's crazy to have had three good comps in a row!"
-Markus Eder
SKI WOMEN
Hedvig Wessel (NOR-1st Place) took the win by pointing her skis into a big and fast top air, then stomped a smooth middle air, and cemented her spot at the top podium with a huge backflip at the bottom. Jacqueline Pollard (USA-2nd Place) stuck airs in every part of the venue and applied her big mountain style and smooth technique to a great run overall. Elisabeth Gerritzen (SUI-3rd Place) strung together smooth airs all the way down the mountain for a highly fluid run.
"Being able to be on top of these amazing mountains gives me so much energy. I'm really thankful to be on the Freeride World Tour, and to ski with these amazing girls. I did the line I wanted and a backflip so I'm really happy."
—Hedvig Wessel
SNOWBOARD WOMEN
Marion Haerty (FRA-1st Place) was the last rider to go for the day and did not disappoint with a steep and technical top section, multiple airs linked together through the middle and two clean bottom airs to take the win and further cement her spot in the overall rankings. Anna Orlova (RUS-2nd Place) chose a very technical line at the top, which she executed smoothly followed by a couple of smooth airs. Erika Vikander (USA-3rd Place) had a smooth run with a nice looking surf slash style and a clean air at the bottom.
"I saw that line last year and really wanted to do it. I'm super stoked, feel so emotional right now and confident for the next one."
—Marion Haerty
See the full replay here of the FWT19.
Relive all of the action at freeridewordtour.com and be sure to follow the FWT social media channels for rider news and competition updates as FWT19 heads to Andorra for Crunch Time.