Tom Peiffer Podiums in Hakuba
On his first Freeride World Tour (FWT) competition, young Whistler skier Tom Peiffer proved to be amongst the world's best by securing a third place on the podium along with ski legends Markus Eder (ITA–First Place) and Tanner Hall (USA–Second Place).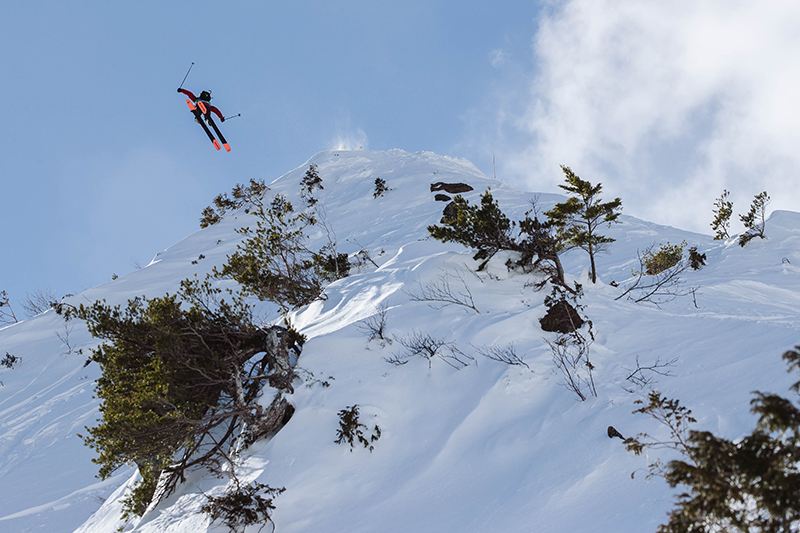 Tom Peiffer sends it!
After watching snow stack up for days, a legendary lineup of athletes were treated to some world famous Japow at FWT19's opening event in Hakuba, Japan.
In a place where the snow falls so hard and often that visibility even once every ten days is not a given, a top shelf lineup of the world's finest freeriders were treated to epic conditions at the first stop of the 2019 Freeride World Tour (FWT) in the heart of the Japanese Alps.
After being forced to re-stage last year's 2018 Hakuba event in Kicking Horse due to too much snow, today's Japan FWT competition lived up to the global hype for #Japow. The skies opened up to treat riders with stunning views of the terrain they've been itching to shred.
Here's what went down today in Hakuba:
Snowboard Men
The man, the myth, the legend Travis Rice (USA–First Place) defended his win from years past with a line above all others featuring an enormous 720 spin to a technical finish. Gigi Rüf (AUT–Second Place) maintained legend status with a run featuring gigantic no grab airs into a stomped 360. Davey Baird (USA–Third Place) launched a huge and stylish method into a 360 spin that merited his spot on the podium.
" I'm psyched. This style of riding and this style of contest, it's a mind game really when it comes to it. I think at the end of the day what I was hoping trying to do was more or less the run I ended up landing. It's such a stunning place here looking up to the valley, these mountains are truly majestic and unique you don't see mountains like this anywhere in the world. So to be here with this backdrop and so many talented and incredible people from all over the world, it just feels so good to be part of it. " -Travis Rice, 1st Snow Men
Ski Women
Arianna Tricomi (ITA-First Place) once again stood on top of the podium with a progressive run starting off with a 360 and followed by technical mastery. FWT newcomer Maude Besse (SUI-Second Place) charged into a zone no one else had touched, stomping a technical line in the steepest part of the venue. Elisabeth Gerritzen (SUI-Second Place) continued her rise through the ranks on the Tour with a big entry air followed to a second solid stomp.
" I entered this competition with a really good feeling, I was looking forward to ski this face because it's crazy playful and it was really nice and stompy! I really enjoyed myself skiing down and feels so good to finally have an event here in Japan. Looking forward to the next one already! " -Arianna Tricomi, 1st Ski Women
Ski Men
Markus Eder (ITA–First Place) stomped the opening event's most impeccable run with a stylish flatspin 360 and a transfer air with his patented multidisciplinary style. Freeskiing founding father Tanner Hall (USA–Second Place) racked up his first-ever FWT podium in a run marked by backflips and multiple airs. Tom Peiffer (CAN–Third Place) pleased the crowd with a massive 360 air and solid riding.
" Thank you Japan, thank you Freeride World Tour! After last year's struggle we finally had a good start in Japan with perfect snow and crazy stacked field of riders, i'm super stoked! " -Markus Eder, 1st Ski Men
Snowboard Women
Anna Orlova (RUS–First Place) earned her first place position with a run that navigated technical features and stomped airs with confidence. Manuela Mandl (AUT–Second Place) rode a beautiful and steep line with excellent snow and clean style. The 2017 FWT Champion Marion Haerty (FRA–Third Place) opened the venue with heat and stayed on her feet to earn third place.
" I feel super good about my first win on the Freeride World Tour… so I definitely want to continue on this path this season! " -Anna Orlova, 1st Snow Women
Relive all of today's action at freeridewordtour.com and be sure to follow the FWT social media channels for rider news and competition updates as stop number two of FWT19 in Kicking Horse, B.C. on February 2nd to 8th.