Three Days with Powder Matt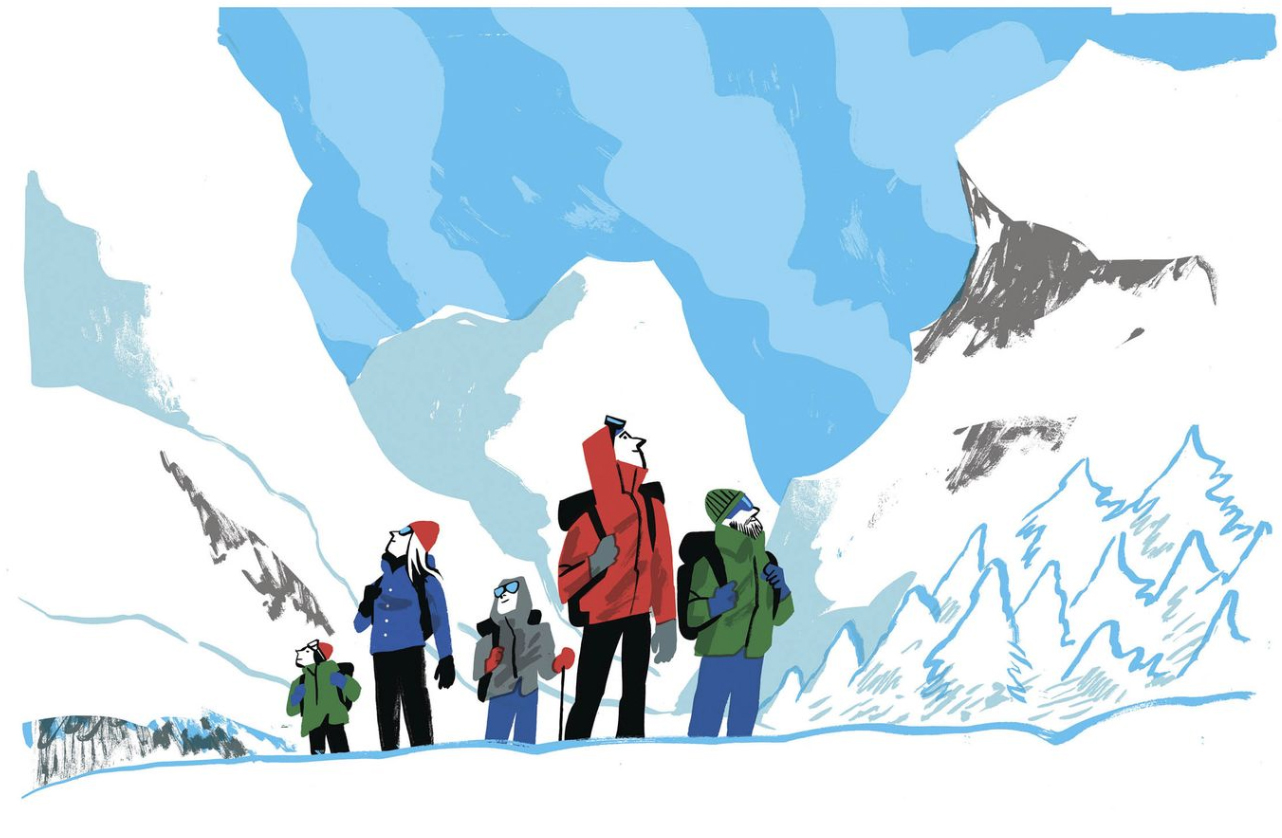 Illustration: João Fazenda, Words by: Tim Johnson
You'll like Powder Matt—he'll make sure of it. Even if you cringe at first. His motivational speeches can sound like something borrowed from an inspirational poster but delivered in the voice of a fiftysomething ski bum. One day, after a hike, over coffee at a long wooden table, he tells me about a childhood mentor who taught him how to ski. "I realized I can soar," he recalls. "That person gave me the wings." I would have scoffed at the sentimentality if his positivity weren't just so darn charming.
Powder Matt was born Matt Mosteller, but in our interactions he always identifies himself as Powder Matt, whether in person or over email. For 30 years he's been connecting business, political, and cultural leaders with the great outdoors, hosting self-help retreats on snowy slopes, wild rivers, and steep mountain paths for three or four days at a time. (Trips range from $500 to $15,000.) These outdoor adventures often mix people with different occupations (actors, bankers, pro athletes) to get them out of whatever mental or emotional rut they're in, and they're peppered with Mosteller's unique brand of snow-driven positive thinking. "Powder is the lubricant that brings people from a variety of backgrounds together to connect, share joy, and do good," he tells me. "That's why powder is such a powerful part of my life."
Women and men in high-level leadership positions have lives that are too scheduled, he says. They have handlers and assistants and managers who leave no room for spontaneity. Since they're used to being the boss, being in control, Mosteller's aim is to shake them up and give them a fresh take on their work and lives. "The wilderness humbles the hell out of you," he says. "We've sanitized life, but nature is never stale or mechanical. Out there, there are creatures that can eat you, storms that can crush you, lightning that can shock you."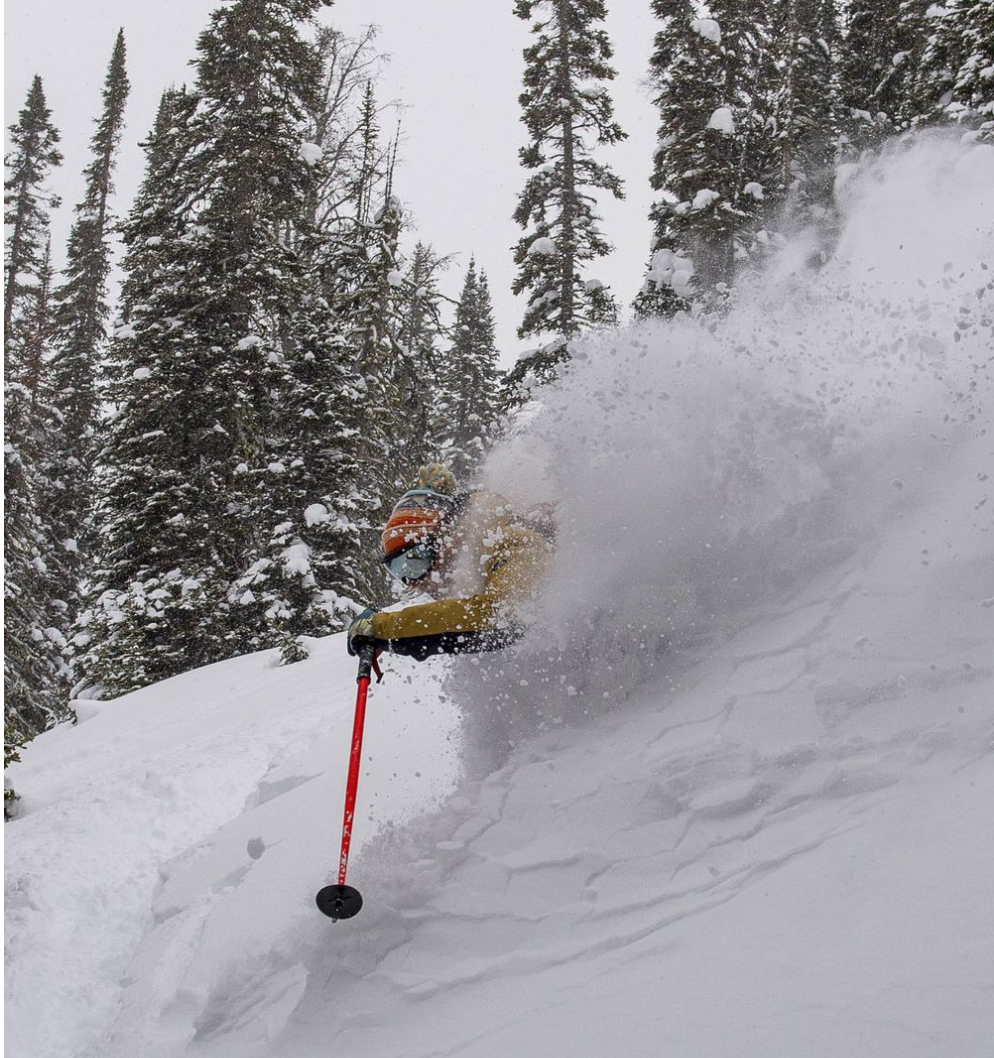 Skiing in the Bugaboos.Photographer: John Evely Photo
Retired Wyoming Senator Al Simpson, an outdoorsman and former minority whip, has taken two trips with Powder Matt, one of them a fishing expedition. "Matt is just an effervescent, spirited guy, full of energy, full of ideas," Simpson says from his ranch near Cody. "When you're out there in the wilderness, you realize, Here I am. This stuff will be here for eons after me. It clears your vision, your attitude, and makes you think of the real worth of living."
The morning we meet, Mosteller picks me up in Calgary, and we drive to a remote helipad near Spillimacheen, B.C., on the other side of Yoho National Park from Banff. We're joined by a whole crew heading to take guided trips—an Australian social media executive named Ryan Hodgson; former pro baseball player Merv Rettenmund and his wife, Susan Clark; a Texas attorney with his family—and are picked up by a nine-person Bell 222 chopper. It thumps over soaring ridges and plunging valleys until we reach the base of the Bugaboos, an 11,000-foot-tall series of spires in the Canadian Rockies.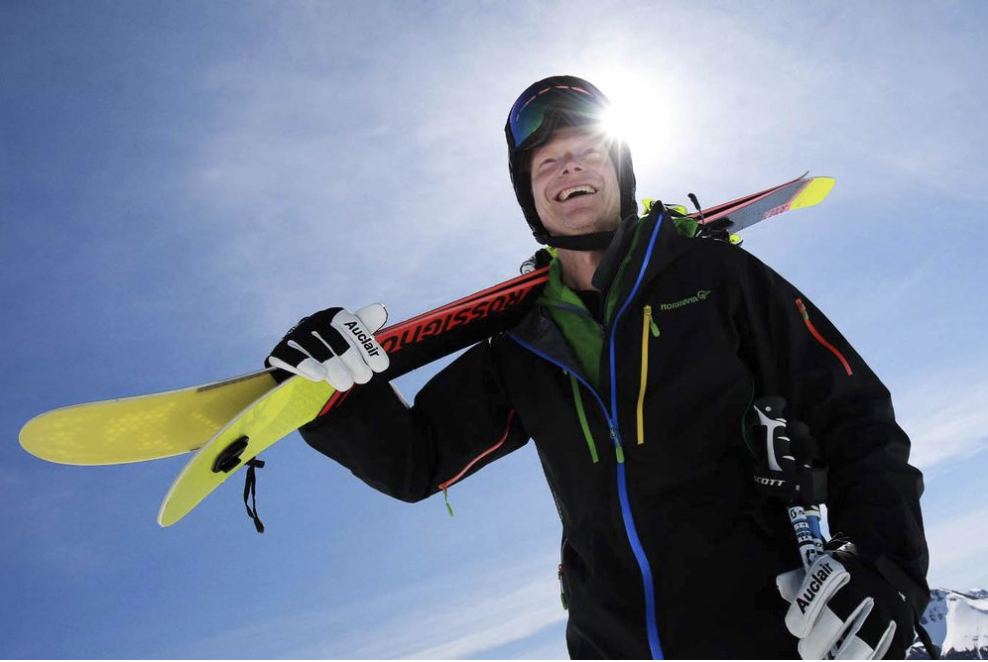 "Powder Matt" Mosteller, Courtesy of Matt Mosteller
We land on a green patch of grass not far from Vowell Glacier and duck into the rotor wash to disembark at Bugaboos Lodge, run by CMH Heli-Skiing. The company was founded more than 50 years ago as Canadian Mountain Holidays by Hans Gmoser, a rough-and-ready Austrian backcountry guide, who introduced the chopper to his already famous hiking and skiing tours in 1965. He built the cleanly elegant structure from an abandoned timber camp, turning it into the first permanent hotel dedicated to heli-skiing. Today, CMH helicopters ferry Bugaboos guests around granite peaks and blue-hued glaciers to runs with names such as Cannonbarrell and Kingsbury Pearl.
I'm here to hike, however. Each day at the lodge includes a 7 a.m. wake-up call, delivered by a man walking down the hall ringing a bell. Breakfast is rich in protein—eggs, bacon, ham—followed by a short walk to the helipad, then a 10- to-20-minute ride deep into the surrounding wilderness.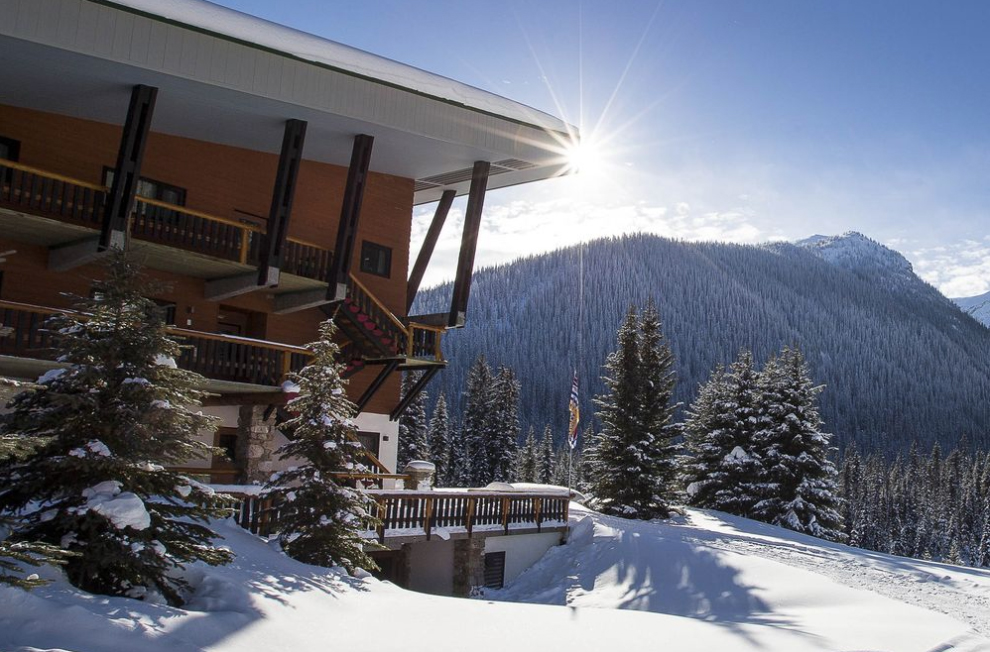 Bugaboos Lodge in the Canadian Rockies.Photographer: Paul Morrison
My first day, Mosteller and I land on a remote eminence above the tree line known as Copper Butte, in the shadow of an imposing monolithic spire called the Guardian. I huff and puff in the high altitude, feeling every bit of the bourbon I consumed with friends the night before, then climb up a rock scramble to a high saddle skirted by snow. The second day we venture across a path the guides call Easy Roll, a long ridge that extends as far as the eye can see.
Powder Matt is now senior vice president at Resorts of the Canadian Rockies, which owns and runs a half-dozen high-end ski and golf retreats in Canada, including the well-loved slopes at Kicking Horse Mountain and Fernie Alpine resorts. He's a long way from his 20s, when he lived in his car for 63 straight days so he could ski whenever he wanted. That led to a book, The Adventurer's Guide to Living a Happy Life, which features such meditations as "Little steps make a big difference in the long run" and "Set your 'happy bar' on high."
Mosteller is one of several leaders who run trips from Bugaboos, but from the start, he says he's not a real guide. He's more of an enabler, pointing out flora such as the larch, a conifer that sheds its needles in the fall, and rock formations that were deposited by nearby glaciers. As the two of us pick our way along a ridge that seems to drop away forever on each side, we engage in what initially appears to be idle chitchat about the regular day-to-day life and work.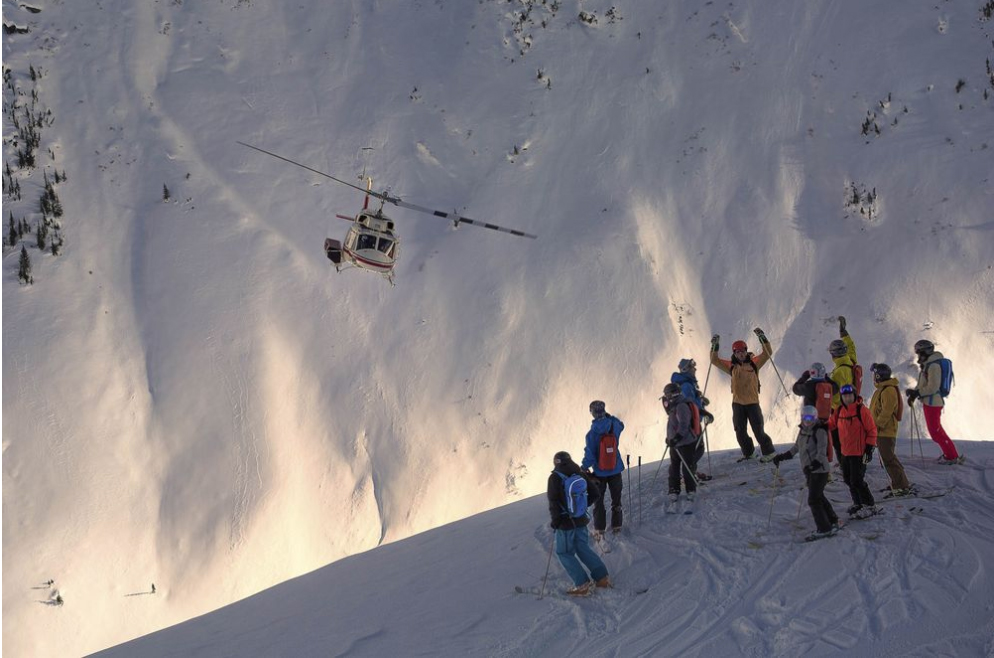 A Bell 212 helicopter flies by a CMH-led ski group.Photographer: Paul Morrison
But he quickly homes in on a couple of things that have been bothering me, including being passed over for a professional opportunity I felt I was qualified for. His advice is characteristic of his philosophy: succinct and optimistic. "Spend your time with people who you identify with," he says. "Positive people, people you can work with. Don't bother with the rest."
He can be aggressive when it comes to pushing people out of their comfort zones, sometimes resorting to a goofball humor. "I want to put people in a weird place," he tells me over a beer at the lodge bar later in the trip. "You can be taking a shit in the wilderness with an annoying mosquito on your ass—but that will be the first story you tell when you get home."
At night, after a hearty dinner, guides from different groups teach us about the region's history before we retire to the horseshoe-shaped bar and sip premium Scotch. To illustrate the hardships of early mountaineers, Mosteller has me dress up as turn-of-the-century explorer Conrad Kain, modeling hobnail boots and a heavy wool coat. It's mortifying at first—I loathe audience participation—but it becomes the source of running jokes over the next days. I find myself smiling about it often.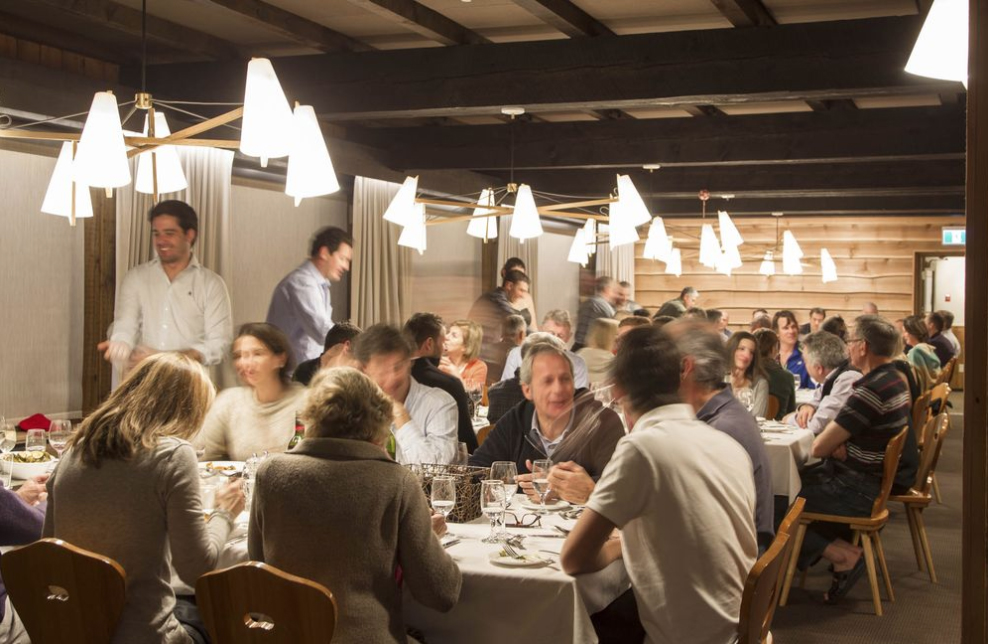 Dining at the Bugaboos Lodge.Photographer: Tammy Hanratty
Eventually, Powder Matt's unrelenting positivity starts to hit its mark, as day after day the chopper drops us onto remote mountaintops. Part of the therapy is simply getting it out—confession, as they say, is good for the soul. Another part is surely being out in the wilderness, exposed. "Getting outside, that's the magic behind what Matt's doing," says Tyler Erickson, owner of American Bank of Montana, who took his first trip with Mosteller 15 years ago. "He knows how to tap into the 'stoke,' whether you're good at it or not."
Powder Matt's a salesman, for sure. But one with a notable lack of guile. By the time the helicopter drops us off at the end of the weekend, I feel a little happier and a little healthier, and I breathe better. Some might say it's just Mosteller's sheer force of personality, while others will credit the power of our surroundings—they say fresh air produces endorphins. So does grinning from ear to ear.
Re published from bloomberg.com