Best Season Ever
I say this at the end of every winter season, but I do believe that this year was, in fact, my favourite ski season to date. As the snow melts, awakening the grass and the smell of spring, and the rocks on the headwalls become black and more prominent, I can't help but look back on the incredible moments I've had on my skis over the past eight months.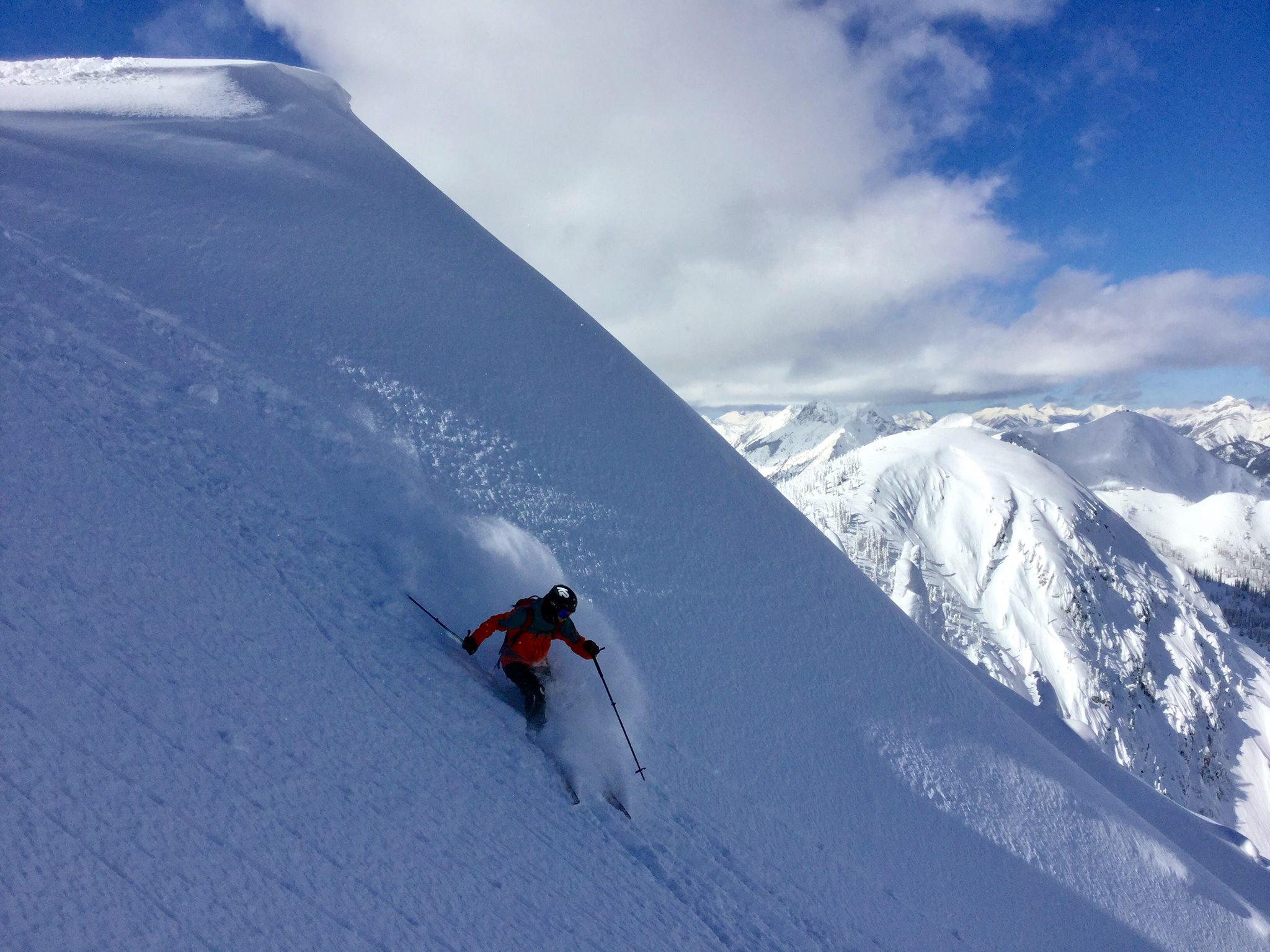 photo Mel Saarinen
42. Fallopian Tube
Mastodon Peak
Mar 7, 2018 1:45pm
Mel Saarinen
1.5 hr skin from Lost Boys to summit. Slopes were super loaded all the way. The Fear had me gripped.
Got over The Fear with help from Mel. Thigh deep. So sick!
After an incident that has the potential to scare off the average person from venturing into avalanche terrain I didn't know how my season was going to turn out. Not only did I have an internal, mental battle going on but I was also recovering from a knee injury. I wasn't even sure if I was going to be able to ski off piste, let alone ski some of the best and biggest lines of my life. Yes, on some occasions I may have skied more cautiously than in the past, but what happened to me last March did not hinder my season whatsoever. Only once did I back out of a line, and that was because I was alone. A few days later I went back with a partner and completed the mission.
I admit there were times where I was very much afraid. Where I couldn't help but see the entire slope break away but with the help of friends and the knowledge from my past experience, I was able to overcome The Fear. That feeling of winning that inner battle is unexplainable, and getting to the bottom of a big line has never felt better.
photo Caleb Brown
52. Super Pooper
Mammoth Head
Mar 28, 2018 2:00pm
Josh Lloyd
Boot packed straight up. Soft snow to begin but firmed up from the sluff constantly pouring down the slope. Hiking got easier after a while. I set the boot pack past where we wanted to stop and
brought us all the way to the top. From below the rocks as far as we could climb we made a spot
to put on our skis. It was so steep one person held the other so they didn't fall while clicking in. I
dropped in, skiing fast, just avoiding my sluff at the bottom. One of my favourite missions to date.
A few years ago I started a log book of all the big lines I ski. I was able to look back at winter 2015/16 where I had sixteen entries. Winter 2016/17 I jotted down eighteen lines I thought were worthy. This year, I have added twenty-six entries and there is still a month of skiing in the higher elevations. Needless to say, I'm not finished yet.
After December there were a few bad layers in the snowpack and the backcountry was extremely dangerous. I didn't add any entries to my book in January, but during that period the conditions at Fernie Alpine Resort were some of the best in years. We were blessed with nearly 1200 centimetres of total snowfall this season, and were just shy of a 4 meter base. I believe we had some of the most snow in North America.
I had a few trips planned for the winter. Like I usually do; the odd big mountain competition and photo shoot but the snow kept falling in Fernie and the avalanche conditions were tightening up. I chose to stay around here, for the first time in my life I didn't feel like competing. I just wanted to ski for myself, which was incredibly rewarding.
The tight-knit big mountain community in Fernie is something special. The days I shared with them this winter were better than any freeski competition. Being alone in the mountains with no one else around other than your small crew is a unique type of intensity, and not only are the lines untracked but your friends are the judges, who are nothing but stoked when you meet them at the bottom.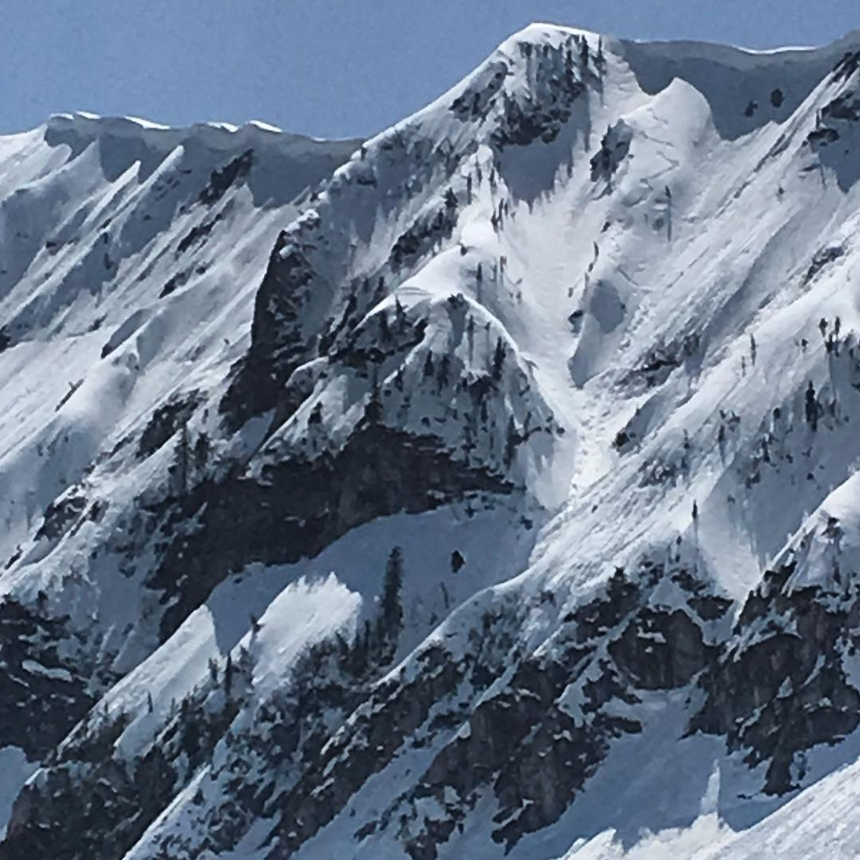 photo Klyde DeGroot
57. Curve Ball
Lizard Headwall
Apr 23, 2018 11:00am
Luke McLeod
After skiing Richards I knew the only other line with good snow would be Curve Ball so I sought
a partner and Luke was keen. So glad he came, I was nervous, he was confident. I dropped in
first, jump turning all the way. Playing it safe. Snow was soft and carpet like, moved lots of sluff.
I forgot how steep it gets before the cliff. I was able to get positioned to double out the bottom. It
was technical but super fun. I've never seen that exit so filled in.
Not only was I able to ski more big lines than I ever have but also had some of the best inbounds ski days of my life. It is now May and I just waxed my skis, knowing there is more to come. I really can't think of anything negative about this winter, so I am confident when I say this, that was the best season ever.
By Caleb Brown, skiing at Fernie Wilderness Adventures below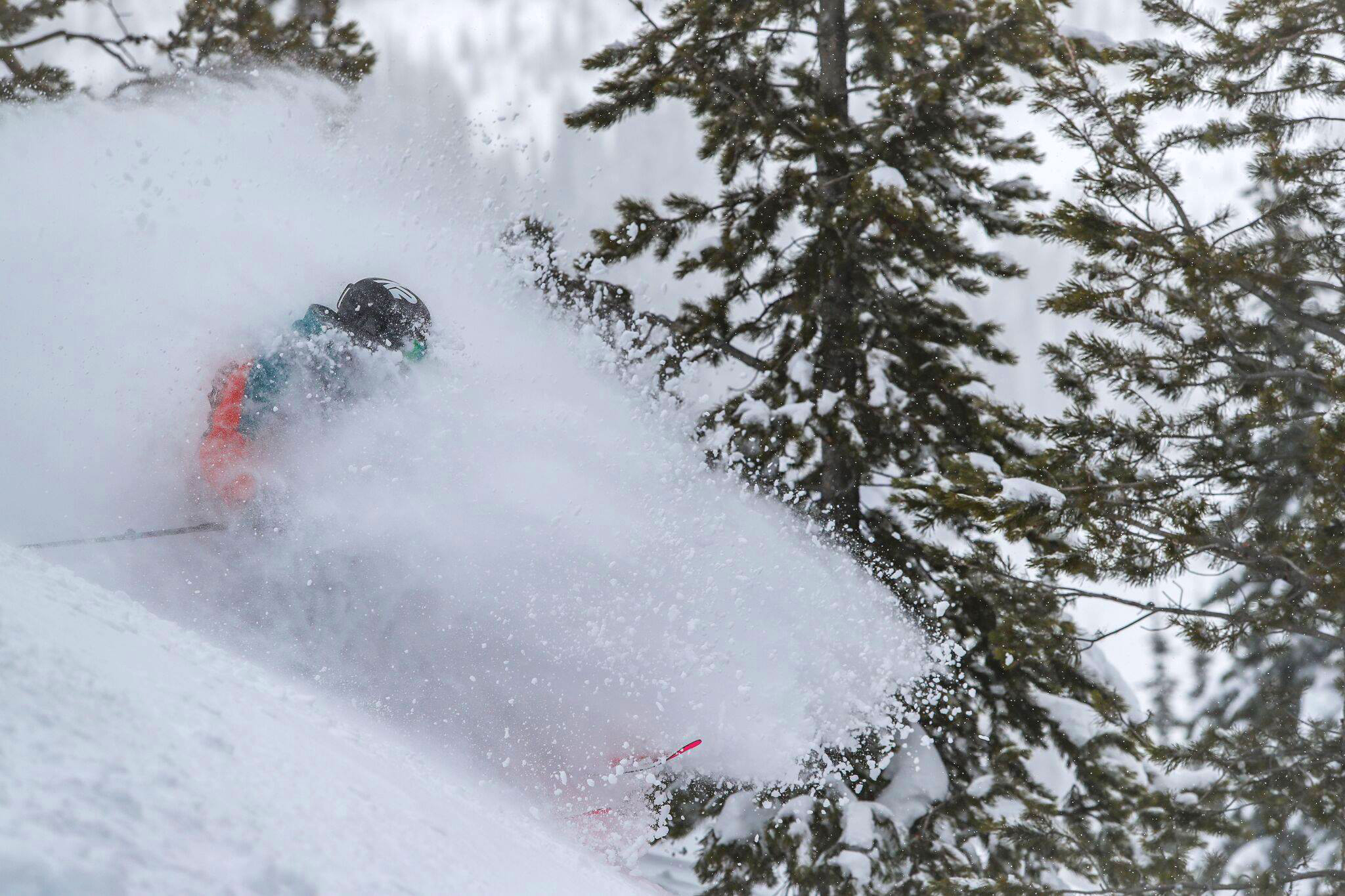 photo Steve Brown