Kye Petersen "Skier Of the Year"
Freeskier announced today that Kye Petersen is the 2017 Skier of the Year (SOTY), as voted by his peers.
Kye commented, "I'm very honoured to take the SOTY title and owe a huge thanks to so many. The last year I accomplished a few life long goals that i'll never forget about yet all I seem to be thinking about is my resolutions and goals for the coming year…2018 here we come! Bring the fyah!"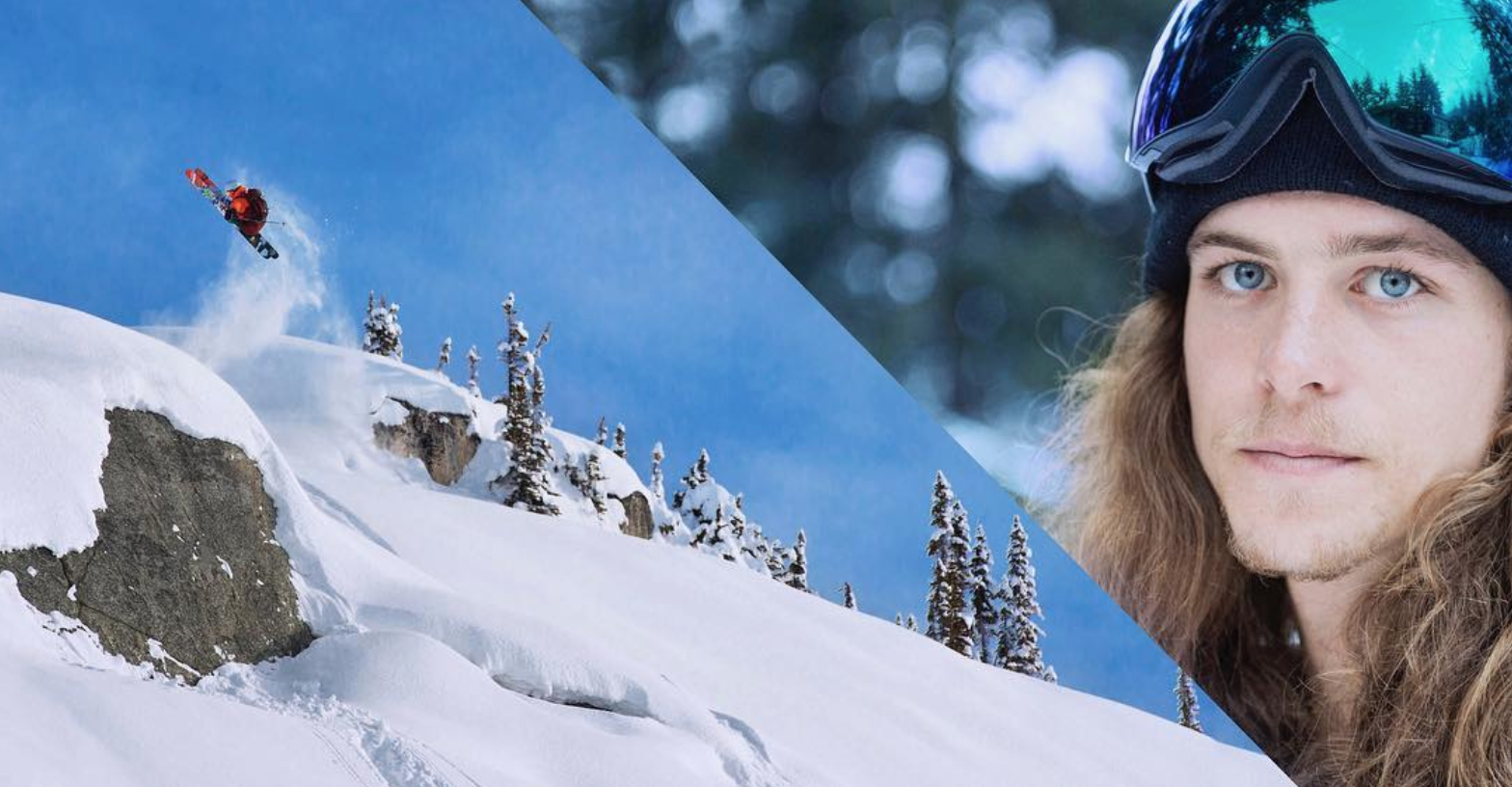 To determine the winners, Freeskier contacted over 200 of the most talented and knowledgeable professional skiers out there and had them rank the five athletes they felt had the best 2016-17 ski season. "Best season" is a term open to interpretation, Freeskier asked the athletes to think about a few things, including, but not limited to, film segments, web series and edits, contest results, magazine exposure and overall impact in regards to spreading skiing stoke and growth.
Each nomination (1-5) corresponds with a point value: A #1 pick earns 10 points, a #2 pick earns five points and so on. Thereby, if a particular skier shows up consistently in the #3 or #4 slot, they'd still have a shot at faring well in the final tally. There were no restrictions on nominations; skiers were able to throw any and all names in the ring.
Freeskier reports, "Petersen took the cake this year by a large margin; this marks Petersen's first-ever SOTY award." The Pemberton native earned the respect of his brethren largely for his performance in, and direction of, Numinous—a must-see film by Dendrite Studios. Before ringing in 2018, Freeskier caught up with Petersen to discuss his new crown, the season gone by and also what's next for the versatile and decidedly understated skiing talent.
Freeskier Q&A with the 2017 Skier of the Year, Kye Petersen
OK, first off, let's talk about Numinous. Now that the film is out and has had some time to circulate, how are you feeling about it? And how has the response been?
It feels good. There are always things you wish you could change after [investing oneself so heavily in] any project, especially regarding your own skiing and the length of songs and cuts, but this time around I was content. I think just because of the amount of time that went into it and also being involved in every step along the way, it makes it feel that much better when it's finally done and released. The response has been amazing and we couldn't be more grateful to be receiving all the stoke, because we put a lot of passion and drive into creating a vision and feeling through cinema that we weren't seeing in the ski world.
Regarding the athletes who were featured in Numinous, did you seek fellow skiers that share a similar style to yours? Or did you try to branch out and diversify? Did you stick to those you're close with or invite some riders that you haven't spent as much time with?
Actually it was a combination of all those things. I wanted the opportunity to ski with some guys that I'd been hoping to link with for a while, as well as a variety, which was a goal in all aspects of the film. More than anything I wanted to include riders that were connected in some way to our locations and of course inspiring riders that I enjoyed skiing with, and who typically ride similar terrain as I do. There were three more guys I had originally planned to film with and it didn't work out for one reason or another, but for the most part I linked with everyone I wanted to, all of whom inspire me in different ways. I definitely get the most motivation from who I'm riding with, so, having such a rad variety of skiers in the film was huge to me.
Do you plan to make another film as a follow-up?
Mmmm, nothing big right away, and not necessarily a follow-up to Numinous, but I do have some other ideas. There's a good chance that I'll start filming for another project starting after this [ski season]. If so, it'll be a longer filming process, a refined storyboard and not the same concept as Numinous, although I will continue working with some of the same film crew I as worked with on Numinous, to hopefully deliver the highest level of skiing and production quality possible.
In the wake of working on a film like this, it's easy to feel like you never want to do it again, but, slowly, over time, the motivation comes back to make something better. I've learned a lot from my experiences with filmmaking thus far and have also realized more of what I can do to improve my skiing, as well, and all of those things tend to bring my drive back. Once I get something in my head it's very hard to stop. Right now, I'm trying not to think about it too much, but I know that I want to deliver something from my continuously growing list of concepts. This season I intend to just make some fun trips happen that I've been wanting to do for years… more cultural trips, type thing, and just shooting occasional photos and video for short projects. I think I'm going to spend a month in Alaska this spring and try to film a video part and short story.
Do you feel that earning this award, as judged by your peers, validates your efforts this past year?
It's definitely the icing on the cake. Being selected as this year's Skier of the Year through judging by skiers I respect definitely feels amazing. There are so many people throwing down so hard these days and to be picked out as someone worthy is crazy. I'm not really sure what to say… I'm just hyped!
I'm thankful to have a chance at this and after all the hard work over the years I feel like this award is special just because I hand selected my crew and went out on a limb to create something of my own. There were a lot of unknowns and it felt kind of risky, so I'm glad it worked out. As far as validation, I think that's something that comes from within, although this might help validate me within the industry a bit more. This is a huge bonus to my efforts last year and next to people coming up to me and saying they've watch the film multiple times and really enjoy it, it's probably the best compliment I could receive.
You have always incorporated tricks off of natural hits into your repertoire. What has your process been to get comfortable with these maneuvers?
Repetition. It just comes from doing different tricks off all kinds of features on an everyday basis, whether on the hill or in the backcountry, until your confidence gets stronger. The same trick performed off of different types of natural features can be like a whole different trick altogether, so, I think just doing them off every kind of take off I can has helped me read what sorts of features lend themselves to various tricks. At first it's just trial and error. It has taken me years to refine certain tricks off 'natty' features but the more you go for it, the better you get and the higher the 'make ratio.' I think at some point, any trick can feel [as easy as] a straight air after you've done it so many times. Though, in the backcountry and on technical lines, some tricks really come down to finding the right place to do it. There are still plenty of tricks I haven't incorporated into lines but I know when the right terrain presents itself, it will all come together.
How about for the season ahead… How will you spend most of your days on snow?
Perhaps you could describe your ideal day of skiing, and talk about the evolution of your skiing?
It really depends on conditions and where the riding is best at the time. My ideal day of skiing can be so many different things… Either way, it definitely would involve lots of powder and a couple good friends. And probably some pillows or spines [laughs], but just adjusting to what the mountain is lending itself to that day is what creates the best experiences, I think. It could be on Blackcomb Mountain, just ripping [lift-accessed backcountry] hits and peak-to-valley runs, or it could be touring off my sled to the next mega-undiscovered pillow zone, or just being on a huge line that takes all your attention, maybe even over a couple of days, and really puts you in the zone where nothing but what you're doing at that very moment matters.
As far as my progression, through my formative days, a lot of my progression came from the sheer amount of time and vert I got to ski around [Whistler Blackcomb]. I generally try to balance a pretty even amount of skiing inbounds, touring, sledding, ski mountaineering, charging mini golf and big lines… I'm lucky 'cause where I live, I think we have maybe the best variety of all of those things in one place. Growing up a skier on the southern coast of [British Columbia] is kind of like growing up surfing on the north shore [of Oahu].
Growing up here has shaped me in every way. Mainly from the type of snow we have and the type of terrain, but also the high level of skiers that have always based themselves out of here. I live in Pemberton now and we have a pretty cool posse here. Being close to the hill has allowed me to better my technical skills and just refine my style and comfort on snow, but the real thing that's kept me going and prevents me from burning out is finding new terrain that I've never seen before… typically that's the kind of spine and pillow terrain that lends itself to natural airs, combos and tricks.
Looking around at the other boys who are excelling in their professional skiing careers, are there any individuals who are inspiring you more than others?
Yes, for sure. A draw inspiration from a lot of guys in today's generation, yesterday's generation and even the older guys, pre-millennium, too. There are too many to name and some that are unknown ski mentors from when I was young. To name just a few… Tanner [Hall], Pep [Fujas], CR [Johnson], Seth [Morrison], Shane [McConkey], JP [Auclair], [Doug] Coombs, my Dad, Johnny Foon, Jia, Oli, Sean, Sammy [Carlson], Dane [Tudor], Hoji [Eric Hjorleifson], Candide [Thovex]… There are also lots of people outside of skiing that inspire me… John Florence, Kelly Slater, Jay Adams, Craig Kelly, Travis Rice, Jeremy Jones, John Cardiel… the list goes on. I find most of my inspiration from surfing and skateboarding outside of skiing, as well as pow-surfing, a.k.a. noboarding. Currently, guys like Grant Taylor, Ronnie Sandoval, Chris Russell… Dane Reynolds, Conner Coffin… All great examples of speed, power and flow, which I try to translate into my skiing.
How about on the women's side… who gets you fired up?
Damn, the women have been stepping it up in the backcountry game lately. It's rad to see. There are a ton of younger girls in the park stepping it up, too. There were always just a few girls in the past that stood out more than others but now there are so many. This year I got to see first-hand Tatum Monod's shredding and she works harder than almost anyone I know, and she has a combination of skills from big lines to 'natty' tricks to pillows, you name it. Tatum can keep up with any of the boys and it's really cool to see how many girls she inspires.
Tatum took home the title of Female SOTY this year, as well. You voted for her…
Yeah, Tatum definitely deserves all the recognition. She shot an amazing segment for Level 1 and also is featured in Numinous ripping it up in the Coast Range segment. Not to mention numerous magazine covers and social hype. She just worked hard, skied well and caries herself with confidence and respect. A clear pick for Skier of the Year, in my mind.

After many amazing years with 4FRNT Skis, you and your former sponsor have gone separate ways. This was in the wake of a change of ownership and a new structure for the company.
Yeah, that's right, 4FRNT and I have parted ways. As much as it was a good chapter I'm stoked to close the book and start a new one.
Can you talk about the experience of designing and testing your own pro model ski?
That was my biggest goal going into [the partnership] and the best thing I took out of our relationship. I got to work with proper engineers and ski builders shaping hand-built skis that I designed from the ground up, with proper R&D and testing. I'm super thankful for that.
Do you see yourself seeking another ski sponsor that will give you the creative freedom to design another signature ski?
Yes, 100 percent. The only thing motivating me more than the terrain itself is designing proper ski shapes that allow me to [make the most of] fun lines and ski a certain way. It's a really good way to keep my stoke alive when sometimes I lose motivation on the hustle that is professional skiing.
Can you shed some light on the other gear you're currently using? What are your absolute go-to essentials on the mountain?
Go to essentials, eh? Top secret! Nawww, [laughs], my gear is pretty standard for most any daily backcountry outing. I try to go as light as possible while still bringing just what I need for that particular mission. I always have a shovel, beacon and probe for avalanche rescue, a harness, rope and crevasse rescue kit if on a glacier, skins, buff and [beanie], a 'ten essentials' escape kit [lighter, headlamp, pain killers, duck tape, pole repair, basic medical kit, basic repair kit, multi tool, prussic cord, tie wire, knife, multi-use ski straps], an extra insulation layer, extra lens and gloves, flavored water with a hint of Monster, power food, a map and a solid plan. Most of that is essential for obvious reasons. Some stuff you learn the hard way when things quickly go wrong and other stuff you learn slowly over time from seeing what gets used more often than not.
As 2017 draws to a close, what are the main goals you've set in place for the year ahead, as far as your skiing goes?
My main goal is to have a lot of fun. To enjoy the basic things like style on snow with powerful turns and railing carves in tight pockets. Also, I just want to get stronger physically so my body can keep up with what my mind wants to do. I'm currently healing a foot injury and will aim to ski less until I feel stronger than last season. My season is starting late this year, in January, with a fun trip to visit Japan for my very first time.
In spring, my goals are to get some bigger tricks and combos on technical big-mountain lines… assuming proper alchemy where all variables, including conditions, weather, mental and physical state, et cetera, line up. There are a lot of new tricks I'd like to incorporate into lines, particularly on spines and steep pillowy terrain in BC and Alaska. On top of that I have a few specific zones and peaks around home that I haven't been to yet that I'd like to hike and ski.
Also to consume less junk, lower my environmental impact, maintain a steady balance of work and play, health and focus… grow spiritually and further connect to the land.

Final thoughts?
First off, I want to say 'thanks,' and I'm extremely honored to be voted by my peers as Skier Of The Year. To receive this award is an amazing achievement and having the SOTY title even just once in my career is something I'll always remember. I want to say thanks to Nic Teichrob and Athan Merrick at Dendrite Studios who worked on Numinous alongside me, plus Chris Flynn at Flynn Media Productions, Guillaume Tessier, all my sponsors who supported me and my projects, all my mentors and the homies I ride with… I really owe a huge thanks to everyone who believed in me, supported Numinous and helped me get to this point.
Source: Freeskier.com