Avalanche Canada: Christmas surprises
Surprises are nice over Christmas, but not in the snowpack!
In the Columbias and Southern Rockies, an interesting snowpack situation has developed that could have the potential to catch out the unwary.
It's all about variability. Specifically, the variable nature of a weak layer that's buried 30-60 cm below the surface. In some places, avalanches are running easily on this layer; in other places, the snow appears to be well-bonded and nothing wants to move.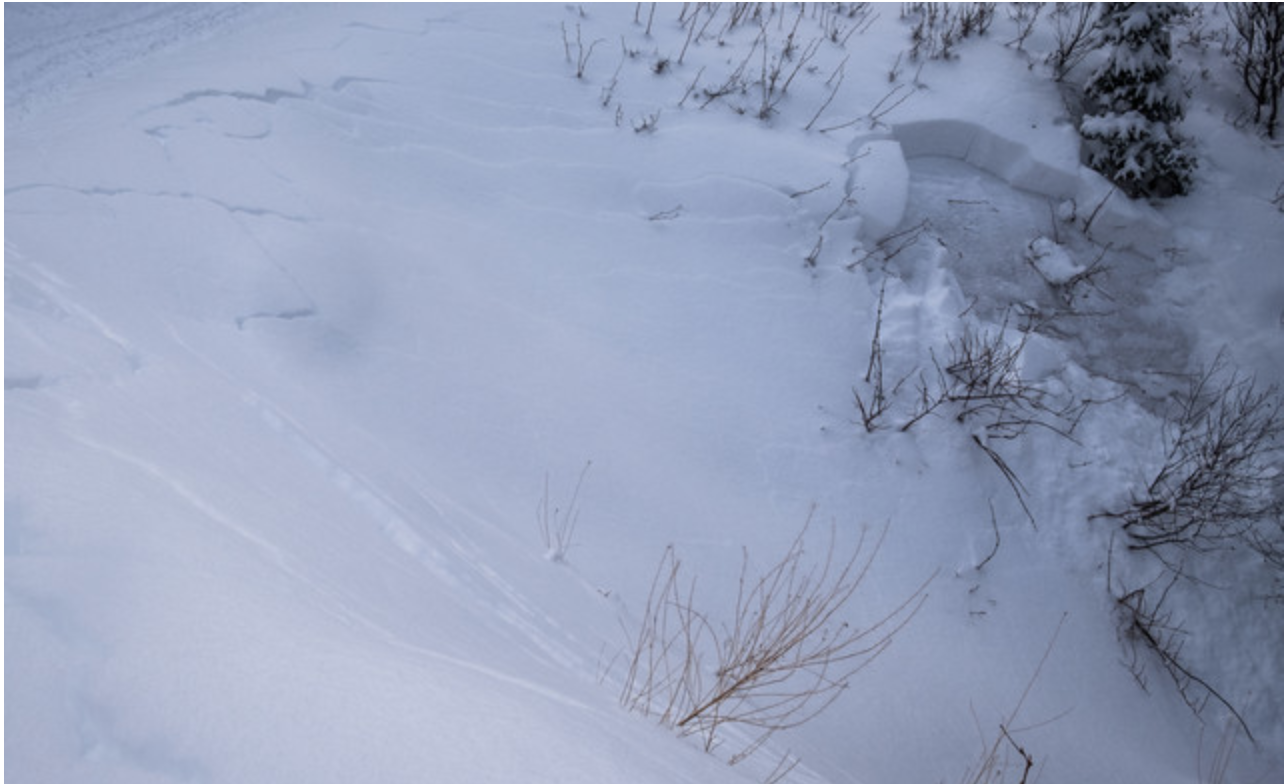 Look out for signs of instability like this little roll that popped off in the South Rockies on Dec 21.
The reason things are so variable is due to the nature of recent weather conditions. Remember we had those warm temperatures in the alpine? Some valleys remained cold and shady, while others did not. There was valley fog blowing around. Different aspects and elevations had different snow surfaces. Even adjacent drainages, similar in aspect and elevation, developed different surfaces depending on the nuance of the local temperatures and cloud cover. Typically, sunny slopes formed crusts. Sheltered, shady slopes between typically 1400 and 1700 m grew surface hoar crystals. Higher north aspect slopes became firm but stayed dry. Windward alpine slopes became scoured and hard.
Under current conditions, it may be easy to get lulled into thinking everything is good to go, but then get caught in a slide when you move just slightly onto a different aspect, or different elevation band. The key is not to over-interpret your assessment of any one slope to a broad area of terrain. If the northwest aspect at 2000 m seems fine, the northeast aspect at 1700 m may not be. Under these conditions it's critical to build a mental map of where the hazards are and continually assess slopes as you travel.

A low elevation cut bank in the Cariboos surprised this dog (and its owner), also on Dec 21.
The slopes I'd be avoiding the most are steep sheltered slopes at treeline and below, particularly those that roll over and particularly those that have a nasty end, like a cliff or a stand of trees. I'd also be paying close attention to the wind loading in alpine bowls and avoiding places where the winds have whipped up denser pockets snow. Riding over small features with no consequence is a good way to get information. It also pays to be alert to signs of instability, such as whumpfs or cracks breaking out in the surface of the snow as you ride over it.
The forecast cold weather over the holiday period should do a lot to keep the snow powdery and fun! I think there's heaps of good riding to be had and the views should be stunning.
Merry Christmas!

James Floyer
Forecaster, Program Supervisor