How To Ski Powder
Are you new to powder skiing? If you are considering spending a season or taking a ski holiday to Western Canada, knowing how to powder ski is a must. At any of Powder Canada's recommended ski resorts or powder outfitters you can experience some be seriously deep powder. Be prepared!
Powder storms frequently cycle across British Columbia from the Pacific ocean and bring lots of precipitation. A good ski week will deliver several days of fresh snow and you'll have no ski option other than fresh powder. The picture below could be you!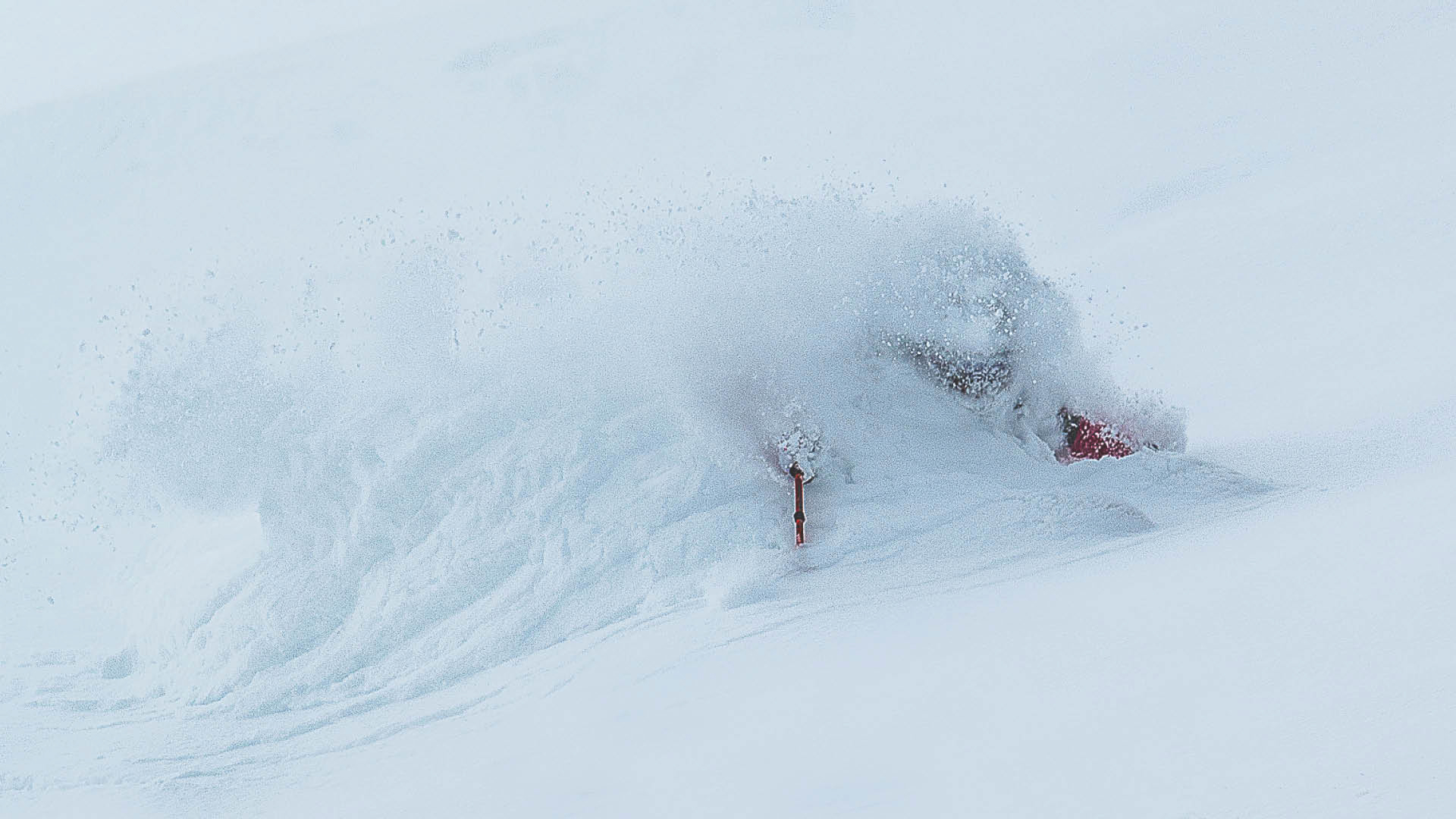 To make the most of your time in the powder and to ensure you get as much out of your trip as possible, we've asked Guy Hetherington to break it down for us.  As the Director of Whistler's Alltracks Academy, CSIA level 4 examiner, self confessed powder junkie, and Head Coach for their ski instructor courses and off piste camps, he knows his stuff.  Here's his breakdown of how to master thigh high powder.
"Many skiers on our ski instructor courses and off-piste ski camps are very competent on the groomers, but when they ski in deep powder they lose all control and technique. It is not that skiing powder is a different sport, so why does this seem to happen to so many people? When you ski deep powder on the Heli Skiing trip, you are not riding on the snow, you are riding in it!
As the video demonstrates, the number-one technique you need to learn to overcome this is "Cresting". Cresting is the ability to bring your skis up above the surface of the snow, in order to turn them more easily. Mastering Cresting means you will able to ride deep powder snow, just as well as a groomer.
Follow my simple seven-step Cresting guide before your powder skiing trip to ensure you get the most out of your powder days:
• Find a relatively gentle slope with deep snow.
• Ski in a straight line.
• Once you have gathered some momentum, start bouncing – pushing your skis into the snow.
• Once they get to a certain depth, the snow will push the skis back towards the surface.
• When you feel the "push back", give into it, pulling your knees up towards your chest.
• Repeat this action to establish a rhythmical flow. This is the most important lesson for all powder skiers.
• The last technique is to simply add direction change. The timing of the direction change is critical. It needs to happen when the skis are at their highest point.
• Add in a pole plant and you will find that turning left and right happens seamlessly.
Practice is the best way to hone your powder skiing skills. Enjoy your powder turns, nothing is more rewarding!