Red Mountain – Own the mountain
RED Mountain is an Endangered Species within the ski resort world. They have the snowfall, vertical drop, world-class terrain and 4-season fun to go boot-to-boot with the BigGuys, but have consciously maintained their mom 'n' pop/weird uncle feel for over 100 years. They're tired of seeing families priced out of a premier ski vacation by Mega Resorts.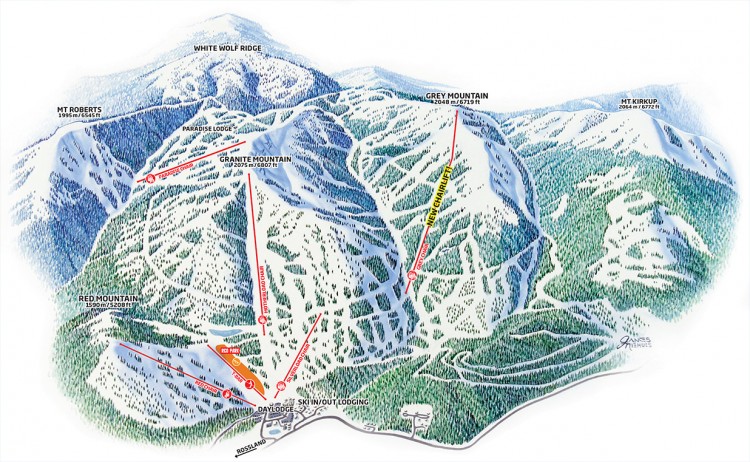 RED Mountain's preservation as a fiercely independent, non-corporate entity is beyond worthwhile. "Fight the Man. Own the Mountain." They're giving YOU the chance (instead of "THEM") to actually be an owner of your very own mountain.
As resort groups grow and the little guys are priced out more and more each season, Red CEO Howard Katkov believes it's more important than ever to keep spinning lifts at genuine gems like Red. So in order to adapt to a changing ski environment and with a focus on reinvesting in a real, non-mega resort community, Red's CEO is offering up the once in a lifetime chance to become a part owner of this BC resort.
This first stage, called "Test The Waters," allows parties to express interest in the investment without handing over any actual loot – now or later. (Imagine a hyper-convoluted "Like" Button that is 100% risk-free. Put down $1,000 or $5,000 – no commitments) If "Test the Waters" gains sufficient traction from people like YOU, RED will file with the SEC in the United States and prepare a Canadian offering memorandum to launch with real dollars, actual equity, and unique perks sure to appeal to ski and snowboard enthusiasts especially. What we're asking of the larger snow-sliding community is as straight-forward as pointing those planks downhill.
Buy in now. And bow out of the side of skiing that is quickly becoming a pursuit for 1-percenters.
Investor Benefits:
– Part ownership of the entire resort and assets
– Limited edition custom skis
– Lift tickets
– Access to overnight cabins atop Grey Mountain
– Supports an annual fund for local education
– More to be announced…
Keeping skiing in the ownership of skiers is best for everybody. Support Red, keep it real!