Whistler Blackcomb Renaissance
Big things are in the works at North America's biggest ski resort with Whistler Blackcomb planning to invest $345 million over three phases of development. Called "Whistler Blackcomb Renaissance," the investment will add new, year-round attractions and activities, see major on-mountain winter and summer improvements, offer new real estate developments, and improve Blackcomb's upper and lower base areas.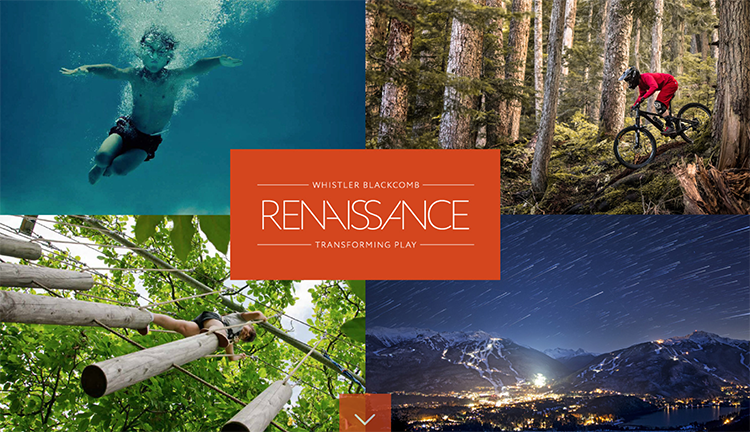 "Whistler Blackcomb Renaissance is the most progressive investment in our history and will leverage our tremendous success building our non-ski business," said Dave Brownlie, Whistler Blackcomb president and CEO. "Renaissance will enhance the activities available for our guests while elevating Whistler Blackcomb's core skiing, mountain biking and sightseeing experiences. This is a very exciting growth initiative that, we expect, will increase year-round visitation to Whistler, insulate our resort from variable weather conditions, and strengthen Whistler's position as one of the premier mountain resort destinations in the world."
Phase one is an estimated $90 – $100 million investment in new mountain adventure experiences. It includes a year-round, 163,000 square-foot adventure center called the "Watershed" with activities focused on water-based play, as well as a new high-speed lift to replace an older lift and connect Blackcomb's upper and lower bases, a year-round mountain coaster, a tree-top ropes course, and ATV and snowmobile activities for kids. Also, enhanced snowmaking and a night skiing area at Blackcomb, and an expansion of the Whistler Mountain Bike Park including 50 kilometers of new downhill mountain biking trails.
Phase two is an estimated $105 – $115 million investment that includes a new day lodge and snow school facility within the Watershed, a two-story parking complex at Blackcomb's upper Base II area, and other infrastructure projects to lay the foundation for Renaissance phase three. Current plans also include the development and sale of approximately 60 high-end, ski-in ski-out townhomes near the Watershed.
And phase three is an estimated $140 – $150 million investment in a major revitalization of Blackcomb's base area in the Upper Village, including an upgraded day lodge and skiers' plaza, a new snow school facility, and a luxury real estate development project. In addition, phase three will also include major on-mountain improvements such as lift improvements and the development of an indoor action sports training facility designed to expand youth development programs in skiing, snowboarding, and mountain biking.
It is estimated that the construction period for phases one and two will be approximately four to five years, and the company expects to open the Watershed to the public within two years of the above conditions being met.