Avalanche Canada Spring Icon
Avalanche Canada along with partner public forecasting agencies Parks Canada, Kananaskis Country and Whistler-Blackcomb has begun using a new "Spring Conditions" icon in avalanche forecasts. This icon conveys the variable nature of avalanche danger at this time of year.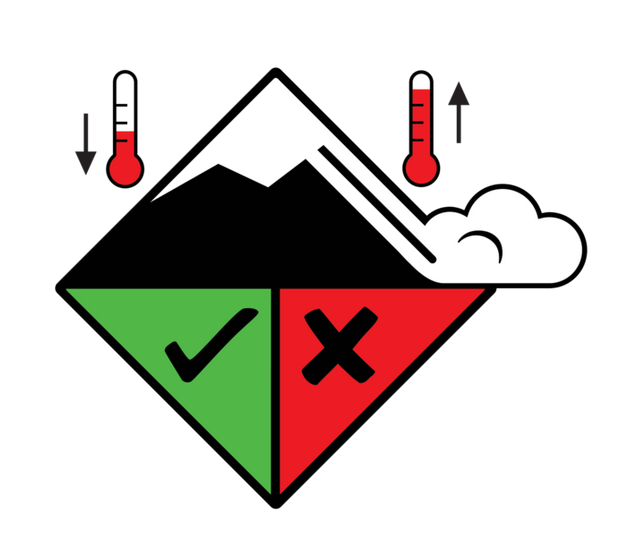 This icon is used when melt-freeze conditions are prevalent in a region. In melt-freeze conditions, danger is relatively low when surface snow is well frozen and a thick (generally at least 10-15cm) crust at or near the surface "cap" the snowpack. When temperatures rise and this crust breaks down, danger increases. This cycle is usually diurnal with lesser danger late at night and in the morning followed by greater danger in the afternoon and evening. Generally, once a region is considered to be in a melt-freeze state, the spring conditions icon will stay in place for the remainder of the season. However, if the weather changes back to more winter-like conditions we may go back to the normal winter danger ratings until things warm up and we return to spring conditions again.
In spring conditions, danger can change from Low to High very rapidly, sometimes in a matter of minutes. The actual danger levels attained, timing and speed of changes, and the type of avalanche problem that might be encountered are driven by solar radiation, air temperatures, sky cover, rainfall, and snowpack characteristics. Also keep in mind that due to the influence of elevation, aspect, slope incline, and slope configuration, conditions on slopes above and around you can be significantly different than what you may be currently seeing and feeling.
Click here for more detailed information about spring conditions.
Avalanche Canada will monitor conditions and update forecasts daily as required until April 25th. After that date their daily forecasting program ends on the 25th they'll revise forecasts or issue notifications if they become aware of significant changes or notable conditions that might affect recreational backcountry users.