Icefall Lodge Powder
In January of 2016 Korey Heatherington, Ian Hamilton, and Danny Arnold took a powder trip to Icefield Lodge, a heli-accessed touring paradise outside of Golden, BC. Here's the trip report from Ian.
I first heard of Icefall Lodge in the summer of 2015 while I was beginning to plan out my winter. Bill at Revision contacted me and extended an invitation to do a week long stay at an awesome lodge outside Golden, BC. When I found out my best buddy Danny Arnold was also going on the trip I was completely sold. I had never been on touring trip for a entire week, especially not one deep in helicopter-accessed mountains.
As it snowed more and more throughout December my anticipation built. At the start of January I flew to Vancouver to shred a couple days at Whistler Blackcomb before linking up with Korey Heatherington for the 8 hour drive to Golden. After an eventful trip with car breakdowns and snowstorms, we all managed to get ourselves to the meeting point to fly into the lodge.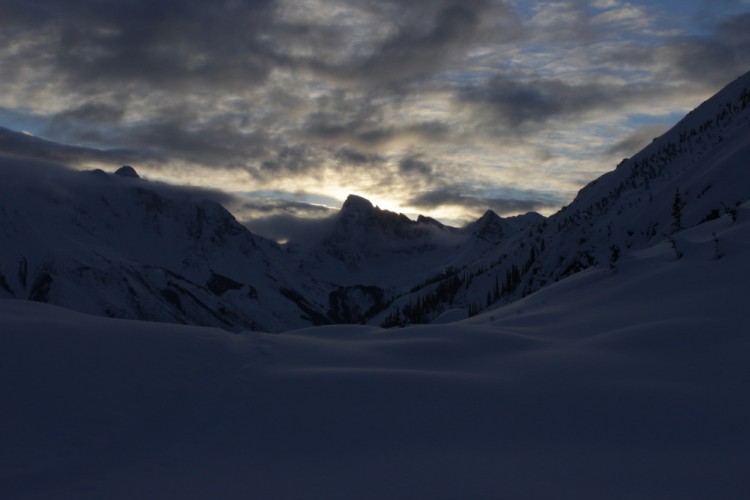 The flight in was awe-inspiring. Gigantic peaks and expansive glaciers entranced our senses as we stared out the window of the heli. After a short flight we touched down right in front of the three-story Icefall Lodge. After unpacking Danny immediately crashed into his bed for some well deserved travel recovery while Korey and I did a little exploring and jump building. The first thing that struck us was the absolute enormity of the terrain around Icefall.
Nestled between avalanche paths at 6000 feet, Icefall Lodge offers easy access to both alpine and tree skiing. There is terrain to please anyone from the hardcore mountaineer to the mellow tree skier. The added benefit of this wide range of terrain is there are places to ski no matter how dangerous the avalanche conditions become. The lodge itself is a paradise despite being so far from civilization. We had three delicious meals a day prepared by our personal chef, Mat. From salmon and steak to mousse and carrot cake, the food was top notch. There is even a sauna and showers to relax after a long day. Lacking plumbing, the showers are repurposed watering pails and there are two outhouses that can also be used as backyard jumps.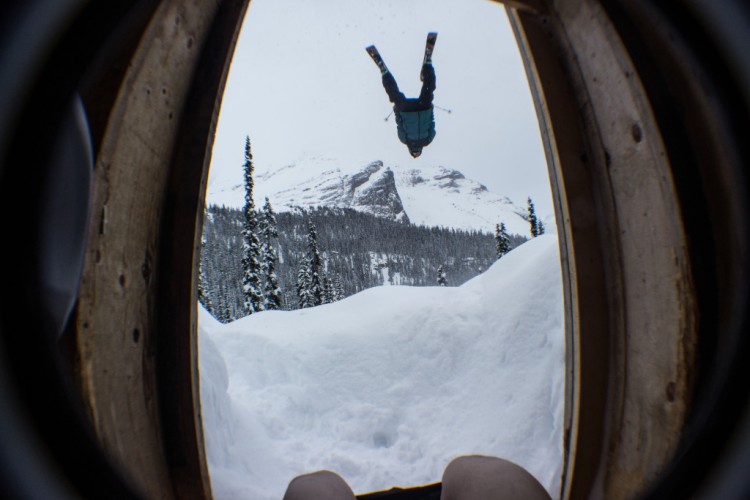 In addition there is even a climbing route on the ceiling of the second floor and yoga mats to stretch out sore muscles. It is the coziest spot in which I have ever stayed surrounded by the most epic mountains I have ever witnessed.
Snow conditions and weather are the ultimate dictators of terrain choice and when we arrived the avalanche danger was considerable. The snow skied great but about a foot down there was an intensely weak layer that sheared very easily and made us reluctant to venture out of the trees. This was compounded on day two when a storm started puking powder on the lodge.
We were able to find some great pillows and cliffs in the trees but even some of these were dangerous as the pillows would break immediately and if you didn't stomp the landing you could be crushed by a pillow falling behind you. We got a lot of practice in risk evaluation and management, and unfortunately we had to back off of our goals to ski big lines in the alpine but we did manage to to pillage the deep snow in the trees. In terrain so immense and remote even a small injury can be dangerous so we played it safe.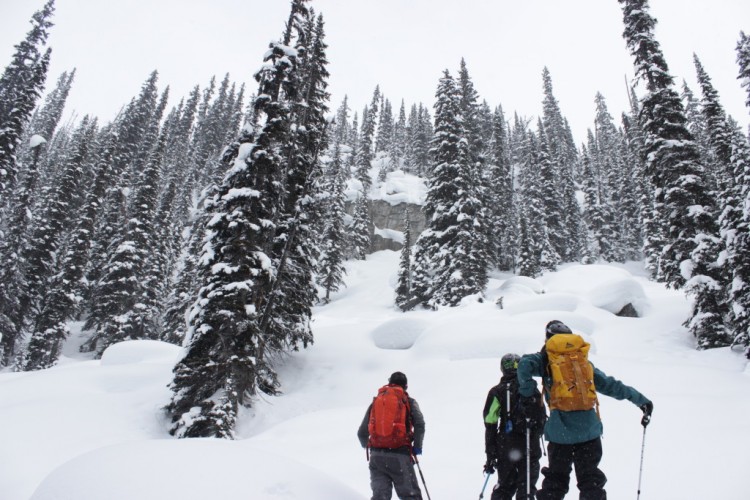 The next day we awoke to clear skies and immediately headed into the alpine bowl above the lodge. We only made it to the first ridge before the an incoming storm and unstable snow conditions forced us to turn around. You can't fight the snow Gods, so we got creative with what we had and built a veritable terrain park around the lodge. Jumps off both the outhouses combined with a pillow transfer jump kept us entertained while the snow kept falling. Our decision to turn back from the alpine turned out to be a good one as we heard multiple huge avalanches from the lodge, two of which were right next to the zone we had been in.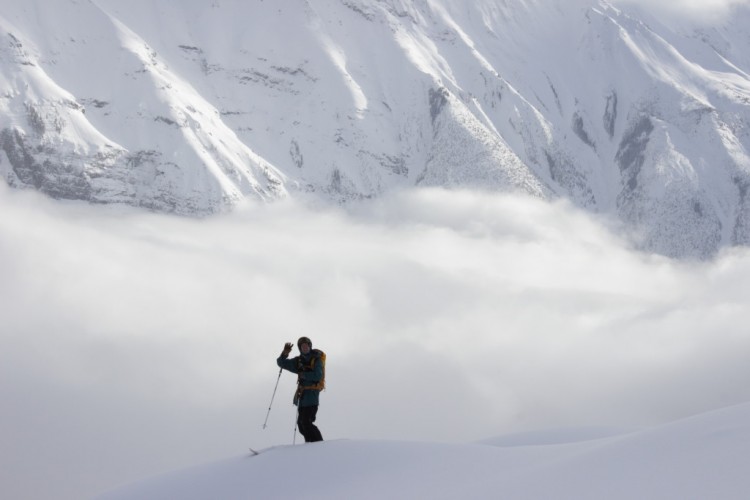 The snow, however, treated us to some extremely deep runs through the mellow trees below the lodge. The fluff continued to fall and the stability didn't improve the next day so we had to get extra imaginative. We adapted our pillow gap into two separate jumps and practiced our timing in order to get a perfectly simultaneous two man jump shot. It took a few tries but we nailed it on our third attempt.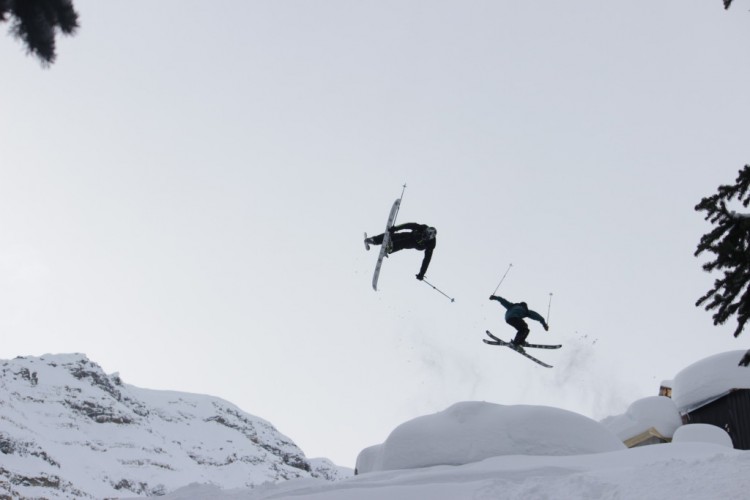 To celebrate we took a pow lap and did some backflips. Unfortunately Korey managed to find the only skin track in the landing, with his ribs, and put himself out of commission for the last day. Although the weak layers were beginning to heal we were uneasy venturing up into the alpine one man short. Instead we followed the other two guests at the lodge, Tom and Chino, to some of their favorite runs for some great POV pillow popping.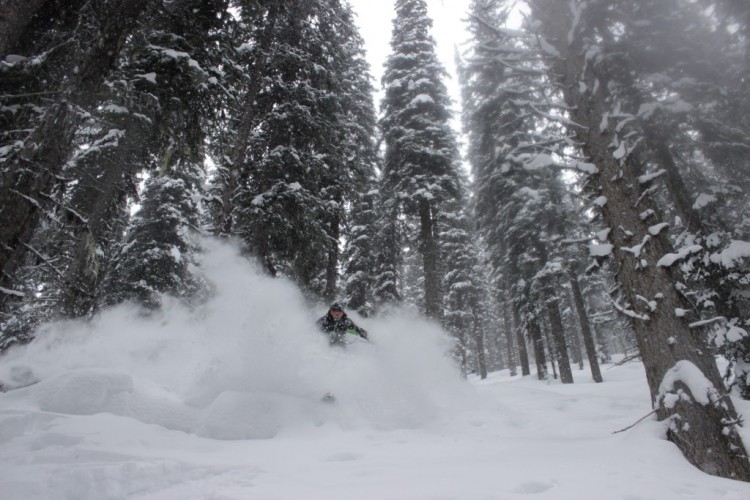 We were exhausted after a week of touring through deep snow, so the Icefall Lodge sauna was much appreciated and we slept like rocks. The next morning we woke early to pack and clean with a sense of nostalgia. The week truly flew by. None of us could believe it was over and we still can't wait for our next trip back to the majestic Icefall Lodge.