Marker's Kingpin changed Backcountry skiing
The Marker Kingpin changed backcountry skiing forever with technology that has revolutionized how teck bindings perform.
Something of a revolution in the world of tech bindings, the Kingpin bindings use a conventional tech toe piece with an alpine-style heel that has no tech pins. The result is a lightweight frameless tech binding for resort skiing, touring or skiing lift-accessed slack-country runs. It allows you to really charge hard on the downhill and has an easy, ergonomic stride when you get back on the uptrack. With an easy conversion from walk to ski mode (flip a lever, push down on the heel and you're good to go) it really is a quiver-of-one binding option.
The Kingpin offers the strength and stability of an alpine binding in a lightweight backcountry package. It's the first-ever tech binding to be DIN ISO certified.
In the Kingpin, Marker combined a tech toe—for light, efficient touring—with an alpine-style heel, for step-in convenience, stability, and power transmission. The sound it makes when you click in is that same reassuring whomp as the brand's well-known Duke tour-capable alpine binding. When switched from ski to walk mode, a lever underneath the boot slides the heelpiece back, so you can switch back and forth without taking off your ski or rotating the heelpiece.
It weighs 730 grams with brakes (brakeless option is 650 grams), only about a bar of chocolate heavier than the competition—similar offerings from brands like Dynafit, G3, Plum, and Fritschi.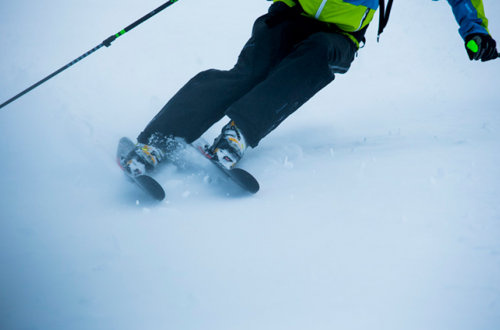 The toe has six springs (Marker calls them a "Six Pack") versus the traditional four, giving it much stronger grip on the boot and making releases on angled ascents almost impossible. It comes in two DIN ranges (5­-10 and 6­-13) and has optional ski crampons and two brake widths (75-­100 and 100­-125 mm) are also available. And Marker offers a "demo" version—with adjustable boot-sole length—the first tech binding to do so.
I have been using the Kingpin binding for a season, covering every terrain type imaginable, and I know it outperforms any other touring binding on the market.
This binding is unique in todays backcountry market. Its downhill power is incredible—it lays over with supreme confidence. Even on side-hill terrain, when getting into other tech bindings can be tricky, it's super easy to click into the Kingpin's toe unit. Plus, the walk/ski mechanism is simple and intuitive.
The two climbing bars take a little practice to flip down with a pole basket or grip, but it's easy to get the hang of. You do have to remember to be sure to switch it into ski mode before taking your skins off to engage the brakes, but generally there is way less thinking with this binding than with some of its competitors. And even when skiing off the lifts and charging, there were zero pre-releases.
The Kingpin skis so strongly you won't believe you were on an AT setup. This is a tech binding that a hard charger will be happy to ski full time—making the one-ski-quiver for backcountry and resort skiers a potential reality.
Here is a short video on how to use the Kingpin: