Whitewater officially launches Winter
Whitewater officially launches winter on Friday, December 11 for seasonal daily operations. Their preview weekend surpassed all expectations with one of the deepest snowpacks in North America!
Here is December 10th's snow report:
Past 48 Hours: 28.0 cms / 11.0 inches
Past 24 Hours: 3.0 cms / 1.2 inches
Past 3 Days: 38.0 cms / 14.9 inches
Past 7 Days: 103.0 cms / 40.5 inches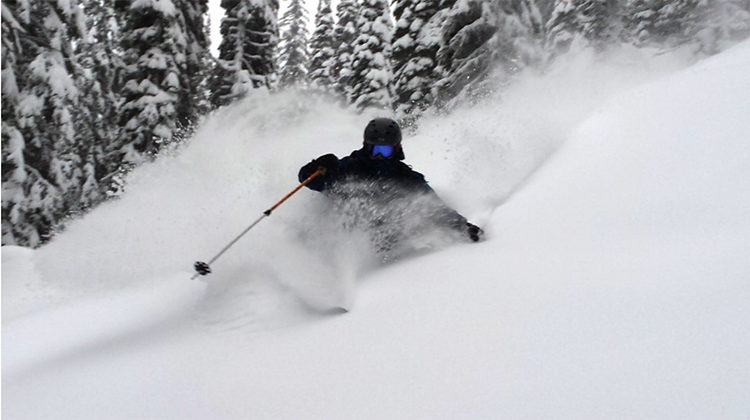 Whitewater celebrates it's 40th anniversary this season and it's lining up to be one to remember. The celebration began when the resort announced it was joining the Powder Alliance. The Powder Alliance offers Whitewater passholders up to 39 free lift tickets at 13 other resorts throughout Western North America.
With the season about to get underway, there are a variety of fun events and competitions scheduled to assist in the festivities.
On the list of festivities is the premiere of the film "40 Years Young" produced by Nelson based Freeride Entertainment. The film will be showing at 8pm on Friday, December 18 at Mike's Place Pub located at the Hume Hotel. "Whitewater is excited to share with the community the anniversary film created by the talented team at Freeride Entertainment," states Rebeckah Hornung, Sales & Marketing Director at the resort. "And what better place to enjoy the story of our history than at the historic hotel where locals gather". Mike's Pub will be offering jugs of the Nelson Brewing Company's Whitewater 40th Anniversary beer Bentpole for $15 in celebration of the event.
In hopes to inspire Whitewater guests near and far to share their Whitewater moment's over the past 40 years, the resort will be launching a "Dear Whitewater" Instagram contest on Tuesday, December 15. This social media campaign is based after the Dear Photograph concept created by Taylor Jones. Running for a one month period until January 15, 2016 the winner of the event will receive A Day Behind the Lens with Kari Medig, the world renown Nelson based photographer, and a $250 gift certificate to spend at the resort.
There are plenty more events happening in January 2016 such as the first Annual Community Day on Friday, January 8 and the 40th Anniversary Celebration on Friday, January 15.
ABOUT WHITEWATER SKI RESORT Located along Canada's Powder Highway, just a short drive from the counter-culture city of Nelson, British Columbia, lays Whitewater Ski Resort. Quietly legendary, the resort is hard to describe to those who have not had the privilege to experience its true authenticity and abundance of snow. Over 12 meters (40 feet) of snow falls each season on 2044 vertical feet of uncrowded slopes of family-friendly groomers, remarkable steeps, top of the line tree-skiing, and endless backcountry. Some come for the legendary skiing, and some come for the legendary food. Whitewater serves up proper Kootenay hospitality with its internationally acclaimed menu that has inspired four National Best Selling cookbooks. Whitewater. Pure, simple and real…DEEP.