Winter Storms rolling in…
Accuweather.com is forecasting two storms rolling into BC this week and dumping considerable snow at higher elevations. These storms will add to the existing metre base at several Western resorts!
A one-two punch in terms of storms will impact British Columbia this week, but clearly the second storm will be the headliner in terms of precipitation amounts.
The first system will arrive from the northwest Tuesday and push through southwestern BC Tuesday night with a period of steady rain. Snow levels will be fairly low across southwestern BC with this initial event, averaging 2,500 to 3,000 feet. Expect a general 15-25 cm of snow for the Coastal Range and about half of that over the higher terrain of Vancouver Island. Snowfall will be lighter in the BC Rockies with 8-15 cm on average. Rainfall will average 15-25 mm in general near the coast.
The second storm system will arrive late Thursday and will act like a firehouse in terms of precipitation as the jet stream directs moisture all the way from the western Pacific into the region into Saturday.
The water vapor image below shows the higher precipitable water values (green/yellow) directed into SW BC Thursday night.
The strong jet will direct copious amounts of moisture right into southern and central BC later Thursday night into Friday night before it starts to ease up on Saturday.
The two images below are the latest forecast model precipitation forecasts from Thursday through Saturday in mm. The first image if the ECMWF (European model) forecast, which is a little more conservative than the GFS forecast (2nd image)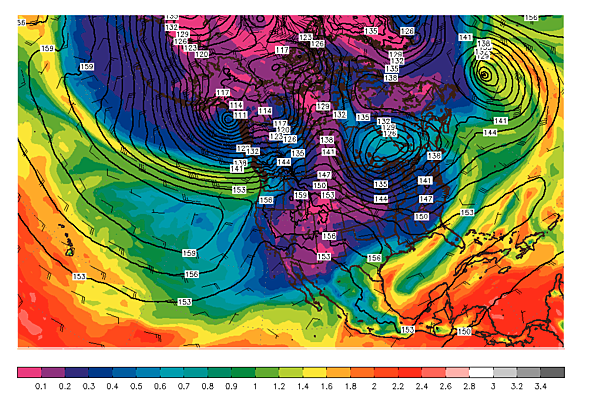 As you can see the GFS model is predicting max. amounts of 300-400 mm (liquid equivalent) for the period while the European model is showing a maximum closer to 150 mm. I lean more toward a maximum of 150-250 mm. Fore the Vancouver area I expect an average of 50-100 mm of rain from this second event later Thursday into Saturday. Flooding clearly will be a concern for a large portion of the region. Southerly winds could gust to 90-100 km/h along the BC coast and in the Coastal mountains Thursday into early Friday.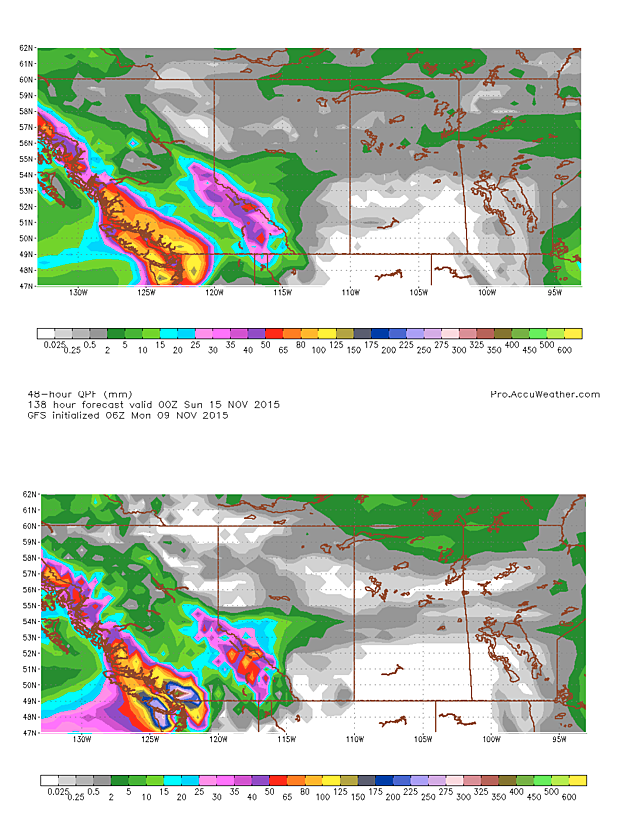 Obviously, not all of this heavy precipitation will be in the form of rain, but the snow levels will be much higher for the second event as milder, Pacific air sweeps in aloft. The highest elevations of the Coastal Range and into the BC Rockies are probably looking at 50-150 cm of snow through the event.
Here is a breakdown of what Brent Anderson forecasts in terms of snow levels for the second storm…
Central/Northern Vancouver Island ~6,000 to 6,500 feet
Whistler/Blackcomb area
3,500-4,000 feet Thursday night
5,000-6,000 feet Friday
~6,000-6,500 feet Friday night
~5,000 to 5,500 feet Saturday

Southeast BC Rockies
~1,500 feet Friday morning
3,000-3,500 feet Friday afternoon/eve
4,000-5,000 feet Friday night
5,000-6,000 feet Saturday
East of the Rockies, strong, southwesterly downslope winds will take hold on Friday with potential gusts to 110 km/h over the foothills of extreme southwestern Alberta.