Snowmaking Pilot project on Horstman Glacier
This coming winter season, Whistler Blackcomb will conduct a new snowmaking pilot project aimed at preserving the Horstman Glacier on Blackcomb Mountain. The pilot project will involve the testing of four low-energy consumption snowmaking guns in the Horstman Hut area to determine if a full-scale snowmaking system is an option to prevent further recession of the Horstman Glacier.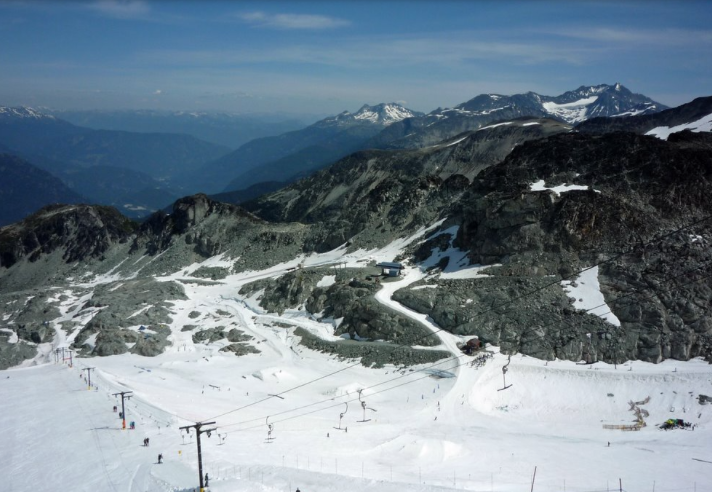 "The goal of this project is to preserve the high quality product we currently offer in both the winter and summer months," says Dave Brownlie, President and CEO at Whistler Blackcomb. "A snowmaking system on the Horstman Glacier could assist with preserving our summer glacier experience for guests to enjoy in the future, as well as improve the early season access to glacier skiing and snowboarding during the winter."
During the summer months, the Horstman Glacier is one of two glaciers in North America to offer skiing and snowboarding and serves as a training area for ski and snowboard national teams from all over the world.
"Snowmaking on the Horstman Glacier has been a discussion at Whistler Blackcomb for several decades," says Arthur De Jong, Mountain Planning and Environmental Resource Manager at Whistler Blackcomb. "If the pilot project is conclusive, this unique project will become a significant addition to Whistler Blackcomb's list of adaptations to ensure long term resilience against climate change. We will use the data we obtain from this one-year pilot project to determine if an expanded snowmaking system could assist with preserving the Horstman Glacier."
Installation of the new system will begin in late July following the summer skiing and snowboarding season on the Horstman Glacier, with snowmaking anticipated to begin in early October. The system will use low-energy snowmaking guns and water from the snowmaking reservoir above the Rendezvous Lodge on Blackcomb Mountain.
Whistler Blackcomb has one of the most extensive snowmaking systems in North America with 270 snow guns in its snowmaking fleet and three snowmaking reservoirs with a total holding capacity of 55 million gallons. This project will be Whistler Blackcomb's only snowmaking system in the alpine (above 1,920m).