Ski Areas Slash Season Pass Prices
While final skier and snowboarder visits to Canadian ski areas have not yet been released, resorts in Western Canada had a poor to average season. The winter's warm temperatures, below average snow, and decreased days of operation have led a few ski areas to offer dramatically reduced rates on 2015-16 season passes.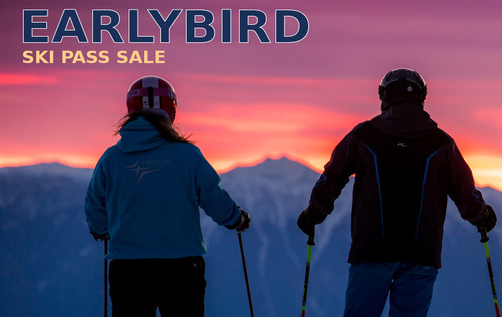 How bad was last season? David Lynn, president and CEO of the Canada West Ski Areas Association, said he anticipates that visits to the organization's 298 member ski areas could be down as much as 10 to 15 percent. And in May, Whistler Blackcomb reported a 9.3 percent decrease in visits.
Hence the pass deals. In Alberta, Nakiska is offering a C$199 early bird rate on its adult season pass, down from $819. The resort offered a similar deal last year. "This really was a game-changer for our guests, it pushed us to think that if we want to create more participants in our sport, we've got to continue doing this," said Matt Mosteller, vice president of marketing and sales at Resorts of the Canadian Rockies, which owns Nakiska.
Meanwhile, Mount Norquay in Banff is offering a C$190 adult season pass—with 19 blackout dates—as well as a C$90 mid-week season pass that must be purchased in quantities of four. The area will also offer 90-cent ski days at various times of the season in celebration of its 90th birthday.
In British Columbia, two ski areas are offering season pass guarantees. Cypress Mountain's Season Pass Assurance Program declares that purchasers of its G8 season pass will receive a 1 percent credit for every day under 100 days of operation. The area must be open for a minimum of 6.5 hours to count as an operating day. This past season it operated for 47 days, entitling pass holders to a 53 percent discount on a 2015-16 G8 Pass.
Cypress has since sweetened the deal. The area is now offering an 80 percent discount on passes purchased by Sept. 15. Purchases made after the deadline still receive the 53 percent discount.
Cypress's Nordic area operated for only 24 days, so cross-country and snowshoe pass holders are offered a free "rollover" season pass for 2015-16, plus a $5 processing fee. On its website, Cypress states: "Our guarantee to you is that we will undertake every effort to provide the best possible conditions and most possible terrain open all season, every season, this effort may come in the form of snowmaking, snow hauling, or snow pushing but you can be assured that every possibility will be pursued to get you as many skiing or riding days as possible."
Similarly, pass holders at Mt. Seymour are eligible for an 88 percent discount on 2015-16 season passes as part of the area's 100 Day Guarantee. The program gives pass holders a 1 percent credit for every day under 100 days of simultaneous operation of Mt. Seymour's Mystery Peak Express and Goldie conveyor lifts. Mt. Seymour's guest services department is scheduled to re-open in late August with pass sales beginning in September.