Warmer weather may increase avalanche death toll
Less than a month into the spring season two people have already died from the crushing power of an avalanche, raising the 2015 avalanche-related death toll to eight.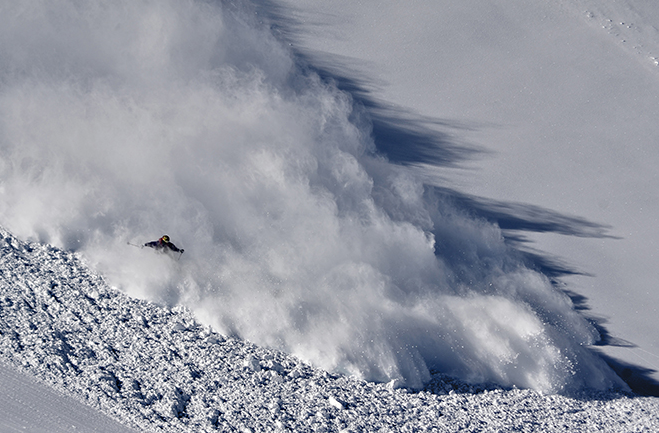 And while the number of deaths this avalanche season is below average, a forecaster with Avalanche Canada warns the toll may increase as the weather grows warmer.
"Of course, avalanches can keep going further into the spring and of course you can have avalanche problems into the summer," said Ilya Storm with Avalanche Canada.
The latest fatal incident occurred March 21, one day into spring, when two snowmobilers died along the Cariboo mountain range in B.C.
And earlier that month, a back country skier died in an avalanche in the Selkirk mountain range in B.C.
"The thing to do right now is focus on how you can look after yourself in the spring," said Storm.
Fluctuating spring temperatures affect the strength of mountain snow pack.
Cold nights can freeze the top layer of snow and form a solid thick 20-30 cm crust, but when the sun comes out, that top layer begins to melt.
"By late in the day that whole crust will have melted and lost strength and that's when you can see daily avalanches starting," said Storm.
However, the upside of spring avalanche season is the melting and freezing pattern is somewhat predictable, meaning climbers can avoid sliding snow by avoiding the mountains in the afternoon, said Storm.
As for this year's deadly tally, the victims were participating in a variety of outdoors activities.
"It's three snowmobilers, three backcountry skiers and two ice climbers, so it's a broad section of the recreational community," Storm said.
On average over last decade, 12 people are killed in avalanche-related deaths annually.
2015 Avalanche Fatalities

Jan. 4: An ice climber in Saguenay, Que. falls 50 metres in an ice avalanche, hitting an ice ledge.
Feb. 5: An ice climber is swept away in an avalanche in Kananaskis Country, Alta.
Feb. 15: RCAF search and rescue technician Mark Salesse killed ice climbing the Polar Circus route in Banff National Park.
Feb 22: A Snowmobiler dies after being buried by an avalanche in the Rocky Mountains.
Feb 28: A Backcountry skier is killed along the Purcell mountain range, B.C.
March 10: A Backcountry skier dies in Selkirk mountain range, B.C.
March 21: Two snowmobilers die in Cariboo mountain range, B.C.

Avalanche Fatalities, per year:
2014: 14
2013: 5
2012: 10
2011: 11
2010: 12
2009: 26
2008: 18
2007: 7
2006: 8
2005: 9
2004: 11
2003: 29
2002: 13
2001: 13
2000: 10

Avalanche facts:

1782: Earliest known fatal avalanche in Canada killed 22 near Nain, N.L.
1910: Deadliest avalanche in Canada killed 58 workers clearing snow from a previous avalanche along a portion of railway, when another fell on top of them.