Snow is forecast for March!
"We have seen at least 2 months of mostly dry conditions, and it has been quite a disappointment," says Chris Manly, Founder SnowForecast.com, "A weather change is coming for March!"
This Sunday through Tuesday (1st – 3rd March) we expect another storm to move through western Canada, favoring locales like Whistler with moderate to heavy snow, then the heavier snow shifts to places like Fernie Monday and Tuesday.
Around and after this time, around the 5th (March), more frequent storms start moving in across western Canada, with eastern Pacific (storm blocking) upper-level high pressure ridging not going away completely, but weakening more often with low pressure pushing through. The storm systems (depicted "L" in the illustration below), many times, will drop in as depicted, on a northwest flow.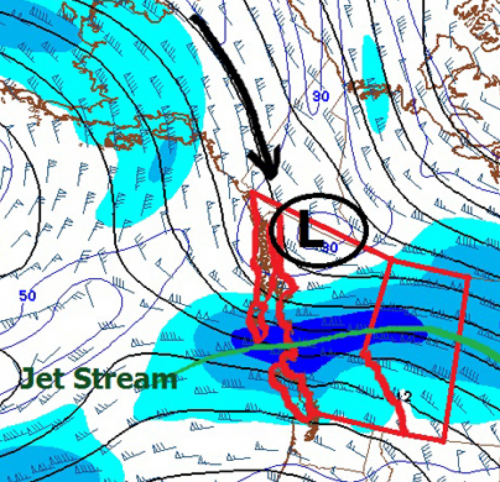 This is not an "Off the Pacific" type of pattern, so we do not expect the cement-like high density snow for coastal BC resort areas like Whistler, rather, we expect frequent and at times significant snowfalls for all of western Canada, but mostly moderate intensity and lower density snow. This pattern, in general, holds through mid-March.
Afterward, we should start to see increasingly moist and strong storms move in from off the Pacific (we have not seen this in months), for more heavy and dense snowfall for the latter half of March (see image 2 for an example of the pattern more likely in later March). This will be a big improvement from the sun and mild weather under high pressure ridging for sure!"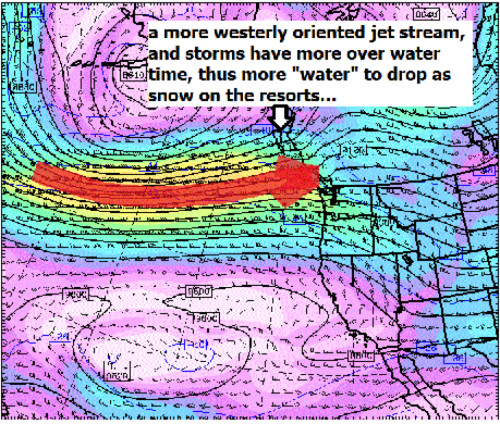 Manly provides very detailed and micro climate forecasts to agriculture interests in California, plus ski resort customers around North America (1995 to the present day). With 26 years weather forecasting experience he started, in 1998 SnowForecast.com, because he thought that available information sucked.
Photos and optimism by Chris Manly, weather forecaster and snowboarder