After a ski patroller's death
It's mid-December, grey and cold outside, the snow that should be here conspicuously missing. But inside the windowless U.S. District Court building in a Durango, Colo. business park, there is no season, just beige walls illuminated by overhead fluorescents. Doug Sutton and a handful of friends and relatives stand around in the hallway outside the courtroom. Sutton, dressed in a tweed blazer, scarf and tattered, stained jeans, looks out of time and out of place. He also seems despondent, despite the fact that he arguably just won, if there could be a winner in such a situation.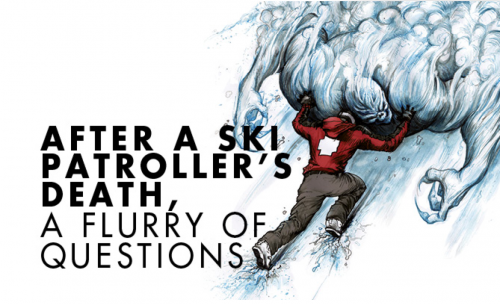 A few minutes earlier, U.S. Magistrate Judge David L. West ordered Randall Davey Pitcher, the 52-year-old CEO of Wolf Creek Ski Area in southwestern Colorado, to pay a fine and serve probation for conducting search and rescue training and avalanche research without a permit on Forest Service land outside of the ski area last winter. It's a petty offense and almost certainly would have gone unpenalized — except for a tragic circumstance. During one of the unauthorized training missions, 38-year-old Wolf Creek senior ski patroller and avalanche technician Colin Sutton, Doug's son, had been swept away and killed by a large avalanche.
Pitcher not only lost a friend in Colin, but the charges and the resulting proceedings have also brought attention of an unwelcome kind. Pitcher has long been a darling of the media for taking a maverick approach to running his family's tiny, unconventional ski area and resisting corporate glitz, for refusing to bet on real estate and teaming with environmentalists to beat back a Texas billionaire's plan to build a small city adjacent to the ski slopes. Despite a reputation for high safety standards, Pitcher is now being portrayed, by Doug Sutton and some media reports at least, as a maverick of a different sort: One who plays fast and loose with the rules, possibly endangering his colleagues.
Since the accident, Doug Sutton has been a thorn in Pitcher's side. He's badgered Forest Service officials as to how they could not have been aware of the unauthorized work, he's alerted media to the charges filed against Pitcher and he's written letters to the sentencing judge, encouraging him to be stern. That Pitcher received the punishment he did, more even than the prosecutor asked for, is probably in part due to the efforts of Sutton and other family and friends. So, yes, if this were a game, Sutton might have won. But it's not. It's a tragedy. It's the owner of a small ski area trying to grapple with the fallout of a fatality on his watch. It's a grieving father trying to find a shred of relief, some closure and perhaps a bit of justice.
Storm cycles
When the storm finally moved in, slow and wet, at the end of February 2014, it was like cool salve on chapped skin. Sure, the winter had started out with some decent snowfall, enough to blanket the slopes and keep the ski areas going. But it was just a tease, followed by a long dry spell. Day after day of sunshine and long, cold nights, stretching through January, caused that early blanket of snow to rot, its structure and consistency breaking down to something resembling refined sugar.
The pattern was typical for the San Juan Mountains in southwestern Colorado, as was the moisture-laden storm that came inland off the Pacific. Such storms slam into the wall of mountains rising up from the Colorado Plateau and dump their load. The heavy new snow is strong — its crystals bond to one another in a way that lends itself to making snowballs, or staying put on a steep slope. But the stuff it piles upon, that old, rotten layer, is weak. As a result, slabs of the strong, new snow break free from the rotten layer below, sliding down the mountain — an avalanche.
This weather pattern has led to a 150-year-long string of late winter and early spring tragedies: On St. Patrick's Day 1906, a dozen miners are swept to their deaths when an avalanche plows into their boarding house above Silverton, Colorado. Six decades later, also in March, a reverend stops to put chains on his car. The East Riverside slide tosses the car, his two daughters and him into the gorge to remain buried and lost for weeks. Twenty-nine years later, almost to the day, state highway plow driver Eddie Emil is killed by the same slide.
In more recent decades, the victims of San Juan snow have been mostly backcountry skiers or snowmobilers. Lured by the deep powder and the alpine light as the earth tilts away from winter's darkness, outdoor recreation lovers tend to push it a little too far, their weight and movement the straw that shatters the fragile bond between new snow and old. Even a small slide can bury and kill a person. A catastrophic failure can send hundreds of thousands of cubic metres of snow hurtling down mountainsides at speeds of up to 322 kilometres per hour, snapping trees like toothpicks, tossing skiers and even snowmobiles about like toys. If the victim survives that trauma, and ends up buried alive, he'll have precious little time to be rescued. Few are.
Avalanches killed eight people in Colorado last winter, nearly all of them at play. They were snowmobilers, skiers, snowboarders. After each loss, mourners found comfort in the fact that they "died doing what they loved," the secular, outdoor junkie's analogue to the Christian platitudes that the dead have "gone to a better place." Here in southwestern Colorado, the mantra comes up often, as a disproportionate number of locals have been taken by avalanches.
So when, on March 4, news rippled through the community that a backcountry skier had been killed by an avalanche in the remote South San Juan Mountains near Wolf Creek Ski Area, most assumed that it was another sad case of someone dying doing what they loved — another recreationist who had pushed the limits too far. And in a way it was. Colin Sutton cherished the outdoors and loved to ski.
Nature always wins
This accident, however, was different, complicated by the fact that Sutton was on the clock as a ski patroller, a job he'd held for 12 years, when he died. He was doing avalanche training and research for Wolf Creek, work ultimately intended to prevent people from dying while doing what they loved.
Ski patrolling is a tough, dangerous and under-appreciated job anywhere. But the Wolf Creek patrollers are a breed apart. They not only keep an eye on patrons of the ski area, but they also serve as a professional backcountry search and rescue team for a good swath of the South San Juan range. The team has responded to dozens of reports of injured or lost backcountry travellers; once they rescued, alive, a man who had been given up for dead. They even help out with traffic accidents: In 2001, when a van carrying 18 Mexican nationals plummeted off the road, Wolf Creek staff were the first on the scene, their prompt and professional response again saving lives. Unfortunately, their efforts couldn't save one of their own: Colin Sutton.
By the time the end-of-February storm cleared out on March 2, a metre of snow had piled up on Wolf Creek Pass. The Colorado Avalanche Information Center's website rated the avalanche hazard in the South San Juans as "considerable" above tree line, and "moderate" below, with "Persistent and Deep Persistent Slab avalanche problems, breaking on layers of faceted snow buried one to two metres below the snowpack surface." Nevertheless, when four Wolf Creek ski patrollers set off explosives on March 3 on Diablo Ridge, near Conejos Peak, about 24 kilometres from the ski area, they got no results — the snow held.
The following day, another team of four patrollers, including Sutton, headed back out via helicopter to Diablo Ridge. Two of them dug pits to analyze the various layers of the snowpack before skiing down a slide path to where the helicopter would pick them up. Sutton then skied partway down the slope to dig another snow pit and gather more data, while his partner watched from above. Apparently alarmed by what he found, Sutton radioed his partner and told him to stay put while he skied to a safe location, from where he'd give his partner the go-ahead. He made a few turns, and then the snow failed.
It was a medium-sized slide, but big enough to "bury a car or break trees," according to the CAIC report. It caught Sutton, hurtling him hundreds of feet down the slope, burying him under 1.5 metres of snow. The other three patrollers raced to the slide and began a search, finding Sutton about a half hour later. They attempted CPR on their pulseless colleague for two hours to no avail, before loading him onto a Flight for Life helicopter. He was pronounced dead at Mercy Medical Center in Durango, four hours after the slide.
Less than a week later, hundreds of mourners gathered outside of Durango to pay tribute to Colin Sutton, a man who touched many lives, and even left an impression on those with whom he had only a passing acquaintance. One of those who had only caught a glimpse of the "Tao of Sutt," remembers a kind and quiet man, who "exuded intelligence and competence."
Justice for Colin
A shotgun sits on the kitchen counter of Doug Sutton's home, some 21 kilometres south of Durango, when I visit on an August day. It doesn't exactly settle the sense of unease I feel about doing this story. Give me a tale about the chaos of the electrical grid, or the volatile seesaw of energy prices, over the complex mash of human emotion, any day. This story's too personal, too close, and I know, already, that nothing I write will ease any of the anguish that Colin Sutton's family and friends must endure.
I didn't know Colin, not really. But I had met him, two dozen years ago, when his older brother, Bjorn, and I hung out in the same circles in Durango. Colin was just a kid then, living with his mom, Connie Durand, down in Santa Fe. My encounters with him were brief and few, but I do remember him, and what I remember is that he was an uncommonly sweet kid. Mutual friends say that sweetness endured into adulthood, and evolved into a hunger for life and a desire to "do good."
With a crooked-tooth grin, Sutton assures me the shotgun's out because a gaze of raccoons had invaded his spread the night before, hungry for chickens or the tomatoes he grows and sells to local restaurants. His property is a verdant anomaly amongst sage and juniper, thanks to Sutton's skills as a master nurseryman and landscaper. Sutton has white hair, a peppery mustache and round, metal-rimmed glasses. Bjorn arrives a little later, looking just as he did 20 years ago, with a few more lines around his eyes.
While Doug's manner is intense, even a bit erratic at times — one moment tears are welling up in his clear grey eyes, and then the next he's joking about shooting raccoons — Bjorn has a steady, calm demeanour, as did his little brother. It's one reason Bjorn's in demand as a ski instructor in Aspen, and why Colin's colleagues trusted him with their lives. Doug and Bjorn slowly fill me in on the story. Later, I confirm the details, and fill in the gaps with the help of other sources.
Between 2004 and 2011, Davey Pitcher was permitted by the Forest Service to conduct helicopter flights, training missions and avalanche work on forest land in order to determine the feasibility of starting a backcountry heli-skiing operation. Heli skiing's appeal, however, diminished as recreational snowmobilers, equipped with powerful machines, penetrated deeper into the South San Juan's backcountry, leaving precious little untracked powder and quiet skiing for potential clients. Though heli skiing remains a future possibility, says Pitcher, the feasibility studies, over time, morphed into a search and rescue and avalanche training platform for his staff. After his formal permit expired in 2011, Pitcher stopped filling out the paperwork to renew it, figuring it wasn't necessary. And the Rio Grande National Forest Service office, either oblivious to what was going on or willingly turning a blind eye to the work, did nothing to stop him.
Soon after Colin's death, however, the Forest Service looked into the matter, and found that, on at least two occasions, including the day Sutton died, Pitcher had been flying ski patrollers and other employees onto forest land outside the ski area boundaries, and doing research and training without a permit. The federal agency hit Pitcher with five criminal charges, from "conducting work activity on national forest system land without authorization," to using explosives without permission on public lands. All five charges were mere misdemeanours, and none blamed Pitcher for Sutton's death. But the language in the statements of probable cause for each citation notes that the "illegal work activity… eventually resulted in the fatality of Colin Sutton."
At the time, the charges had yet to be covered by any media outlets. By contacting me, and later other reporters, Sutton changed that. Since then, the story's hit the Denver Post, the Durango Herald, the Pagosa Sun and, in the most depth, the Santa Fe New Mexican. Sutton has also been scrounging information on the accident. His friend and prominent local attorney, Tom Shipps, filed a Freedom of Information Act request with the Forest Service. It yielded nearly 500 pages of documents, all but a handful of them redacted beyond comprehension.
Sutton argues that by operating without authorization, by doing things outside the rules, Pitcher was demonstrating a sort of "maverick" behaviour that may have crossed over into the way he runs his avalanche training sessions, and therefore may have contributed to Colin's death. He pointed out that Colin wasn't the first ski patroller killed at Wolf Creek. Patrol Director Scott Kay was killed by an in-bounds slide in 2010, while performing avalanche mitigation work on his own, for which the Occupational Safety and Health Administration (OSHA) cited the ski area. This September, OSHA cited Wolf Creek for two violations in relation to Sutton's death — failure to mitigate avalanche hazard before sending employees in, and an inadequate emergency communication system — carrying a proposed penalty of $14,000.
Sutton also believes that had Colin known the work wasn't permitted, he would have never got on the helicopter in the first place. Indeed, Colin was known as a straight shooter who abided by the rules. But in this case, the rules were anything but clearcut.
I ask Sutton what he wants from all of this. Why torture himself by gathering up all these puzzle pieces when he knows that no matter how he puts them together, the image that emerges will always be the same?
Before he loads me down with tomatoes and sends me on my way, he tells me he's just hoping to prevent another similar death. He pauses, then adds: "And I'd like justice for Colin."
Maverick or marshal?
Merriam-Webster defines "maverick" as one who does not adhere to the customs or rules of a group. It's safe to say that, among ski resorts, Wolf Creek is a maverick. And when it comes to ski industry CEOs, Pitcher similarly defies stereotypes. He's far more likely to be wearing ski gear than a suit; his office is tucked away next to the slopes where he spends much of his time. This unconventional approach has garnered wide praise. "Davey Pitcher is the archetype of what a ski and snowboard resort owner and president should be," noted a 2012 story in Business Transworld, an industry magazine.
Pitcher was born into the ski industry. His father, Kingsbury, is a legend in the Western ski community, an inductee of both the New Mexico and Colorado Ski Halls of Fame. Kingsbury's the grandson of Otto Mears, a Russian-born pioneer and businessman who became known as the "Pathfinder of the San Juans" thanks to his prowess in building roads and railroads in seemingly impossible places. Kingsbury spent a good part of his childhood in Silverton and later skied for the Stanford University team. After the Second World War he advised a variety of developers on where to put ski areas. In 1962, the year Davey Pitcher was born, Kingsbury and his wife Jane took over Ski Santa Fe, in New Mexico.
The area's still modest compared to the big resorts, but back then it was downright rustic. Skiers were hauled up the mountain by a resurrected mining tram from the mountains above Silverton, with the Second World War-era bomber seats. Davey sold donuts, candy and pop to hungry skiers, graduated to parking attendant and moved up from there. Meanwhile, his parents added new lifts and turned the once-failing ski area around.
In the mid 1970s, a ski area a few hours to the north of Santa Fe ran into trouble. Wolf Creek was born in 1938 as a rope tow serving a few runs, a long ways from anywhere but the Continental Divide. But the high-altitude slopes received gobs of snow each year. Texas investors purchased it in 1968 but couldn't make it work. "By 1976, they were finished going broke," says Davey Pitcher. Kingsbury Pitcher stepped in and bought it.
Helped by leviathan snow years in the late '70s and early '80s, the Pitchers turned Wolf Creek around, and it earned a sort of cult following for its tremendous snow and its remoteness, drawing clientele from New Mexico, Texas and Oklahoma, along with Colorado powder hounds. Still, Wolf Creek lives and dies by that snow alone: While nearly every other ski resort has turned to extensive real estate development, year-round activities, and other non-ski-related money makers, Wolf Creek is still all about skiing. There are no condos or time shares, there's one simple restaurant, and the nearest lodging is an often treacherous 32-kilometre drive away.
Like his father, Pitcher is a decidedly hands-on ski area operator, in every realm of the business, from painting the buildings, to piloting heavy equipment, to spending a lot of time on the slopes. He's an active ski patroller and often participates in the backcountry training sessions, even tossing explosives out of helicopters to trigger avalanches. He has a reputation for high standards of safety, bolstered by hiring smart and cautious people like Sutton. And on the many occasions that the ski patrol has responded to search and rescue calls, Pitcher has often been the first on the scene, and has personally escorted victims out of the backcountry.
When Sutton was swept away by the avalanche, Pitcher was already airborne, on his way to join the team at Diablo Ridge. And when Sutton died, Pitcher not only lost an employee, but also a colleague, a friend and, as his attorney later put it, a "brother in arms." Which is one reason Pitcher bristled when I recently asked about the accident. He feels that the media has been unfair to him in its coverage of the misdemeanor charge. "I take offense at people saying I was just out there fucking off," he says, audibly upset. "I am sensitive to media portrayal. I really got hammered. I spent thousands of hours with him (Sutton) over the past 11 years. He was a friend and a co-worker. It's a tragedy."
The Blame Game
In November, Pitcher pled guilty to one of the five charges — conducting work activity in the national forest without a permit, on the day Colin Sutton died as well as on two previous occasions. The other four charges were dropped. A few weeks later, he sits before the judge in the Durango courtroom for sentencing.
Pitcher, in a suit, appears uncomfortable, his greying blonde hair dishevelled. He's over six feet tall and powerfully built, like a downhill ski racer, and has the weathered good looks of someone who's spent much of his life outdoors.
West, the judge, isn't tossing any softballs today. He grills Brenda Rice, the lead Forest Service investigator, on what the agency knew, and when. ("There's little, if any, the agency knew about," she says). He asks if Pitcher had been "taking ski patrollers and personal friends on National Forest land in extreme conditions under the guise of search and rescue and avalanche training?" (Not that she knows of).
Later, the prosecutor, Assistant U.S. Attorney James Candelaria, asks for leniency for Pitcher. The government, he says, considers the permit offense to be petty, and the government, not Colin Sutton or his family, is the direct victim. "I see no mean spirit," he says, "no intentional act other than a failure to get a permit." He asks only that Pitcher pay a $5,000 fine, with no restitution, no jail time, no probation. "This is a difficult case," he adds. "A gentleman lost his life. You can never get past the fact that had they not been up there that day, we wouldn't be standing here now. The defendant has to carry that burden around for the rest of his life. What happened, happened. Had he had a permit, it would have still happened."
Pitcher's attorney, Fredric Winocur, implies that, in fact, the Forest Service was aware that Pitcher was operating without a permit, and that a previous district ranger — who would not cooperate with the investigation — gave the verbal go-ahead to search and rescue training. Sutton's death was a "devastating loss to the community," he says, and "it's natural for the family to assign blame, but that's not why we're here. It would be unfair to make 'failure to comply' the cause of death." He read from letters written by county commissioners, the Mineral County Sheriff, current and former ski patrollers and others in support of Pitcher, all of whom pointed out how seriously he takes safety, and how he selflessly volunteers himself and his resources for search and rescue missions.
Finally, Pitcher stood: "The vocation that the patrol follow is a lifelong pursuit and a calling… I believe our intent was good. All I can do is work at moving forward and working with the staff and ensuring that compliance issues don't occur again."
Later, Pitcher would explain that Sutton's death had caused him to reconsider a lot of things. The heli-skiing idea seems even less appealing now, the potential liability that comes with volunteering for search and rescue operations a lot more burdensome. He's hired a compliance officer to keep permits up to date. "Obviously I want to help people," he tells me. "I'm not sure what I'm going to do. I haven't talked to my insurers … I'm just trying to work through this."
"This is not a civil lawsuit on the wrongful death of Colin," says West, at the hearing. "This is not involuntary manslaughter with undue cause." But then he hands down a sentence that goes beyond even what the prosecutor asked for: A $5,000 fine. Five years of supervised probation. And 500 hours of community service, to be served doing search and rescue work with regional entities, which Pitcher has been doing anyway.
"There's no question that the passing of Colin is a real tragedy," says West. "It's not fair when parents outlive their children. No matter what the court does, it won't change that."
By Jonathan Thompson, High Country News