5th Annual Ken Jones Classic Ski Competition
On Saturday, 21 March 2015 LAke Louise is hosting the 5th Annual KEN JONES CLASSIC SKI MOUNTAINEERING COMPETITION.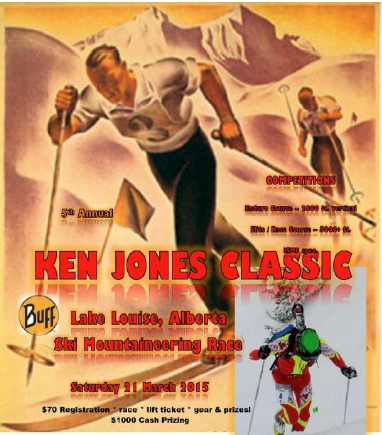 COMING UP! Let's go while there's still snow – Last SMCC calendar race of the season! Your race registration includes Saturday race, lifts, and awards, a few new tweaks on the great Lake Louise long course, and a fresh Enduro/Youth course. $1000 cash prizing, plus gear and giveaways. Register and race, or come out to see, volunteer, or cheer. We promise weather and something for everyone, be you a first timer or Master competitor. Cap your season at Canada's classic ski mountaineering competition.
Info: alpineclubofcanada.ca
Contact David Dornian: +1 (403) 969 9673 or ryan@ortovox.ca for Ken Jones Classic details