The Ten Best Whore Houses in Kazakhstan
by Jon Turk
Every once in a while, I wake up in the morning feeling really stupid. You know what I'm saying: I tumble out of bed, walk into the hallway, and can't remember where the bathroom is, even though I've lived in the same apartment for 20 years. Thankfully, I'm not a high-end surgeon, because it would be really bad to have to do a liver transplant or a triple heart bypass on one of my stupid days. Being a writer is much easier. When you run out of ideas, you just blast ahead and write something like: "The 100 best gas stations in Saskatchewan". Or "The Ten Best Whore Houses in Kazakhstan." It works every time. Sells copy. All the pros do it.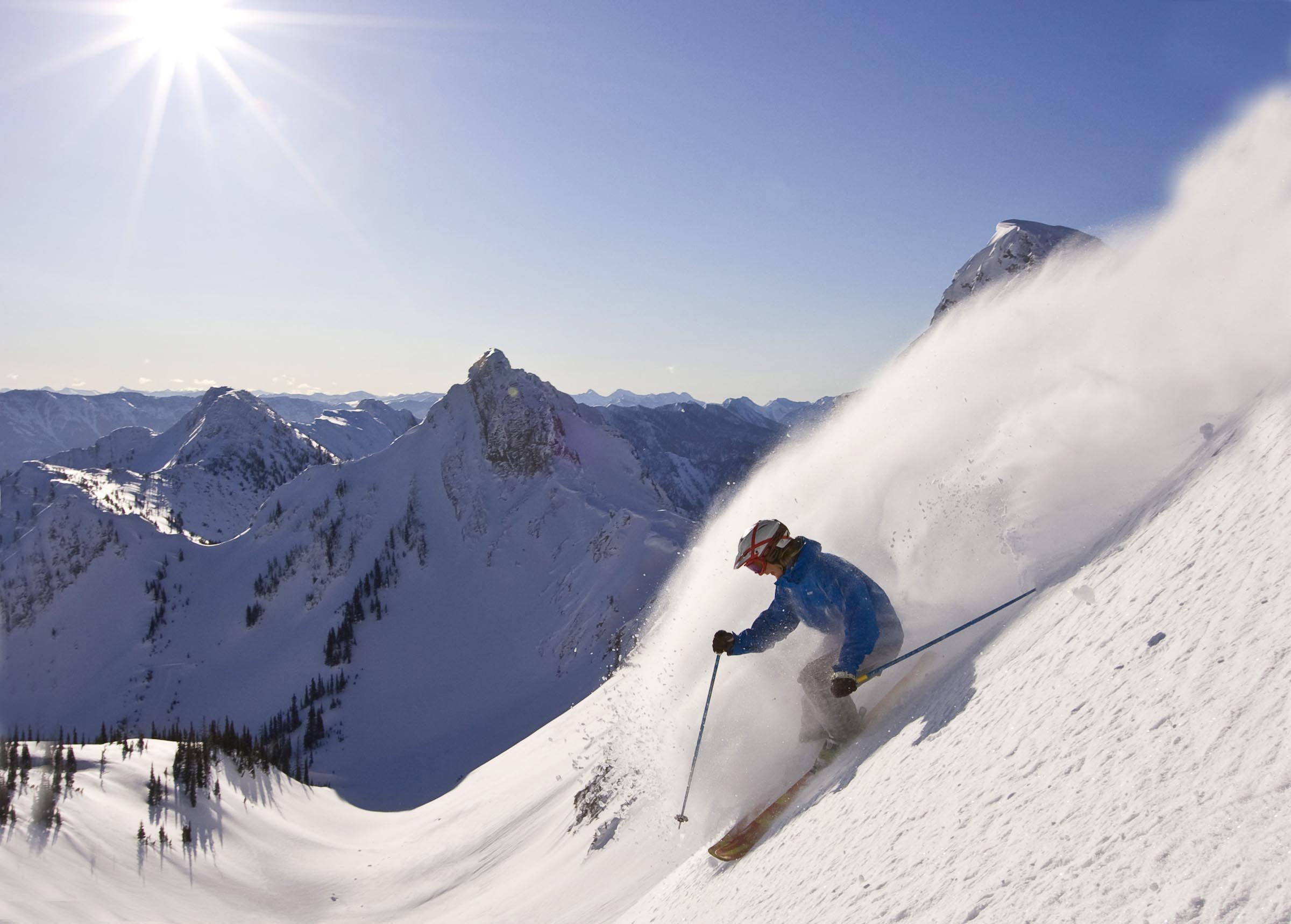 Today, after a morning of powder skiing, then being chased off the mountain by a rain event, followed by a yummy salmon bagel sandwich at Big Bang Bagels here in downtown Fernie, and an afternoon nap, I'm going to write about the 100 best ski areas in the cosmos, or the ten best ski areas in Canada, or something like that.
The problem is that it's all so much bullshit. But maybe it isn't. But really it is. Everyone has such different likes and dislikes, abilities and disabilities, and so on. The list is endless. Maybe you like groomers. Or terrain parks. Or your idea of a good time is to rent a mink coat and a lounge chair, sip on a latte and troll for babes or rich guys. Some people actually think that sunshine is a positive and desirable weather pattern in winter.
Long ago I spent my winters in southwest Montana, near a resort called Lost Trail Powder Park. Even to this day, it remains a Ma and Pa outfit, with cheap lift tickets, and lots of snow. And it's closed Monday, Tuesday, and Wednesday. Which means that all the locals show up on Thursday, to ski the Pow that has been accumulating untracked for the past three days. By big-resort standards, the terrain is not that exciting, but the cognizati love it because everyone knows each other; they smoke fatties in the woods, and have a great time.
Which is my point. The best ski area in the world is where YOU have a great time. I moved to Fernie 22 years ago, for the powder and amazing mountain scenery, and started skiing at Fernie Snow Valley, now Fernie Alpine Resort. Fernie has become my best ski area in the world. Very importantly because by now I have a lot of friends here, and on a Tuesday afternoon in January, when almost no one is here, and there are no lift lines, I'm guaranteed to meet lots of people I know and have fun socializing along with my skiing.
Okay, if you are not fortunate enough to live in a ski area, what criteria do you look for when surfing the web, trying to pick a resort to vacation in? Well, total snowfall, of course. Long runs, of course. A mix of beginner, intermediate, and expert runs to match your skiing ability. Convenient access to a major airport (sure, if time is limited.) Nightlife (sure, if that's important to you.)
But, I do actually have a take-home thought to pass on to you. To me, the most important single attribute I look for in a ski resort is the nebulous, impossible to define, element called "the character of the mountain." How interesting is the terrain? How varied? Are the runs actually different, or are they all homogenized clones of a common theme, with individual, goofy names written by some media consultant somewhere?
So, the question for the day is, "How can you determine the "character of a mountain" from an internet search, without actually going there? Well, let me toss this out. Some ski resorts are built on a single mountain, which is, after all, a glorified cone. When you ride to the top of a cone, everyone starts essentially in the same place, where the runs are often rutted with deep moguls and the snow is often tending to be scraped off. Then the runs spread out, ending in long traverses back to the lift. Other resorts, like Fernie, are built along a linear ridge with a sequence of broad bowls (see photo below). Here you make traverses at the start of each run. These traverses winnow out the chaff, and generally the farther you are willing to hike, the more pristine the skiing will be. Also, in my experience, the terrain spilling off ridges has more undulations, more varied and challenging twists and turns, unexpected variations, gullies and chutes.
So what's the take-home from all this? Be glad I'm not repairing your ACL today. And, oh, by the way, there is no bad snow, only bad attitude.