Ptor Spriceniecks Unedited Interview
Ptor Spricenieks is one of the world's best ski mountaineers–only most skiers know neither man nor myth. This is a ski mountaineer who ventures to the far reaches of the globe to notch enormous first descents by himself. A man who circulates e-mails using words like "Illuminati" and "New World Order."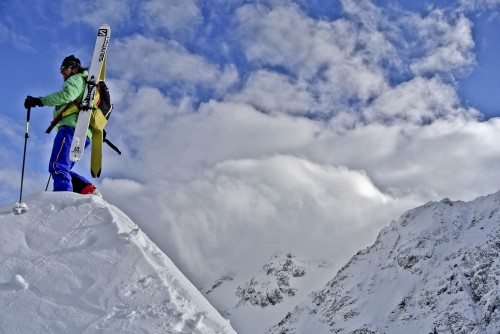 Ptor's not exactly a darling of the ski industry. Insiders may respect him as one of the world's best ski mountaineers, but he remains the most unsung for a reason. Some of this might be attributed to sharing Reinhold Messner's credo of never promoting or receiving gains from something he doesn't believe in or use himself.
Fortified by the garlicky aroma of strong cannabis smoke, these threads have braided themselves into something larger. Into a man who is out there, both literally and figuratively—the world's most accomplished unknown ski-mountaineer/paragliding philosopher king/critical thinker/public intelligence agent.
Here is his unedited interview by Steven Threndyle, an outdoor adventure writer based in North Vancouver, BC.
I see you are originally from Bolton, Ontario. What was growing up there, like, and how does it feel to be showing your new movie there, now – do you make it back there to visit very often?
Actually I had a really cool showing at The Humberview School (my old alma mater) for 300 kids. They got the last period off to come and watch but it was super relevant for the English class and a filmaking class that could come. They were stoked on a Bolton boy that was living large! But the showing was a massive full circle that really meant a lot to me, especially since my 17 year old half sister is going there. It made me even more proud of myself that I had indeed followed my dreams and not listened to my parents or society. This was the first time back to Bolton in 16 years. Despite the time and Bolton's evolution, it still feels like home as does Whistler and Golden and Chamonix and…
Growing up in Bolton was pretty cool. It was a wilder town when I was young. I remember flaming gas barrels being rolled down the south hill into town on Halloween getting into massive rock fights. There were tractors around because of the beginnings of it's suburban sprawl and because of it's farming roots. But htere were tons of bitching Camaros and it transformed as I grew up (i.e. got developed) following the industrial development and then all our ponds where the hockey that I did play happened started to disappear. But my mom and the Humber River valley out beyond my house got me going as a skier in a hockey culture. I was fortunate to have this forested ravine right in the back of my house as a kid and the 'bricollaged' ski area of Edelweiss to make the 70's a big ski decade for me. When I developed my skiing enough I even skied some lines in the ravine. It was always noted that I stood funny…that skiers stance, even at the beginning of high school.

I think we all have ski dreams – I know that I do – yet you've been living the dream now, for decades. What can we learn about our dream-state and how can it influence our waking hours?
Well, the dream state is such a dance between the conscious and sub-conscious (or better put as 'the higher self') sometimes more awake than others. Dancing is nothing but 'fancy' communication and dreams are the next world giving us insight even when it's abstract. So it's crucial to heed whatever is in your dreams, whether the message be emotional, symbolic or literal. The dream world is that place where we communicate with our higher self using the context of the world in our waking life as a setting. The key is to awake in your dream-state (lucid dreaming) to take control of that world so that you can feel the realness of it …and therefore find you power in waking life. 'Waking' life is such the perfect term because waking is both an adjective and a verb. WE assume we're awake when we're not sleeping yet the majority of humanity is in the process of awakening. Therefore dreams and the concept of dreams are key in one's 'inner revolution' and really knowing one's self. Native Americans were all about dreams and considered them to be equally as real as waking life.
As I say in the film, I followed my dreams and now my dreams follow me in a self perpetuating thing. I also credit my engineering education to make me a problem solver and thus use the logical side of my brain along with the intuitional to engineer a lifestyle. That's always a work in progress 😉
Tell us a bit about the film – how it came together, how long it took to make, and – as the subject of the movie – how you reacted/felt when you saw the final cut?
The film began after serendipitously meeting Bjarne Salen in La Grave while he was there filming a short for EpicTV. It was my good friend and local mountain guide Joe Vallone that introduced us while all waiting for the lift to open one fine powdery morning and ended up filming with them for a couple of days. We ended up making a really good vibes connection and talked of doing something together. The story idea for the film had recently dawned on me from talking to filmaker Darcy Turenne about that very basic idea but never had the right theme and story line. After it crysrallized in me, I went about transmitting to him the best I could about this tale of dreams interweaving with life and that all this serendipitous archival footage was foreseeably available . It did connect and Bjarne was inspired to commit to taking on this challenging project. In January 2014, we began filming in La Grave after Bruno Bertrand at Salomon became the executive producer on the project. Bjarne was on many interesting filming projects all winter while I also did my regular gig guiding in Kyrgyzstan. The idea was to get strong for our expedition to Pakistan where we'd try the unclimbed Geshot Peak again in May. The idea to return there had also magically surfaced around the time we started, just before we didn't yet have a climax 'dream line' for the film. We did another filming session in LA Grave in April as well. All the skiing worked out in exceptional conditions for the dates that would work for both of us. There was a good flow already. Joe was part of some of those adventures and so was my buddy Ville Niiranen.
When Greg Hill joined us for the Pakistan adventure, the flow was still really awesome and so it was came as a very contrasting shocking scenario when Greg got in his avalanche. Our decision to turn from our highpoint and get the good skiing at the right time in the good light on the Shina Face was also crucial in our production value in more ways than one.
After the expedition, a series of interviews began and the collecting of old footage from sources like Peter C and Stumpy continued. Bjarne travelled to California and Costa RicaOur requests even rousted Rob and Adam Deslaurier to finally digitize their classic film Altitude. Bjarne also magically obtained some footage from Red Bull Media House of the heli/cineflex shots of Nanga Parbat. Getting the interview with Reinhold was magic too and my respect grew after meeting him. Bjarne all the while was learning this great old history of skiing that he wasn't aware of yet through exploring my world. His last interviews and footage were all ready at the end of July so he edited that thing in a month and a half to have a shot to submit it to Banff. A mighty task. The final final with the sound done by the musician and studio in Stockholm was done in mid October and in the mix Bjarne pulled off another…and not his last bit of magic…of getting Moby on board somehow for the music in some key segments. I remember really appreciating the sound when it was played on the Snow Show night at the Banff Mountain Film Festival. That was super exciting to have VIP passes to the Festival and do the world premiere there as finalists. That was definitely my best aesthetic experience of the film so far. Really quality projection and sound with 700 people in the audience!! But it was equally super amazing process to watch the different edits as we got them done along the way with my wife Karin and marvel at the progress Bjarne just crushed with skills. Karin was a crucial part of it and had some great ideas to pass on. Of course I'll never see the film objectively like other people because all the visuals have personal significance so I am always transported instead of following the film…drifting off, ha, ha.
I seem to recall reading somewhere that you liked doing solo trips, but obviously in places like La Grave, you are skiing with others, and I understand you've guided some groups as well. What do you learn when you do solo trips as opposed to the relational aspects of touring with other people?
I don't guide around La Grave, I just go ski with friends. My guiding is with some private clients on creative ski adventures and with 40 tribes in Kyrgyzstan. I don't really go solo much these days but I do end up doing considerable solo runs off the ski lift. I need to run on my own schedule…or rather my boys' schedule 😉 I used to do more soloing back in BC on the coast. I think it's important to do a bit. It's good to feel confident in yourself to keep yourself comfortable with the parameters of the situation you put yourself in and being solo in crucial in instilling that awareness. I always felt like it needed to be exceptional conditions to consider solo missions and definitely wasn't for any old time you needed a challenge. I would say it's super important to experience the solo exposure to become a better partner.
You've been described as the ski shaman for decades, now. How did the name come about – who came first, Ptor, or the Shaman? What is the ski shaman's personal philosophy – who has it been shaped by (from a spiritual or philosophical point of view?)
Ski Shamanism was a concept that stirred both Troy Jungen and myself. At the outset of my entry into mountain realm in the late 80's in Whistler, it was what Troy and I considered as our Bachelors Degree in Ski Bumming. Troy wrote a particularly wonderful thesis on his studies. Then I pursued my Masters in Ski Barbarism. But lurking in the distance was the ultimate goal of a PhD in Ski Shamanism. So we traveled to all sorts of mountain 'schools', so to speak. Shamanism is a very protean thing on the outside but it's all about accepting the potential as a healer as the universal aspect. A lot of wisdom is contained in the 10 Huna principles that describe the 'shamanic' perspective. Shamanism doesn't necessarily entail the stereotypical drums and enthoegens.
We've seen a few segments in other ski movies this winter that have, been, well, psychedelic. Do mind altering substances have their place in what can be a rather risky environment?
Of course they have their place, hopefully they're used with some kind of prudence, wisdom and ceremony. They can definitely accelerate the powder skiing learning curve of an Ontario transplant. A bit of weird is good for you but like Terrence McKenna said, "when you get the message…hang up."
I really appreciate all the 'psychedelic' filming stuff these days. The art of ski-film making is coming into a renaissance. Afterglow was insane, I'm blown away it's so beautiful and the ski performances in them. It doesn't need to be called psychedelic either. It's just what it is. These days I don't mind a beer or a genepy before last run when it feels right.

Near the end of the movie, we see some proud papa moments that I think just about any family man can relate to. Can a ski shaman be a good father? What do you think the future holds?
I couldn't envision me not giving my everything for my boys. They are my priority and my vision of the future is mainly to get them the best start possible and be crucial partners and friends with them. I'm super glad Willy-Khan the five year old is super keen on skiing already. Carlos is gonna begin probably this winter. But if they don't ski forever I'm open to whatever their passion ends up being. I really look forward to skiing some more with my wife because that was a crucial part of our first years together and it should continue. I'm super keen on enlarging the garden and getting chickens going next summer. Gotta finish our house too!! There will be more ski adventures for sure but they're just gonna come along as they should. I'd really love to be part of some more theatrical movie productions with skiing in them if I do more film projects. I have lots of abstract ideas and I still have a bunch of ski projects I've sussed out. Right now I'm just training for 50 and getting in some travel before eventually spending more and more time with the boys.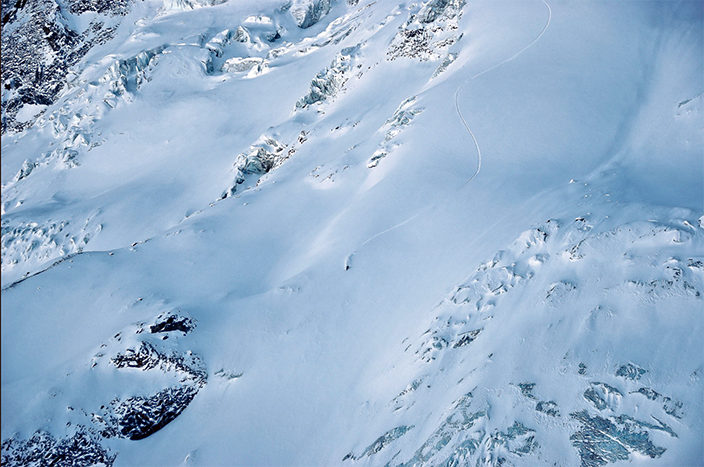 You seem to have a really great set-up there in France. Can you ever see coming back and doing any projects in the Coast Range?
Oh man I'd totally love to go do projects in the Coast Range. One of the most beautiful places on earth. Speaking of that I got to have beers with John Baldwin after the VIMFF show. Talk about inspiration!!!! I also got to see my buddy and old ski partner Trevor Hunt in Whistler which further fueled my desire to return for some sessioning on the coast.
What's your opinion of what's going down in the ski mountaineering/adventure world these days?
Amazing things are being done these days and there's been tragedy too. There's awesome authenticity and there's some real cheese too. I was hoping the Dream Line could shed additional perspective about some deeper aspects about personal engagement to ski-mountaineering. Stoked to have filmed a ski cut and that it ended up in the film…never see that shit in films these days. I sincerely hope competitiveness will remain out with ski-mountaineering…not in the ski-mo racing sense… but just in the sense that the essence and amazingness of ski-mountaineers is their diversity in styles and as such their personal expressions and visions are what bring them into their power zones. It should be about doing things from an honestly personal motivation. Filming and professionalism affects everybody differently in terms of their boundaries in decision making while skiing. My personal favorite ski descent thing in a while was Chris Brazeau's solo of Bryce's North Face. Absolutely nailed in every sense.
My favorite recent new ski-mountaineering vibe besides Joe Vallone in the last while is Glen Plake. I finally got to go skiing with him this past August. I really appreciate and groove with his refined perspectives on the industry and the scene. Solid guy to be in the mountains with and super funny of course. I look forward to ski with him again sometime.
Introduction sourced from Les Anthony, Skier Mag