Canadian Ski Mountaineering Update
The 3rd Annual Castle Mountain Ski Mountaineering was held on the 11th of January. Race attendance was 49 registered racers, about evenly split between Elite and Recreational competitors. This was approximately double last year's field for that race. Support from the hill was great in this 3rd year for the event.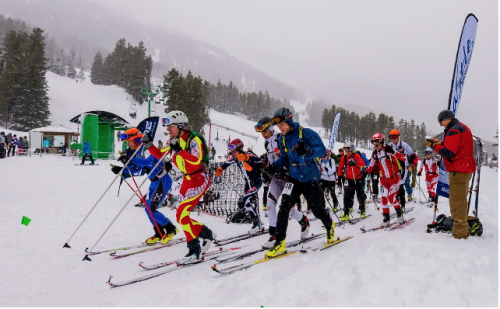 Winner for Men was Phillip Schädler (below), from the Dynafit Team, Germany, with 2nd place to Travis Brown, of Calgary (photo above). Women's winner was Kylee Ohler, of Calgary. Athletes came from 3 provinces, and the sport seems to be gaining traction with related sports like cyclists, trail runners, ultra-runners, Nordic racers, and triathletes. One of the competitors was Dean Prodan, an owner of Whitewater Ski Area and a shareholder at Castle. About 100 spectators from the community watched, and of course there were the skiers on the hill. Parks Canada staff from Waterton NP came up to socialize and help out.
This weekend the Dogtooth Dash happens in Golden! The race registration includes Saturday party and two days lifts. You can NOT race for less money. Ski the famous figure-8 course over the peaks of Kicking Horse Mountain Resort! Register and race, or come out to see and cheer. Great snow, and prizes for first timers and elite level competitors alike. Now with an increased Continental-level profile as this event is groomed for possible ISMF World Cup status. Cash prizes for top 4 on the long course. Gear. Included dinner Saturday night, free ski pass for Sunday. Make your season at Canada's premier ski mountaineering competition. Visit skintrack.com/dogtooth-dash-skimo-race or contact Stano Faban for details: +1 (778) 898-7780 or skier@skintrack.com
COMING UP BEFORE THE END OF APRIL:
National Ski Mountaineering Team competes on ISMF calendar in Europe. ROAM Randonnee Rally at Whitewater Cold Smoke, Nelson, BC. Ken Jones Classic at Lake Louise, AB. Revelstoke Mountain local race. End of season party.