10 Reported Resort Snowpacks
It's the beginning of a new year and time to compare the snowpacks that lift serviced ski resorts are reporting. It has been an interesting season to say the least with the effects of El Niño very evident–snow packs are below average across Western Canada. And compounding El Niño, the backcountry snowpack is compromised by an early December crust with faceted layer that could persist for the remainder of season.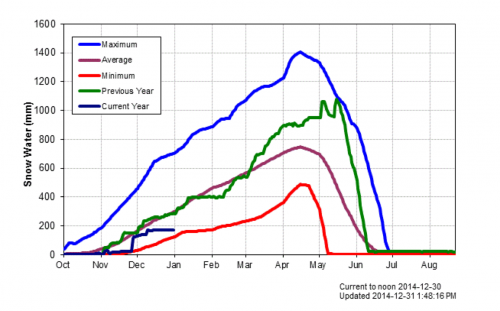 Typical El Niño effects include warmer-than-average temperatures over western and central Canada, and over the western and northern United States. Wetter-than-average conditions are likely over portions of the U.S. Gulf Coast and Florida, while drier-than-average conditions can be expected in Western Canada and the Pacific Northwest.
Avalanche Canada has been very proactive by issuing Special Public Avalanche Warnings over the holidays that appeared to have have a positive influence on safe backcountry usage. Senior Avalanche Forecaster James Floyer of Avalanche Canada said, "We had expected the problem layer to calm down by now but it's still easily triggered. we have had numerous reports of skiers and snowmobilers involved in avalanches. Luckily there have been no fatalities, thanks to good self-rescue by the parties involved." The avalanche conditions could worsen with increased snow load however the season is early.
Thus far, the 2014-15 season has seen widely similar snowfall across regions with most resorts reporting below average totals. Typically the Alberta Rockies receive less snow than British Columbia and not all resorts have a snow making system comparable to Whistler Blackcomb. Their massive snowmaking system, another Olympic legacy, has pumped over 200,000,000 US gallons of water to date.
Here is video of Logan Pehota lapping Blackcombs Glacier Express chair the last day of 2014:
So here are the mid mountain snow depths reported by the resort's websites on January 4th, 2015:
10 Reported Lift Serviced Snowpacks:

#1 = Revelstoke, BC = 138cms
#2 = Whitewater, BC = 138cms
#3 = Fernie, BC = 137cms
#4 = Shames Mountain, BC = 134cms
#5 = Mount Cain, BC = 120cms
#6 = Whistler Blackcomb, BC = 119cms
#7 = Red Resort, BC = 110cms
#8 = Lake Louise, AB = 99cms
#9 = Marmont Basin, AB = 85cms
#10 = Castle, AB = 71cms
The season is young and I'm looking forward to many great lift serviced and backcountry powder days…so lets bring on the snow!!