Full Quiver for 2015
By Jon Turk
I look at the floor and I see it needs sweeping
Still my guitar gently weeps
………
I look at the world and I notice it's turning
While my guitar gently weeps
In the 1968 Beetles "White Album," these words are followed by one of the most riveting guitar riffs of all times (played by Eric Clapton). Listen again, if you don't believe me.
I've always loved this song, because it reminds us to follow our passions, whatever the cost or repercussions. Follow your passions…..and don't get hung up on what society thinks or expects.
I start my blog every ski season, with this simple message: If your passion is skiing, then go skiing. Pretty darn simple.
Right now, as I write this on December 10, most, but not all, western Canada ski areas are open. Snowpack hovers around a meter, plus or minus a little, which means early season conditions, rocks and sticks peaking at your ski bottoms. Here in Fernie, we've already had snow, rain, extreme cold, one avalanche cycle, more snow, and now a pineapple express rolling in. Oh Hum. That's winter for you.
Give or take a year or two, this is my 40th consecutive season of ski bumming and my 22nd year here at Fernie in southeastern BC. As any guru worth her website will tell you, there's no bragging rights to past resumes. Fine, no bragging rights, but a little experience, nevertheless. Two things I can tell you: First, every year, we have good days and bad: deep-fluff-snorkel days mixed in with wind events, ice, and melt downs. Some days you can ski the goods in the back country, while others days you better not tickle the dragon's tail.
Second, and that is the point of this post, you can enhance your winter fun immeasurably, and play actively on days when others are home complaining, if you have a full quiver of toys.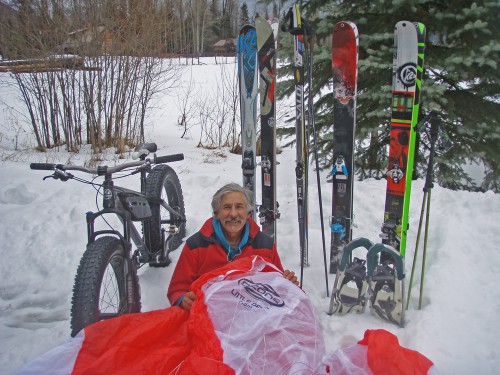 Conservatively, I think everyone needs four pairs of skis. Yup. You heard me right. Four. Let me start out by saying that while fat skis are grand, it is my belief that skinny skis have a place in your quiver. Fat skis put your edge just that much farther away from the ball of your foot, which is fine in powder, but less fine on hard stuff. (Maybe I've just spent too much time in tiny, form fitting rock climbing shoes, but that's how I feel.) By skinny skis, I DON'T mean an old pair of 1980 vintage boards out of the Salvation Army. I mean a new, modern pair of highly engineered, shaped skis. For groomers at the resort, I absolutely love my K-2 Aftershocks, which are 77 mm underfoot; they rock from edge to edge with so little effort. Of course, like every other yahoo in town, I ride fat skis at the resort in powder or crud. In a similar vein, it scares the bejessus out of me to traverse a steep icy alpine ridge in the back country on a fat ski because my weight is so far away from my edge. So, while I love my 112 mm underfoot K-2 Shreditor in winter back-country powder, last May in the Tetons, I skied a 98 mm K-2 Hardside.
Now what about those days where the skiing is downright lousy, whatever equipment you are using? Well, last year, I wrote a post about snow biking, as an option. This year, when the wind howls and sets up a veneer of strastugi all over the place, I plan to add snow kiting to the activity list. More on that later in the season.
Of course there are people who will disagree with everything I just said. (Go ahead: Send in your comments.) When I was younger, I climbed waterfall ice when the skiing was bad. Some people play beautiful music on the oboe on non-powder days. There is no right or wrong. But… To crudely rephrase George Harrison's poetry, if it's snowing in the evening, big flakes of cold smoke, my final advice is to put base wax on your skis, not Mop & Glo on the kitchen floor.